The only downside of having so many cookbooks is that some of them inevitably wind up gathering dust as you add shiny new ones to your collection. When I pulled my long-neglected copy of The Eden Cookbook off the shelf a few weeks ago to make the tandoori chicken with Bombay potatoes, I came across this recipe (or should I say rediscovered it?) while flipping through it again. My kids still love mackerel as much as ever, and my little boy liked this version so much that he was practically shoving fistfuls of it in his mouth and had eaten all of it before I'd even finished plating up my own dinner. It's just a pity I let this recipe sit undiscovered on the shelf for so long.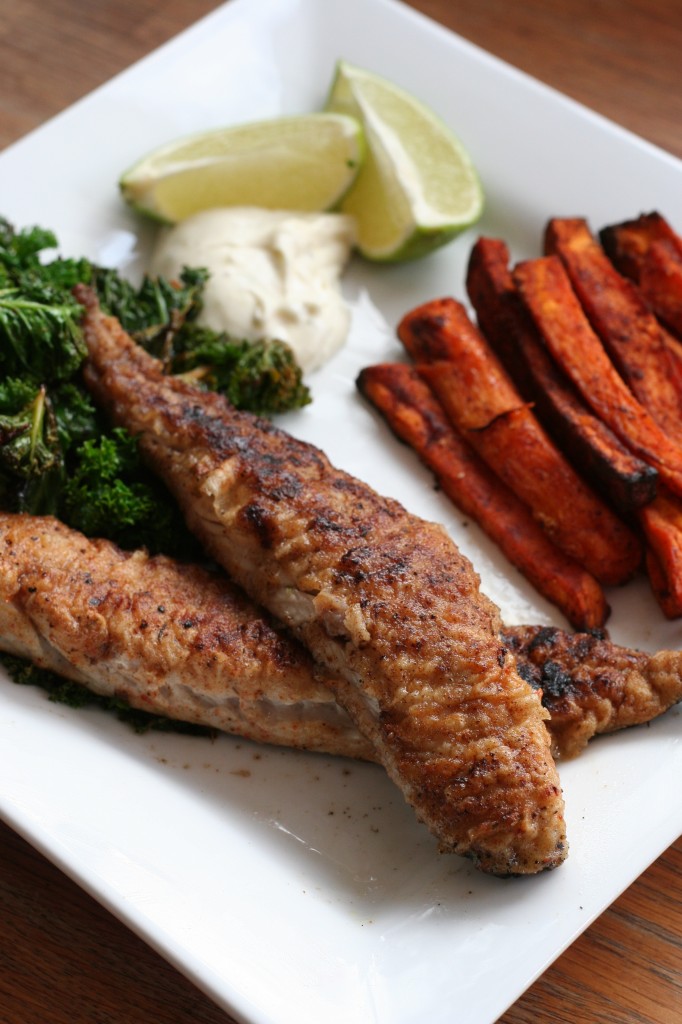 Cajun Mackerel with Lime Mayo
adapted from The Eden Cookbook by Eleanor Walsh and Michael Durkin
Serves 4
for the Cajun mackerel:
1 tablespoon Cajun seasoning
3/4 cup (90 g) flour
4 mackerel fillets, deboned and butterflied, skin left on
1 tablespoon olive oil
1 tablespoon butter
lime wedges, to serve
for the lime mayo:
1 cup (240 ml) good-quality mayonnaise
zest and juice of 1 lime (or more to taste)
salt and freshly ground black pepper
To make the lime mayo, whisk together the mayonnaise, lime zest and juice. Add seasoning to taste and set aside.
To cook the mackerel, mix the Cajun seasoning with the flour in a shallow bowl. Toss the mackerel fillets in the flour, making sure they are evenly covered. Shake off any excess flour. Heat a frying pan and add the oil. Place the mackerel fillets in the oil, flesh side down (you might need to cook the mackerel in batches; don't crowd the pan). Cook for 2 minutes and carefully turn over. Add the butter to the pan. Cook the fish for a further 2 minutes and remove from the pan. Serve the mackerel on warm plates with lime wedges and a dollop of the lime mayo.
***
Sweet Potato Wedges
adapted from Every Day by Bill Granger
Serves 4
2 lb (900 g) sweet potatoes, skin left on and cut into wedges
2 tablespoons olive oil
2 teaspoons smoked paprika
1/4 teaspoon cayenne pepper (optional)
salt and freshly ground black pepper
lime wedges, to serve
Preheat the oven to 450°F (230°C).
Toss the sweet potato batons with the olive oil, paprika, cayenne and salt and pepper. Scatter them in a single layer on a large baking sheet and bake for 30 minutes, stirring occasionally, until the wedges are golden brown. Serve with lime wedges.
***
Smoky Quick-cooked Kale
adapted from The New York Times, April 13, 2010
Serves 4
1 1/4 lb (570 g) kale (about 1 bunch)
2 tablespoons olive oil
1 shallot, finely chopped
2 garlic cloves, finely chopped
1 teaspoon smoked paprika
1 tablespoon lime juice
salt and freshly ground black pepper
Remove the tough stems and center ribs from the kale. Stack half the leaves and roll into a cigar shape (like you would for doing a chiffonade), then cut crosswise into very thin strips. Repeat with the remaining leaves.
Heat the oil in a large skillet over a medium-high heat until hot, then add the shallot and cook, stirring occasionally, for about 2 minutes, until slightly softened. Add the garlic and smoked paprika and cook, stirring frequently, for about 1 minute, until the garlic is softened. Add the kale and cook, tossing very frequently, for about 5 minutes, until tender and bright green. Stir in the lime juice and add seasoning to taste.

Email this post

Print this post