Is there anyone more stereotypically Australian than Bill Granger? He's blond, buff, lives by the beach in Sydney and knows his way around a barbecue. He also isn't afraid of loud shirts and white pants and throws in an occasional wink to the camera. He's my new favorite TV chef and this is my new favorite salmon. It's the kind of recipe that's so good I won't want to make salmon any other way from now on. Try it and you'll see why. (And head's up for all you cookbook addicts — Bill Granger's most recent book, Every Day, is on sale online at the Book Depository for €10.32 (about $13.50), with free worldwide shipping. Just don't tell my husband, who bought it for me as a surprise last week and paid twice as much.)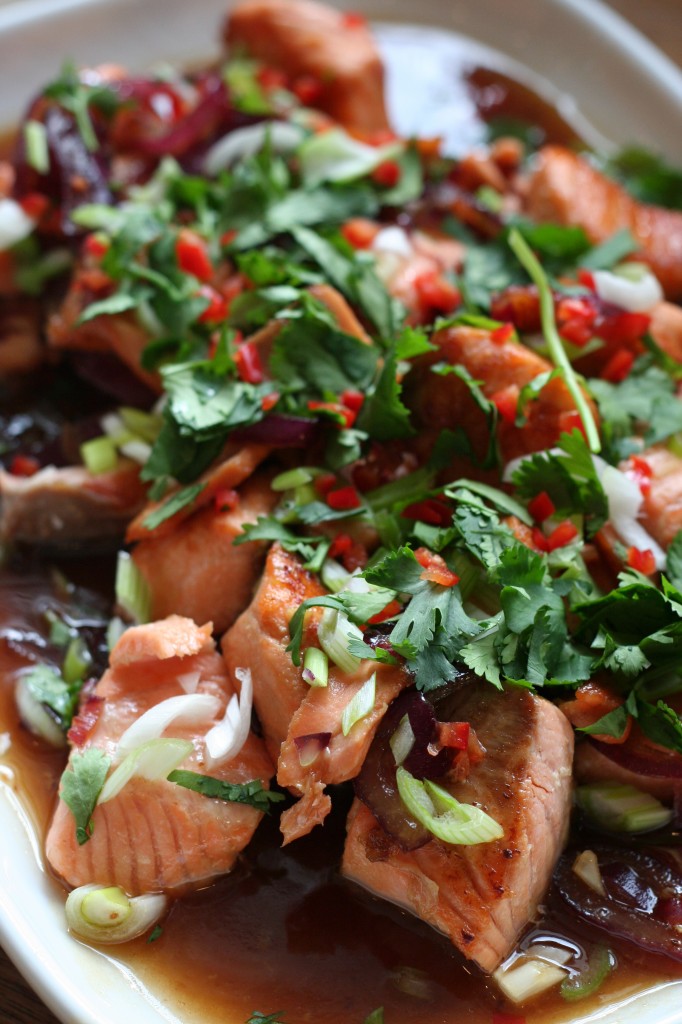 Caramel Salmon
adapted from Every Day by Bill Granger
Serves 4
This is Bill Granger's take on a traditional Vietnamese caramel dish.
1 tablespoon vegetable oil
2 lb (900 g) salmon, deboned and cut into large cubes
1 red onion, sliced
3 cloves garlic, sliced
3 tablespoons dark soy sauce
1/2 cup (100 g) brown sugar
3 tablespoons fish sauce (nam pla)
freshly ground black pepper
1 tablespoon lime juice
steamed rice, to serve
a handful of fresh cilantro, chopped, to serve
3 or 4 scallions, chopped, to serve
1 red chili, deseeded and finely chopped, to serve
lime wedges, to serve
Heat the oil in a large frying pan over a high heat. Add the salmon in 2 batches and cook each batch for a couple of minutes until lightly browned. Turn over and cook the other side for 1 minute, then remove from the pan.
Reduce the heat to medium and add a little extra oil to the pan, if needed. Add the onion and garlic and cook for 3 minutes, stirring occasionally. Stir in the soy sauce, sugar and fish sauce. Return the salmon to the pan and cook for 1 minute, or until the sauce is rich, dark and syrupy. Sprinkle liberally with black pepper and stir through the lime juice. Serve on top of steamed rice with a little sauce drizzled over. Sprinkle over some chopped cilantro, scallions and red chili and place lime wedges on the side.
***
Cucumber and Snow Pea Salad
adapted from Every Day by Bill Granger
Serves 4
If you like this salad, you might also like to try Bill Granger's sugar snap and bok choy salad, which is very similar to this one.
1 cucumber, thickly sliced
5 oz (140 g) snow peas (mangetout), trimmed, blanched and halved diagonally
2 teaspoons lime juice
pinch of sugar
1 tablespoon olive oil
Put the cucumber and snow peas in a large bowl. Whisk together the lime juice, sugar and oil until the sugar dissolves (or shake to combine in a screw-top jar). Pour over the cucumber and snow peas and toss well. Serve immediately.

Email this post

Print this post