Sole meunière had its five minutes of fame last year when the movie Julie and Julia was released, which renewed interest in Julia Child. The story did the rounds of how it was Julia's first (and ultimately life-changing) meal in France, which she described as "a morsel of perfection." Who am I to disagree? It's simple and delicious, a true classic.
This is an all-Ina menu from three different cookbooks, and everything comes together to make an elegant and easy springtime dinner that's ready in half an hour. In the "Easy French" episode of her TV show, Ina Garten suggests serving the sole with a French apple tart, which would elevate this menu into something nice enough for company.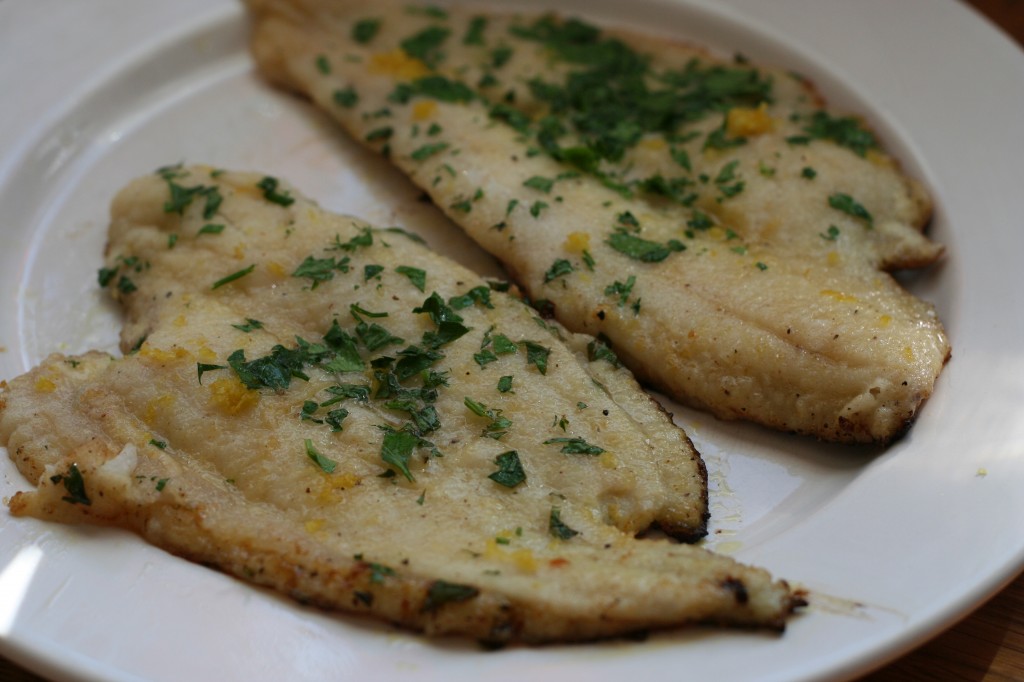 Note that this sole recipe serves 2 while the asparagus and potatoes serve 6, so adjust the recipes according to how many people you're serving. You could also try green beans dressed with lemon and olive oil or lemon roast potatoes instead of the roasted asparagus and herbed new potatoes.
Easy Sole Meunière
adapted from Barefoot Contessa Back to Basics by Ina Garten
Serves 2
When I make this recipe, I add a little olive oil along with the butter to stop it from burning.
1/2 cup (60 g) all-purpose flour
salt and freshly ground black pepper
4 x 4 oz (110 g) fresh sole fillets
6 tablespoons (90 g) unsalted butter
1 teaspoon grated lemon zest
6 tablespoons freshly squeezed lemon juice (3 lemons)
1 tablespoon minced fresh parsley
Preheat the oven to 200°F (100ºC). Have 2 heat-proof dinner plates ready.
Combine the flour, 2 teaspoons salt, and 1 teaspoon pepper in a large shallow plate. Pat the sole fillets dry with paper towels and sprinkle one side with salt.
Heat 3 tablespoons (45 g) of butter in a large (12-inch) saute pan over medium heat until it starts to brown (add a little olive oil as well if you're worried about the butter burning). Dredge 2 sole fillets in the seasoned flour on both sides and place them in the hot butter. Lower the heat to medium-low and cook for 2 minutes. Turn carefully with a metal spatula and cook for 2 minutes on the other side. While the second side cooks, add 1/2 teaspoon of lemon zest and 3 tablespoons of lemon juice to the pan. Carefully put the fish fillets on the ovenproof plates and pour the sauce over them. Keep the cooked fillets warm in the oven while you repeat the process with the remaining 2 fillets. When they're done, add the cooked fillets to the plates in the oven. Sprinkle with the parsley, salt, and pepper and serve immediately.
***
Parmesan Roasted Asparagus
adapted from Barefoot Contessa Family Style by Ina Garten
Serves 6
2 1/2 lb (1.1 kg) fresh asparagus (about 30 large spears)
2 tablespoons good-quality olive oil
1/2 teaspoon kosher salt
1/4 teaspoon freshly ground black pepper
1/2 cup (50 g) freshly grated Parmesan
2 lemons cut into wedges, for serving
Preheat the oven to 400°F (200°C).
Snap off the woody ends of the asparagus stalks and discard. Lay the stalks in a single layer on a sheet pan and drizzle with olive oil. Sprinkle with salt and pepper. Roast for 15 to 20 minutes, until tender. Sprinkle with the Parmesan and return to the oven for 1 minute more. Serve with lemon wedges.
***
Herbed New Potatoes
adapted from Barefoot in Paris by Ina Garten
Serves 6
4 tablespoons (60 g) unsalted butter
2 1/2 lb (1.1 kg) baby or new potatoes, scrubbed but not peeled
2 teaspoons kosher salt
1/2 teaspoon freshly ground black pepper
3 tablespoons chopped mixed fresh green herbs, such as parsley, chives, and dill
Melt the butter in a Dutch oven or large heavy-bottomed pot. Add the whole potatoes, salt and pepper and toss well. Cover the pot tightly and cook over a low heat for 15 to 30 minutes, until the potatoes are just tender when tested with a small knife. From time to time, shake the pot without removing the lid to prevent the bottom potatoes from burning. Turn off the heat and allow the potatoes to steam for another 5 minutes. Don't overcook! Toss with the herbs and serve hot.

Email this post

Print this post