About two years ago, my husband, daughter and I went to Copenhagen for a long weekend. Our daughter was two and a half at the time, but already was a great eater. Put her in front of a selection of ice cream, and she won't choose chocolate or vanilla — she'll go for Turkish delight (though in all honesty, that might just be because it's pink). Olives, radishes, salt and vinegar potato chips and Roquefort cheese are some of her favorite foods. So we might have known better than to order her a hamburger off the kids' menu when we went to the Cap Horn restaurant one night. She wouldn't touch it, and instead devoured almost all of the trout Matt had ordered for himself, simply pan fried in butter (poor Matt wound up eating the burger). When it comes to fish (and her tastes in general), it seems that the stronger the flavor, the more she likes it.
This past summer, I served mackerel to her for the first time, as well as my one-year-old son. They each gobbled up their entire fillet and ate most of ours to boot. We couldn't get over it, since we thought it might be too strong-tasting for them compared to, say, white fish. The next time he was in getting fish, Matt mentioned to the fishmonger how much our kids had liked it, who wasn't surprised. "Kids love mackerel," he said. That's good news to me, since it's an oily fish and so is a good source of omegas, plus it's cheap, about 1 euro per fillet.
Mackerel is still in season, so get some while you can and give this simple recipe a try, which only takes 5 minutes to cook. If you're serving this to kids who don't like spicy food, just fry their fish first and leave out the chili, then add it to the pan when you're ready to fry the rest. Ask your fishmonger to debone the mackerel for you, especially if you're serving it to children, because it has lots of them and some of them are pretty big.
Chili Fried Mackerel
from Fresh from the Sea by Clodagh McKenna
Serves 2
2 tablespoons (60 g) butter
1 red chili, deseeded and finely chopped
1 garlic clove, crushed
4 fresh mackerel fillets
sea salt and freshly ground black pepper
juice of 1 lemon
Heat a frying pan and drop in the butter, chili and garlic. Once the chili butter begins to foam, add the mackerel, skin side down, and fry for 2 minutes. Season with salt and pepper, turn the fish over, squeeze the lemon juice over the fish and cook for a further 2 minutes. Remove to a plate and drizzle the chili butter over the fillets.
***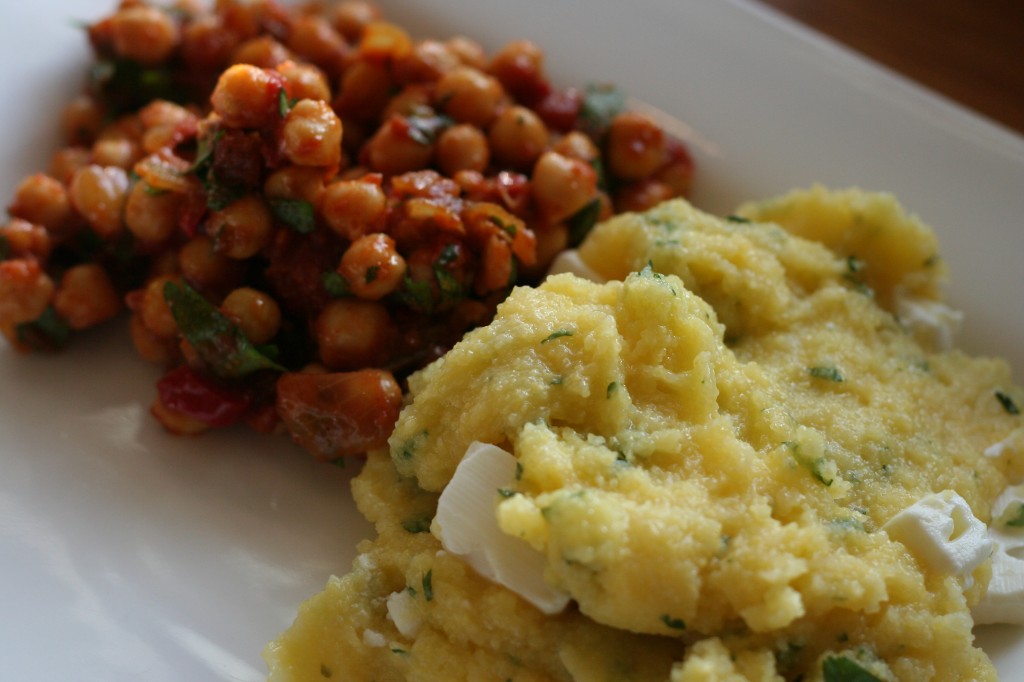 Spiced Chickpea Salad
adapted from Avoca Café Cookbook 2
Serves 6
1 onion, finely chopped
3 tablespoons olive oil
1‑inch piece of fresh root ginger, grated (or 1 teaspoon ground ginger)
1 red chili, deseeded and finely chopped
2 teaspoons curry powder
1 teaspoon ground cumin
1 teaspoon ground coriander
pinch of turmeric
4 garlic cloves, chopped
1 x 14-oz (400‑g) can of tomatoes
3 x 14-oz (400‑g) cans of chickpeas, rinsed and drained
1 bunch of fresh cilantro, roughly chopped
1 bunch of fresh flat-leaf parsley, roughly chopped
Gently saute the onion in the olive oil for 10 to 15 minutes without allowing it to color. Add all the spices, chili and the garlic and cook for 2 minutes. Add the tomatoes and reduce the heat to low. Continue to cook for 15 to 20 minutes, stirring occasionally, to allow it to reduce slightly. Dress the chickpeas in the tomato sauce while it's still warm. Allow the chickpea mixture to cool slightly, then add the herbs (this stops them from discoloring). Serve warm or at room temperature. This salad is even better the next day.
***
Polenta with Feta and Cilantro
adapted from Vegetarian Cooking for Everyone
by Deborah Madison
2 cups (340 g) coarse cornmeal
6 to 8 cups (about 1 1/2 to 2 liters) vegetable or chicken stock or water
2 to 6 tablespoons (30 to 90 g) butter (optional)
1 1/2 cups (250 g) feta cheese, cubed or crumbled
1 bunch fresh cilantro, chopped
Bring 6 cups (1 1/2 liters) of the stock (or water) to a boil in a large, heavy-based saucepan and add the cornmeal in a steady stream, whisking constantly to stop lumps from forming and to help prevent the maize from seizing up in the first few minutes. Lower the heat and cook, stirring almost constantly, for 30 to 45 minutes. If the polenta seizes up into a hard mass, add small amounts of the remaining 2 cups (480 ml) of stock or water while it cooks to smooth it out again. When done, season to taste with salt (you may not need any if your stock is salty). Stir in butter to taste.
Off the heat, stir in the cubed or crumbled feta cheese and chopped cilantro. Serve the soft polenta immediately or keep it warm over boiling water until ready to serve.

Email this post

Print this post