Every time I eat Greek food I think about Kristin's mom and stepdad taking us to Chicago to eat at Greek Islands. As a sixteen-year-old, any trip to the big city was amazing, but my first trip to Chicago's Greektown was especially memorable. Friday night traffic was terrible (and a little exciting), the restaurant was packed, the menu was filled with dishes I had never heard of, much less eaten, and we started the meal with flaming cheese. How could that not leave an impression?
After moving to Chicago after college, I ate in Greektown frequently, usually with a big group of friends. Greek food is perfect for groups. Everyone can find a dish they like, yet few people cook Greek food at home. I've been experimenting over the past couple years with some of my Greek restaurant favorites. This recipe was my first try at moussaka. Although I managed to forget to add the cinnamon to the sauce, it still turned out great. I paired it with fresh green beans, but a tossed salad with feta and olives would have been even better. After this success, I may even be up for setting a plate of saganaki aflame. Opa!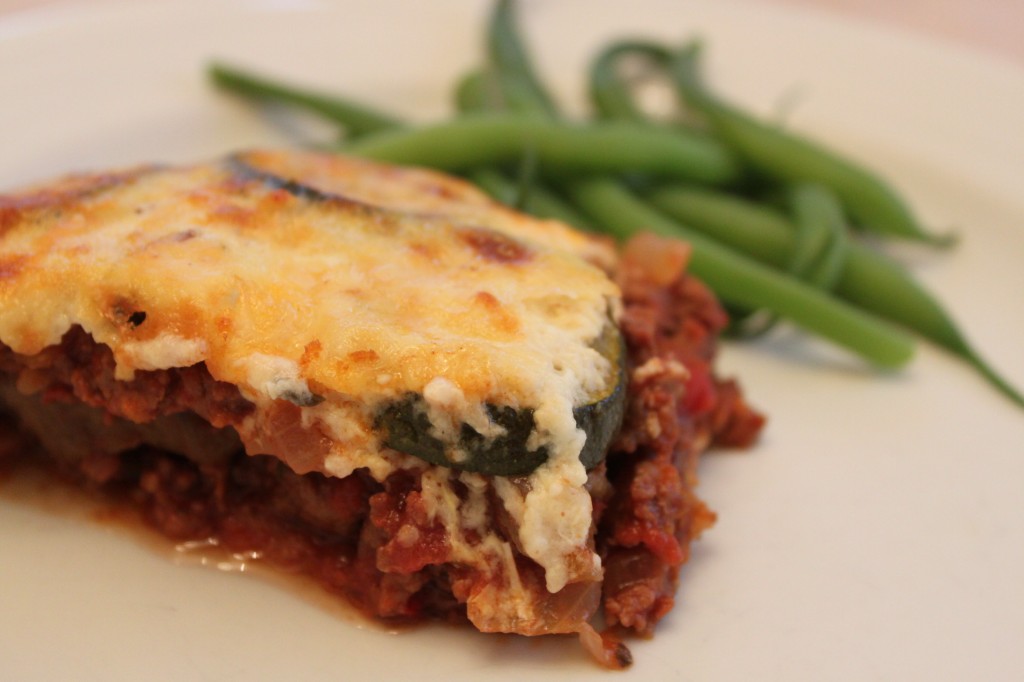 Hearty Moussaka with Low-fat White Sauce
adapted from Bon Appétit, February 1998
Serves 8
olive oil spray (or olive oil)
1 or 2 eggplants (1 1/2 lb/680 g total), peeled, cut in half lengthwise, then crosswise into 1/2‑inch slices
1 1/2 lb (680 g) zucchini, trimmed and cut into 1/4‑inch-thick rounds
1 lb (450 g) red-skinned potatoes, cut into 1/4‑inch-thick rounds
1 teaspoon olive oil
1 large onion, chopped
1 tablespoon minced garlic
2 teaspoons dried oregano
1 lb (450 g) lean ground beef (sirloin or ground round)
1 x 28 oz (800 g) can whole tomatoes in juice
3 tablespoons tomato paste
1/4 cup (25 g) plain dry white breadcrumbs
1/4 teaspoon ground cinnamon
3 cups (700 ml) low-fat white sauce (see below)
2 tablespoons freshly grated Parmesan cheese
Preheat the oven to 425°F (220°C). Spray 2 large baking sheets with olive oil spray or brush with olive oil. Arrange the eggplant slices and half of the zucchini rounds, overlapping slightly, on 1 baking sheet. Arrange the potato rounds and remaining zucchini, overlapping slightly, on the second baking sheet. Spray the vegetables generously with olive oil spray or brush with olive oil. Sprinkle the vegetables with salt and pepper. Bake the vegetables until tender and beginning to brown, about 40 minutes. Remove from the oven and cool. Reduce the oven temperature to 375°F (190°C).
Heat 1 teaspoon of oil in a large nonstick skillet over medium heat. Add the onion and garlic and saute until the onion for about 7 minutes, until tender, adding 1 to 2 tablespoons of water if the mixture seems dry. Stir in the oregano. Add the beef and saute until brown, breaking it up with back of spoon. Add the tomatoes with their juices and the tomato paste, breaking up tomatoes with the back of the spoon. Simmer for about 15 minutes, until the mixture thickens slightly. Season to taste with salt and pepper. Remove from the heat and mix in the cinnamon.
Spray or brush a 13 x 9 x 2‑inch glass baking dish with olive oil spray. Sprinkle the breadcrumbs over the bottom of the dish. Arrange the potatoes in the prepared dish. Spoon half of the beef mixture over. Arrange the eggplant slices over. Spoon the remaining beef mixture over. Top with all of the zucchini, overlapping slightly if necessary.
Pour warm low-fat white sauce over the moussaka. Sprinkle 2 tablespoons of cheese on top. Bake until the top is golden brown, about 55 minutes. Let stand for 15 minutes. Cut into squares and serve.
Low-fat White Sauce
Makes 3 cups (720 ml)
6 tablespoons all purpose flour
3 cups (720 ml) low-fat milk
1/4 teaspoon ground nutmeg
1/3 cup (30 g) grated Parmesan cheese
1 large egg, beaten
1 teaspoon butter
salt and freshly ground black pepper
Whisk the flour in a heavy medium saucepan to remove any lumps. Gradually add 1 cup (240 ml) of milk, whisking until smooth. Add the remaining 2 cups (480 ml) of milk and nutmeg. Whisk over a medium heat for about 10 minutes, until the mixture thickens and boils. Remove from the heat. Whisk in the Parmesan, egg and butter. Season with salt and pepper. (Can be made 1 day ahead. Cover and refrigerate. Rewarm over low heat until heated through before using; do not boil.)

Email this post

Print this post