Much of my meal planning and dinner brainstorming is done at work while I slog through what feels like mountains of e‑mail correspondence. An e‑mail from Kristin is usually the highlight of this otherwise stressful task. I love receiving a friendly message from her linking to something tasty. It sure beats the other 99% of my e‑mails, which are mostly sent from frantic clients and demanding partners. Acknowledging my recent obsession with quinoa, Kristin sent me this seasonal recipe. I was skeptical about using an entire bunch of raw kale as the main flavoring, but it was genius. The lemon and garlic brightened up the earthy kale and the olive oil and walnuts made the dish feel decadent both in taste and texture. This pretty dish was fantastic with grilled steaks but would also make a satisfying vegetarian main course.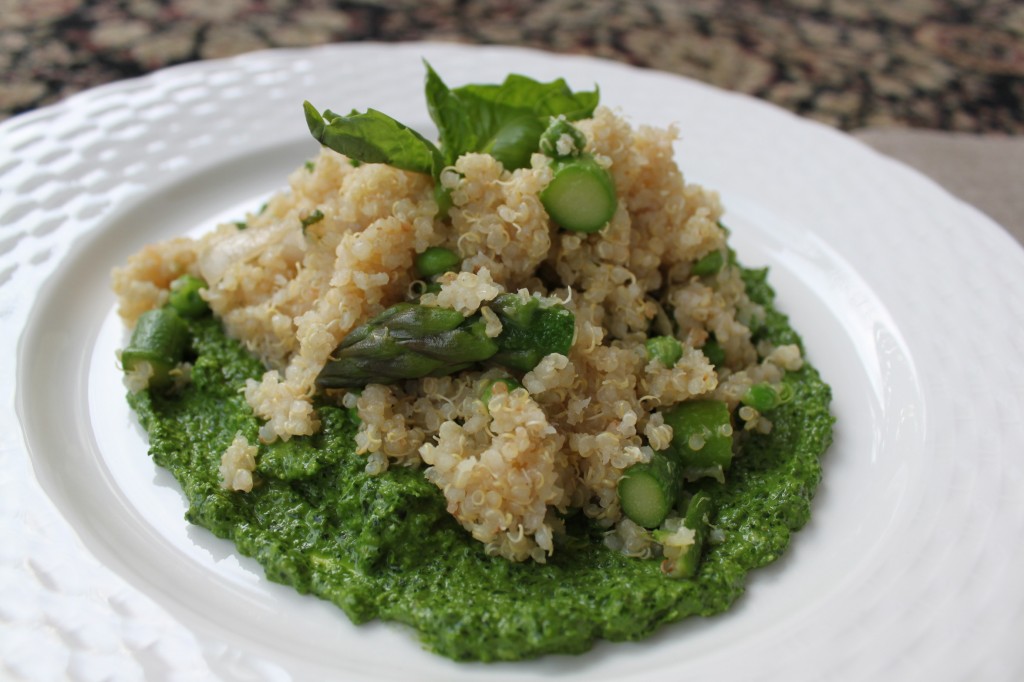 Quinoa with Spring Vegetables and Walnut-Kale Pesto
adapted from Gluten-free Girl and the Chef
Serves 4
for the quinoa with spring vegetables:
1 tablespoon extra virgin olive oil
1 tablespoon unsalted butter
1 tablespoon diced shallots
1 1/2 cups (250 g) quinoa
2 teaspoons of salt
3 cups (720 ml) vegetable stock or water
1/2 cup (70 g) peas (defrosted if frozen, blanched if fresh)
1 bunch asparagus, woody bottoms removed and cut into 1/4‑inch pieces
2 tablespoons canola oil
2 large shallots, sliced thin
4 basil leaves, thinly sliced (chiffonade), plus extra leaves for garnish
for the walnut-kale pesto:
1/2 cup (50 g) walnuts, chopped
1 clove garlic, peeled and finely chopped
1 large bunch kale, washed and chopped, stems removed
5 basil leaves, stems removed
1 cup (240 ml) extra virgin olive oil
salt and freshly ground black pepper
juice of 1/2 lemon
3 tablespoons Parmesan cheese
Set a saucepan over a medium-high heat. Pour in the oil and butter and cook until the butter melts and begins to foam. Add the shallots and cook, stirring frequently, for about 3 minutes, until they're soft. Add the quinoa to the pan and toast it for about 2 to 3 minutes. Add the salt and stock and bring to a boil. Reduce the heat to a simmer, cover the pan, and cook for about 15 minutes, until the liquid is absorbed. Remove from the heat and allow it to cool. (You can also cook the quinoa the day before and refrigerate it for up to 1 day.)
While the quinoa cooks, set a pot of salted water over high heat (the water should be as salty as the ocean). Have a bowl full of ice cubes waiting in the sink. Bring the salted water to a boil. Add the asparagus pieces. Cook for about 2 minutes, until they begin to rise to the surface. (You want these to still have some crunch.) Using a strainer, remove the asparagus from the boiling water and plunge the strainer into the ice bath. Allow the asparagus pieces to remain on ice for about 1 minute, until they cool. Put into a bowl with the peas and set aside.
To make the pesto, put the walnuts and garlic into a food processor. Pulse them into an almost paste. Add the kale and basil. Pulse until everything starts to get chopped up really fine. Slowly drizzle in the olive oil as the food processor is running. Season with salt and pepper to taste. Add the lemon juice and Parmesan and pulse the pesto until everything is combined. If the pesto feels thick, you can thin it out with a bit of water.
To finish the dish, set a large saute pan over high heat. Add the canola oil. When the oil runs around the pan easily, add the shallots. Cook, stirring, for about 3 minutes, until they're soft. Add the basil leaves and cook for 1 minute, until they release their fragrance. Put all the vegetables into the saute pan and toss them around for 3 to 4 minutes, until they're nice and toasty. Add the cooked quinoa. Toss it around until it is nice and hot, about 3 to 4 more minutes. Season with salt and pepper.
Smear some pesto on each plate. Scoop some of the quinoa and vegetables onto the pesto. Garnish with basil leaves, if desired, and serve immediately.

Email this post

Print this post