I've always thought of cheese soup as a Midwestern, and particularly a Wisconsin, thing. There's no reason for me to think that, other than that Wisconsin is known as the Dairy State and leads the nation in cheese production. UW-Madison, where Kelly and I both went to college, is also well known for often topping the polls for the highest student beer consumption (and in fact, the student union in Madison was the first college union in the country to sell beer), so I guess it's no surprise that beer bread is what I thought of to serve with this soup.
The beer bread is surprisingly light and sweet (a little too sweet for my taste, actually; next time I'm going to try adding some salt to counteract it). It's also so fast to make that your oven probably won't even have finished preheating by the time you've got it all mixed up and ready to go. You'll never buy an overpriced beer bread mix again after making this from scratch.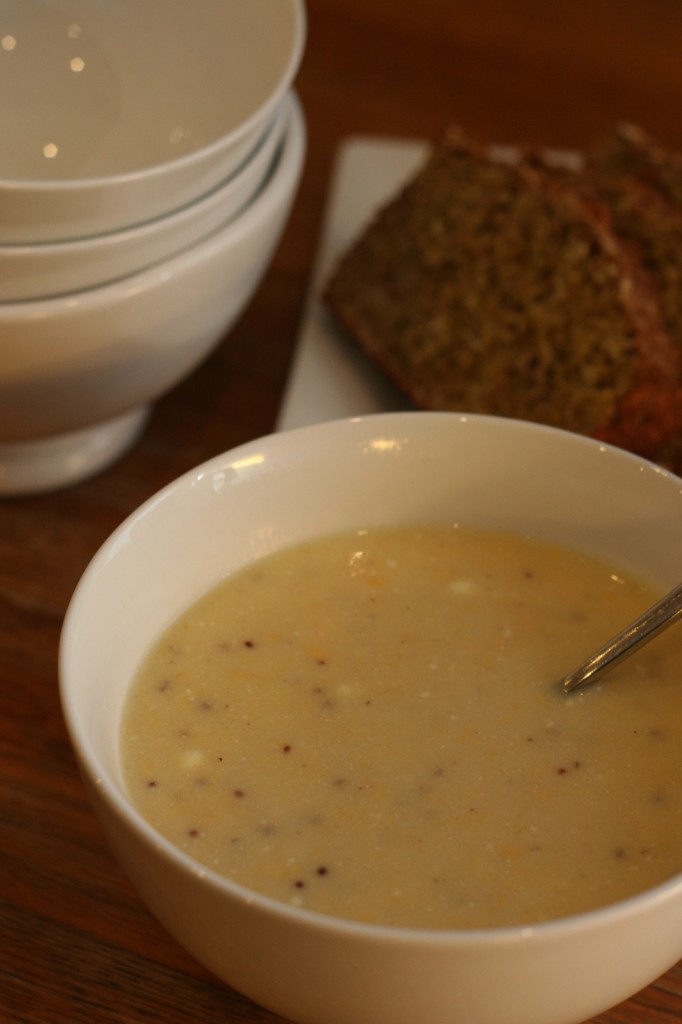 Cauliflower Cheese Soup
adapted from Tender: A Cook and His Vegetable Patch by Nigel Slater
Serves 4 to 6
Instead of serving this soup with a bread on the side, Nigel Slater toasts 2 slices of dark rye bread, melts a little cheese on top, cuts the slices into triangles and floats them on top of the soup.
2 tablespoons (30 g) butter
1 onion, roughly chopped
2 cloves garlic, crushed
1 head of cauliflower, broken into florets
3 1/2 cups (840 ml) water
2 bay leaves
sea salt and freshly ground black pepper
3/4 cup (200 ml) crème fraîche or sour cream
1 heaped tablespoon grain mustard
1 cup (100 g) coarsely grated Gruyère, Cantal or a strong, mature Cheddar
finely chopped fresh chives, to garnish (optional)
Melt the butter in a large pot. Add the onion and garlic and fry until soft, but don't let them color. In a separate pot, boil the cauliflower in the water for 8 to 10 minutes, until tender. Add the bay leaves to the onion and garlic, then add the cauliflower and its cooking water. Bring to the boil and add salt and pepper. Cover and simmer for 15 minutes, until the vegetables are very soft. Remove the pan from the heat, discard the bay leaves and allow the soup to cool slightly. Puree the soup in two batches in a blender (or use a hand-held immersion blender right in the pot). Pour the mixture back into the pot and stir in the crème fraîche, grain mustard and grated cheese. Bring the soup slowly back to a simmer and stir just until the cheese has melted, then ladle into individual bowls, garnish with chopped chives, if using, and serve.
***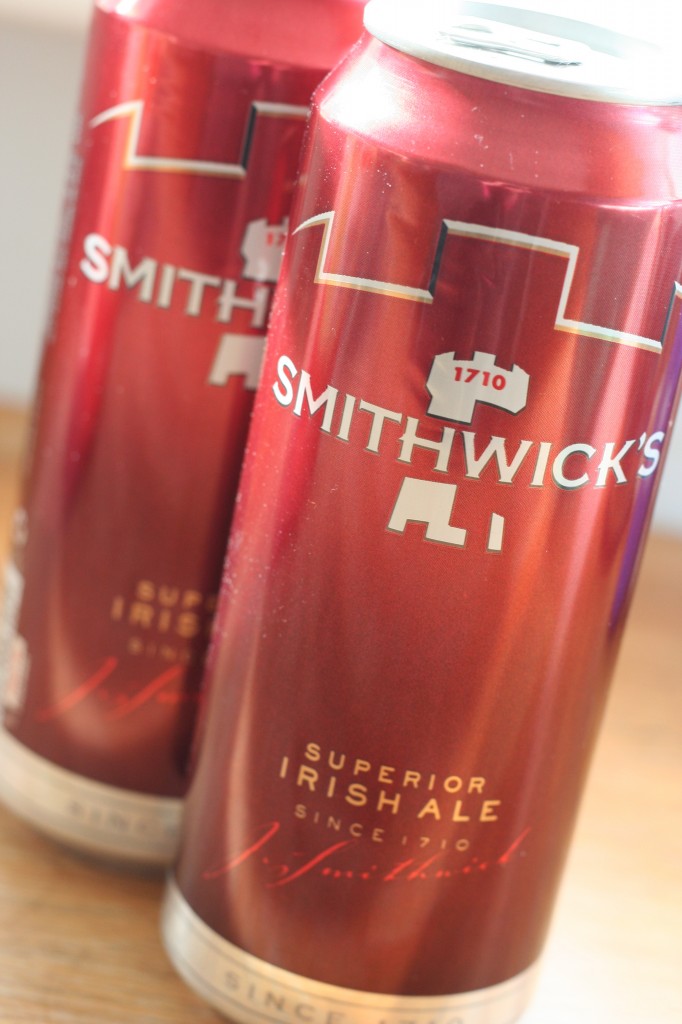 Irish Beer Bread
Makes 1 loaf
I called this Irish beer bread only because I used an Irish ale (Smithwick's, which is pronounced Smittick's), but you can use any beer. The stronger the beer you choose, the stronger the flavor of the bread.
2 1/2 cups (300 g) self-rising flour
1 tablespoon sugar
12 fl oz beer (350 ml), at room temperature
2 tablespoons (30 g) butter, melted (optional)
Preheat the oven to 375°F (190°C). Grease a 1‑lb loaf tin. Sift the flour and sugar into a bowl. Pour in the beer and mix with a wooden spoon until just combined. Pour into the greased loaf tin, pour the melted butter on top, if using, and bake for 45 minutes. Transfer to a wire rack to cool for at least 30 minutes before you slice it.

Email this post

Print this post