My husband and I were browsing Time's fascinating photo essay, What the World Eats, Part 1 and Part 2 yesterday. The differences in food costs, food variety, and presence of packaged foods is remarkable. In many parts of the world, dried legumes and grains are the backbone of daily eating, yet unfortunately, here in America, these items are rarely prepared by your average middle-class family.
If you become a regular visitor to our website, you will see that I frequently serve beans and rice. Not only are these items a complete protein when eaten together, containing all necessary amino acids, but they also serve as a very economical base to a meal; rice and beans for a family of four costs about $2.00. I also love that I can put the rice and beans on to cook before I leave for work (rice in our programmable rice cooker and beans in a slow cooker). With the addition of a few fresh, chopped vegetables or other accompaniments, dinner can be on the table in a matter of minutes. This menu takes a bit longer, as the ceviche must marinate for at least 1 hour, but it is a good example of what you can do with rice and beans as a starting point.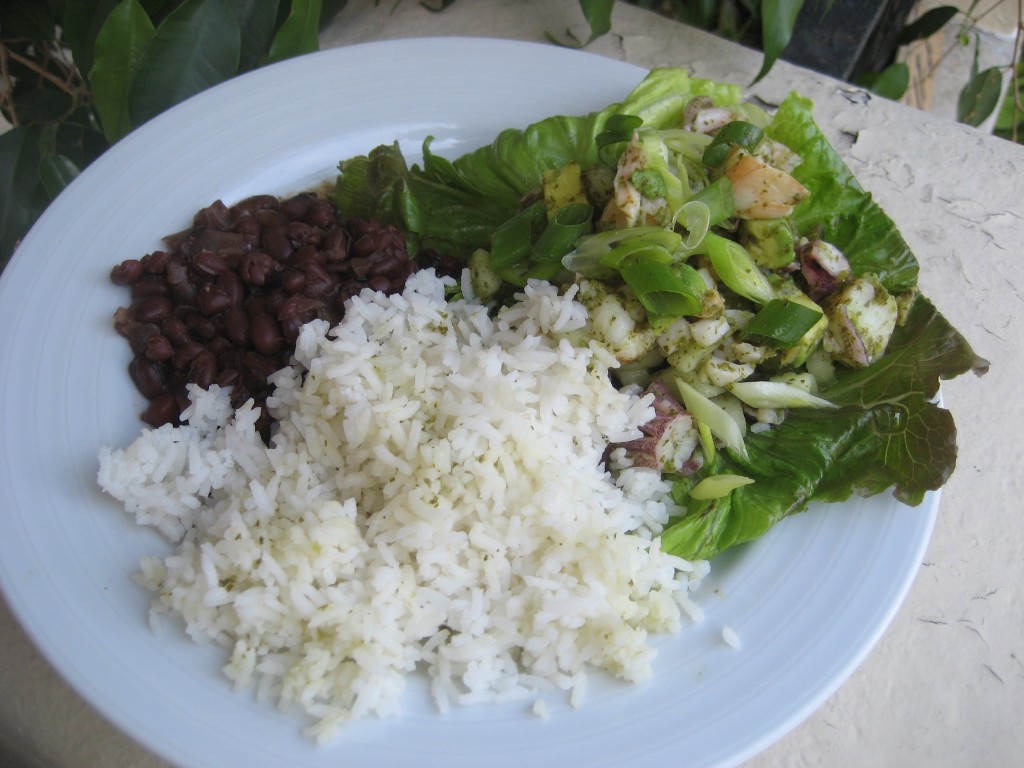 Ceviche Salad with Avocado, Cilantro and Green Chile
adapted from Mexican Everyday by Rick Bayless
Serves 4
3/4 lb (340 g) raw shrimp
1/2 lb (225 g) raw squid, cleaned, with tentacles separated and "body" cut into 1/4‑inch rings
1 cup (240 ml) freshly squeezed lime juice
2 garlic cloves
1 cup (about 30 g) loosely packed cilantro, roughly chopped, plus extra for garnish
1 jalapeno, minced
1 teaspoon salt
1 avocado, flesh scooped from the skin, and cut into 1/4‑inch cubes
1 cucumber, peeled, seeded and cut into medium dice
1 head Boston/butterhead lettuce or 8 large leaves red or green leaf lettuce
2 green onions, sliced diagonally
Simmer the shrimp in boiling well-salted water until just cooked, about 2 minutes. Drain, then chill. Repeat with squid, simmering 20 to 30 minutes, until tender, then draining. Peel and chop the shrimp into 1/2‑inch pieces.
Put lime juice, garlic, cilantro, jalapeno and salt into a food processor and blend till smooth. Pour over the seafood in a bowl. Leave to marinate in the fridge for 1 to 4 hours, depending on your taste. When done, pour off half the marinade. Add the avocado, cucumber and salt, if needed. Divide the lettuce among 4 plates. Scoop a portion of the ceviche into the center of each arrangement. Garnish with cilantro and green onions.
***
Slow Cooker Black Beans
1 lb (450 g) dried black beans
1 onion, diced
2 cloves garlic, minced
1 teaspoon good-quality chili powder
1/2 teaspoon dried red pepper flakes
1 teaspoon ground cumin
1 teaspoon dried epazote or oregano
6 cups (1.5 l) water
salt
Combine the first 8 ingredients in a slow cooker. Cook on low for 7 to 8 hours, until the beans are tender. Season to taste with salt (usually about 1 teaspoon).

Email this post

Print this post