If I had to pick one smell that evokes my childhood, it would be potpourri. When I was growing up, my mom was into the country style of decorating, and me and my brother and sister got dragged around to the shops that sell that kind of stuff on the weekends. Those stores invariably reeked of cinnamon potpourri, and there always seemed to be a bowl of it collecting dust on a bathroom shelf in our house. Nowadays, I imagine potpourri has been replaced by Yankee Candles, which seem to be everywhere. I always laugh at the names of the candles — some of this autumn's new scents are "Moonlight Harvest", "Lakeside Birch" and "Farmers Market". So what does a moonlight harvest smell like, exactly?
Still, when this date nut bread was baking, I couldn't help but think that the people at Yankee Candle would do well to try to recreate how this smells, fresh out of the oven, with its heady autumnal mix of cinnamon, cloves, nutmeg and orange zest. While this lemon blueberry buckle was the best thing I baked this summer, I think this date nut bread will be hard to beat for the autumn. When I was urging a friend to make it last week, I wasn't kidding when I said you'd almost want to bake this just to make your house smell good (and because it's delicious, of course, and absolutely perfect for fall). But failing that, I'm sure there's a suitable Yankee Candle out there — maybe "Autumn Fruit"?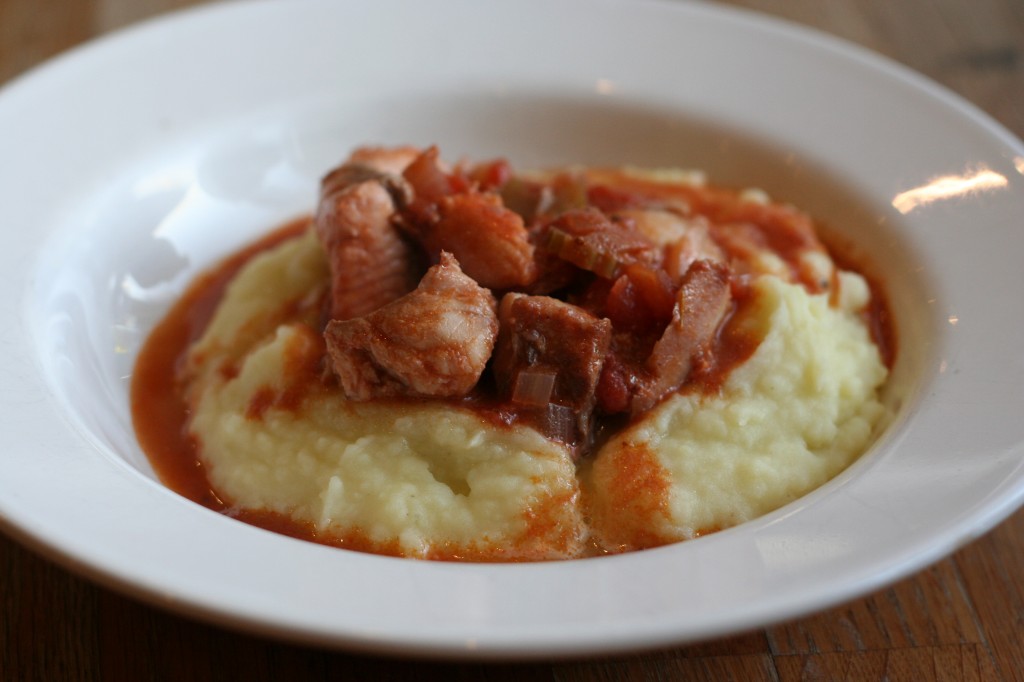 Autumn Fish Stew
adapted from Fresh from the Sea by Clodagh McKenna
Serves 4
olive oil
1 onion, diced
2 celery stalks, thinly sliced
3 garlic cloves, crushed
1 tablespoon coriander seeds, roughly crushed in a mortar and pestle
1 teaspoon ground cumin
1/2 teaspoon smoked paprika
1 bay leaf
sprig of fresh thyme
2 x 14-oz (400‑g) cans of chopped tomatoes
1/2 cup (120 ml) red wine
1 1/4 cups (300 ml) fish or vegetable stock
sea salt and freshly ground black pepper
2 1/4 lb (1 kg) mixed fish fillets, cut into small pieces
mashed potato, polenta, couscous or rice, to serve
Place a casserole dish over a medium heat and pour in a dollop of olive oil, followed by the onion and celery. Cook for 5 minutes. Add the garlic, coriander, cumin, bay leaf and thyme. Cook for a further 2 minutes. Stir in the tomatoes and leave to reduce and thicken for about 10 minutes. Pour in the wine, bring back to the boil and cook for 1 minute, followed by the stock. Season with salt and pepper and simmer for 15 to 20 minutes.
Add all the fish to the stew and stir well. Simmer gently for about 10 minutes. Serve with creamy mashed potatoes, polenta, couscous or rice.
***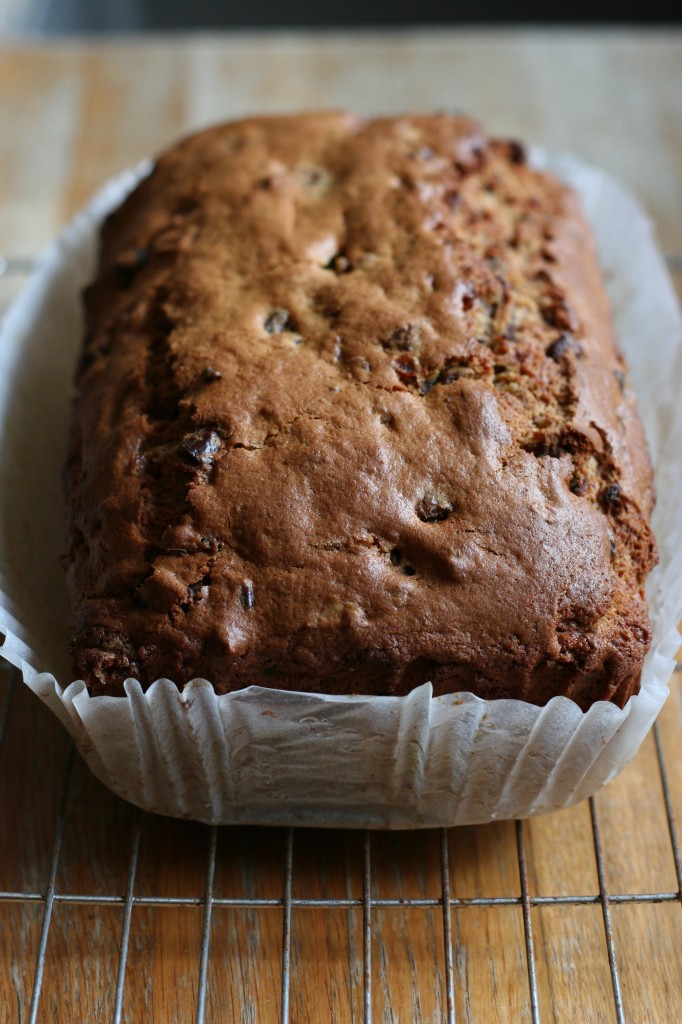 Date Nut Spice Bread
from Barefoot Contessa Back to Basics
by Ina Garten
Makes 1 x 8‑inch loaf
Don't let the "bread" in the title mislead you — this is a loaf cake, and a slice or two is perfect with a cup of tea or coffee, as a treat in a packed lunch or after-school snack, or for breakfast. Ina Garten suggests serving it with an orange zest-spiked cream cheese spread (you can find the recipe for that here), but I like this with only a bit of butter.
2 cups (280 g) pitted dates, coarsely chopped
1/3 cup (80 ml) orange liqueur (recommended: Cointreau or Triple Sec)
4 tablespoons (60 g) unsalted butter, at room temperature
3/4 cup (120 g) light brown sugar, lightly packed
1 extra-large egg
1 teaspoon pure vanilla extract
1 tablespoon grated orange zest (2 oranges)
2 cups (240 g) all-purpose flour
2 teaspoons baking powder
1/2 teaspoon baking soda
1 teaspoon ground cinnamon
1 teaspoon ground nutmeg
1/4 teaspoon ground cloves
1 teaspoon kosher salt
3/4 cup (175 ml) freshly squeezed orange juice (3 oranges)
3/4 cup (90 g) coarsely chopped pecans
Preheat the oven to 350°F (180°C). Butter the bottom of an 8 1/2 x 4 1/2 x 2 1/2‑inch loaf pan. Line the bottom with parchment paper, then butter and flour the pan. (I just used a loaf tin liner.)
Combine the dates and orange liqueur in a small bowl and set aside for 30 minutes. Stir occasionally.
In the bowl of an electric mixer fitted with the paddle attachment or using a hand-held mixer, beat the butter and brown sugar together on medium speed for 1 minute. Scrape down the bowl. With the mixer on low, add the egg, vanilla, and orange zest.
Sift together the flour, baking powder, baking soda, cinnamon, nutmeg, cloves, and salt. With the mixer still on low, add the flour mixture alternately with the orange juice to the creamed mixture, beating only until combined. By hand, stir in the dates with their liquid, and the pecans.
Pour the batter into the prepared loaf pan and smooth the top. Bake for 50 to 60 minutes, until a toothpick comes out clean. Cool in the pan for 10 minutes, then turn out onto a wire rack and cool completely.

Email this post

Print this post