Remember how I was recently lamenting the fact that greens rarely get to be the star of the show at dinnertime? If you want to eat more greens but aren't sure how to incorporate them, these chard tacos are another great recipe, and can use either chard or spinach. When paired with this sweet potato and black bean salad, it makes a fresh, filling dinner that still has an autumnal feel.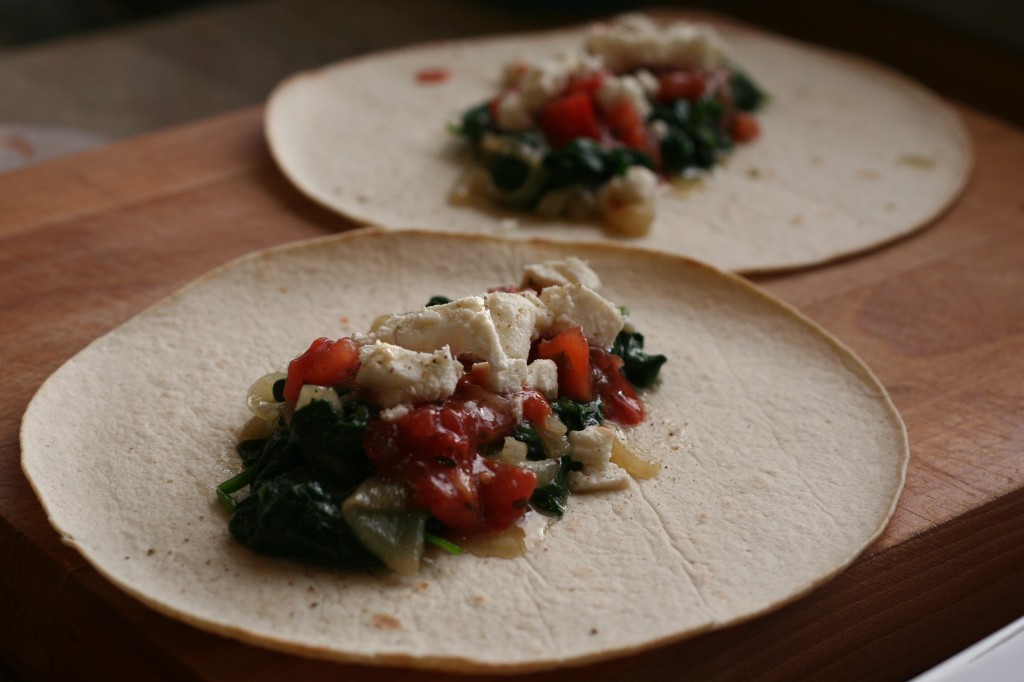 Chard Tacos
adapted from Mexican Everyday
by Rick Bayless
Serves 2
Rick Bayless says that to make a heartier meal, you could add some shredded leftover chicken or steak to the greens during the final few minutes of cooking. Flaked tuna or smoked salmon is a nice add-in, but to keep it vegetarian, you could also try smoked firm tofu.
12 oz (340 g) Swiss chard, thick lower stems cut off, OR 10 oz (280 g) spinach, rinsed well
1 1/2 tablespoons vegetable oil or olive oil
1 large white or red onion, sliced 1/4‑inch thick
3 garlic cloves, finely chopped
pinch of red pepper flakes
1/2 cup (120 ml) chicken or vegetable broth or water
1/2 teaspoon salt
8 warm corn tortillas (though flour ones will also work fine, as you can see from the photo I used here; you may need fewer flour ones)
1 cup (100 g) crumbled Mexican queso fresco, feta or goat's cheese
3/4 cup (175 ml) salsa
Cut the chard crosswise into 1/2‑inch slices (small spinach leaves can be left whole). In a large skillet, heat the oil over a medium-high heat. Add the onion and cook, stirring frequently, until golden brown but not entirely soft, about 4 to 5 minutes. Add the garlic and red pepper flakes and stir for a few seconds, then add the broth or water, salt and the greens. Reduce the heat to medium-low and cook until the greens are almost tender, anywhere from 2 minutes for baby spinach to 5 minutes for Swiss chard.
Uncover the pan, raise the heat to medium-high and cook, stirring continually, until the mixture is nearly dry. Taste and season with additional salt if you think it needs it. Serve with the warm tortillas, crumbled cheese and salsa.
***
Sweet Potato and Black Bean Salad
adapted from Mark Bittman at The New York Times
Serves 4 to 6
2 large sweet potatoes, peeled and cut into bite-sized chunks
1 large red onion, cut into large chunks
olive oil
salt and freshly ground black pepper
1 x 14-oz (400‑g) can of black beans, drained and rinsed
1 red pepper, deseeded and chopped
juice and zest of 1 lime
3 tablespoons olive oil
1 bunch fresh cilantro, chopped
Preheat the oven to 400°F (200°C).
Place the sweet potatoes and red onion on a baking tray. Drizzle with some olive oil and season with salt and pepper, tossing well to make sure all the vegetables are coated with oil. Roast in the hot oven for 20 to 30 minutes, until the sweet potatoes are just tender and taking care not to let the red onion burn.
When the potatoes and onion are done, transfer them to a large bowl. Add in the black beans and chopped red pepper. Whisk the lime juice and zest and olive oil together until emulsified (or shake to combine in a screw-top jar), then pour over the salad in the bowl, stirring gently to make sure everything is coated with the dressing. Add in the chopped cilantro and stir well again. Season to taste with salt and pepper. This can be served warm or at room temperature.

Email this post

Print this post