I've been reading recipes for all manner of heavenly-sounding things made with dulce de leche for awhile now, but no matter how much I wanted to try it, I wasn't about to make my own by boiling an unopened can of condensed milk and risk having it explode; my house had enough problems this summer without adding replastering my kitchen ceiling to the bill. But when I came across David Lebovitz's version, which is simply (and safely!) baked in the oven for an hour, I gave it a go, and like David Lebovitz, I had to stop myself from eating it all to make the brownies.
I cut the brownies into two dozen bite-sized portions so that I could bring half of them over to a friend and so that Matt could take some more into work to share. I've spent the past three weekends in a row entertaining visitors, and all that wine and baking and richer-than-usual cooking means I've got a few pounds to lose now, so the last thing I needed was these brownies hanging around the house, because they would be impossible to stay away from. Even the jar of dulce de leche on its own was pretty irresistible. Now that I know how easy it is to make it myself, I can finally try out all those other recipes I've had my eye on.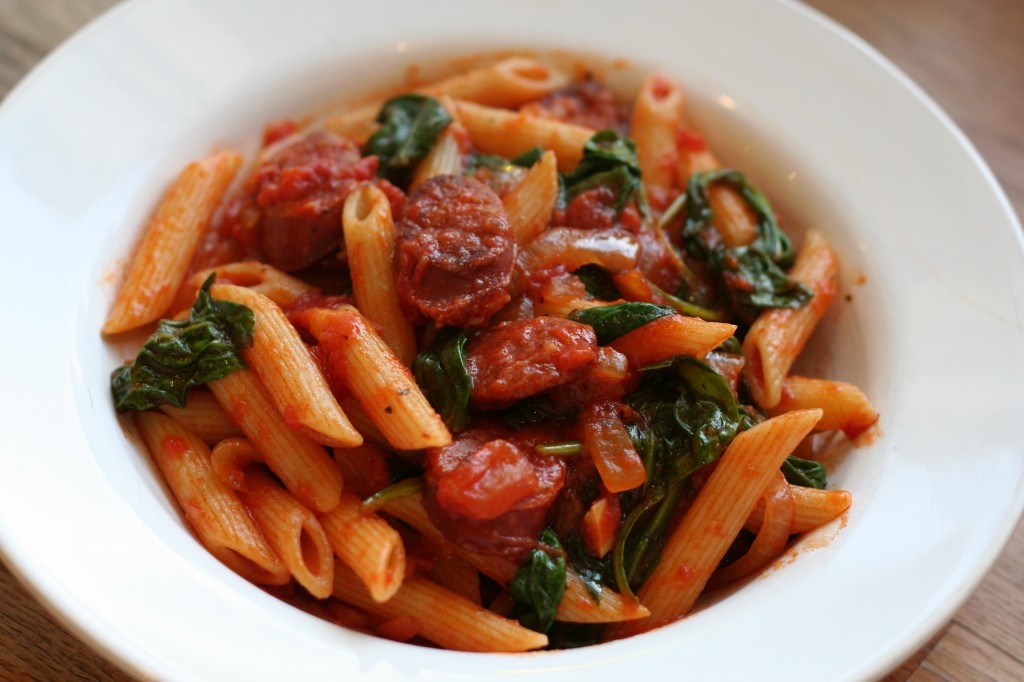 Penne with Chorizo and Spinach
adapted from Neven's Real Food for Families by Neven Maguire
Serves 6
1 lb (450 g) chorizo sausage, cut into 1‑inch pieces on the diagonal
2 onions, thinly sliced
3 cloves garlic , crushed
1 red chili, deseeded and finely chopped, or a pinch of red pepper flakes (optional)
2 tablespoons shredded fresh basil
2 x 14-oz (400‑g) cans chopped tomatoes
1 teaspoon sugar
salt and freshly ground black pepper
1 lb (450 g) penne
8 oz (200 g) baby spinach
freshly grated Parmesan, to serve
Heat a frying pan and tip in the chorizo sausage pieces, then cook for 2 minutes, tossing the pan occasionally to ensure they cook evenly. Add the onions and garlic, then cook for another 5 minutes until the onions are golden, stirring occasionally.
Stir the chili (if using) into the chorizo and onion mixture with the basil and cook for 1 minute. Pour in the tomatoes, add the sugar and season to taste. Bring to the boil, then reduce the heat and simmer for 30 minutes, until slightly reduced and thickened, stirring occasionally.
Meanwhile, cook the pasta in a large pot of boiling salted water for about 10 minutes, or according to the packet instructions, until al dente. Drain well and return to the pot. Stir in the chorizo sauce along with the spinach and mix well to combine — the heat of the pasta and sauce should cook the spinach instantly.
To serve, divide the chorizo and spinach pasta among warmed bowls and scatter over the freshly grated Parmesan.
***
Dulce de Leche Brownies
adapted from David Lebovitz
Makes 12 large brownies or 24 bite-sized ones
1 x 14-oz (400‑g) can of sweetened condensed milk (I used Carnation brand)
sea salt
8 tablespoons (110 g) unsalted butter
6 oz (170 g) bittersweet or semisweet chocolate, finely chopped
1/4 cup (30 g) unsweetened Dutch-process cocoa powder
3 large eggs
1 cup (200 g) sugar
1 teaspoon vanilla extract
1 cup (120 g) flour
1 cup (240 ml) dulce de leche, either homemade or store bought
To make the dulce de leche, preheat the oven to 425° F (220° C).
Pour the can of sweetened condensed milk (not evaporated milk) into a glass pie plate or shallow baking dish. Stir in a few grains of sea salt. Set the pie plate within a larger pan, such as a roasting pan, and pour in hot water until it reaches halfway up the side of the pie plate. Cover the pie plate snugly with aluminum foil and bake for 1 to 1 1/4 hours. (Check on the pie plate a few times during the cooking time and add more water to the roasting pan if too much has evaporated.)
Once the dulce de leche is browned and caramelized, remove it from the oven and allow it to cool. Once cool, whisk until smooth. Store it in the refrigerator until ready to serve. Warm gently in a warm water bath or microwave before using.
To make the brownies, preheat the oven to 350°F (175°C).
Line an 8‑inch square pan with a long sheet of aluminum foil that covers the bottom and reaches up the sides. If it doesn't reach all the way up and over all four sides, cross another sheet of foil over it, making a large cross with edges that overhang the sides. Grease the bottom and sides of the foil with a bit of butter or nonstick spray.
Melt the butter in a medium saucepan. Add the chocolate pieces and stir constantly over a very low heat until the chocolate is melted. Remove from the heat and whisk in the cocoa powder until smooth. Add in the eggs one at a time, then stir in the sugar, vanilla and then the flour.
Scrape half the batter into the prepared pan. Next, drop one-third of the dulce de leche, evenly spaced, over the brownie batter, then drag a knife through it to swirl it slightly. Spread the remaining brownie batter over, then drop spoonfuls of the remaining dulce de leche in dollops over the top of the brownie batter. Use a knife to swirl the dulce de leche very slightly.
Bake for 35 to 45 minutes. The brownies are done when the center feels slightly firm. Remove from the oven and allow the brownies to cool completely. These brownies actually become better the second day, and will keep well for up to 3 days.

Email this post

Print this post