Greens seem to be the outcasts of the vegetable world, like the shy kids parents have to coax their own children into playing with. Why is this? Sure, spinach is common enough, but why don't Swiss chard or kale feature more, especially considering how pretty rainbow chard is, or even kale, with its frilly-edged leaves that always make me think of Elizabethan ruffs? I suspect it might be because of a perceived lack of good, innovative recipes that use them.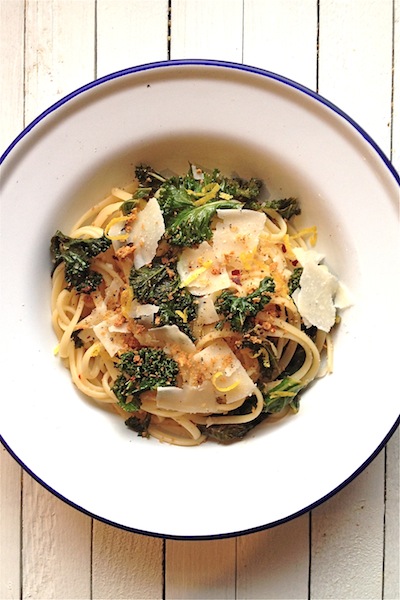 I originally got the idea for this recipe after reading Molly Wizenberg's (a.k.a. Orangette) October column in Bon Appétit, but it sounded a bit plain to me and I wanted to kick up the flavor. Then I remembered reading a recipe for braised kale in the July/August issue of Jamie Oliver's new magazine, which included anchovies (another much-maligned ingredient), white wine and lemon. And last week I got the idea of adding the toasted breadcrumbs from the linguini with breadcrumbs and kale recipe that won the greens contest at Food 52. When I merged all three recipes together, it made for a fabulous dish. The kale itself was so good that Matt and I went back for second helpings, pushing the pasta out of the way in the pot just to get to the greens. If you need to be cajoled into eating your greens, try this and see if you might be converted.
Linguini with Braised Kale
Serves 4
You could also make this with other greens, such as Swiss chard or spinach, or you could serve the braised kale on its own as a side dish instead of with pasta. You might notice that in the photo I used both breadcrumbs and pine nuts, but later decided that only one or the other is needed to add a little extra crunch and texture.
1 lb (450 g) kale (about 2 bunches), large center ribs and stems removed
4 tablespoons extra virgin olive oil
4 cloves garlic, chopped
8 anchovy fillets, chopped (optional)
1/2 red chili, finely chopped, or a pinch of red pepper flakes
1/3 cup (80 ml) dry white wine
zest and juice of 1 lemon
salt and freshly ground black pepper
1/2 lb (225 g) linguini or spaghetti
handful of toasted breadcrumbs or pine nuts
grated Parmesan cheese, to serve
Rinse the kale well, then cut crosswise into 1/2‑inch slices. Drain in a colander and set aside.
Heat the oil in a large frying pan over a medium-low heat. Saute the garlic, anchovies (if using) and the chili or red pepper flakes for 5 minutes, taking care not to let the garlic color. When the garlic has softened and the anchovies have dissolved, raise the heat and add the kale. Cook for a couple of minutes, until the kale starts to wilt and turn a vibrant green. Add in the wine, lemon zest and juice and salt and pepper to taste. (Try not to cook the kale too long so that it keeps its bright green color.)
Meanwhile, cook the pasta in a pot of boiling salted water according to package instructions, until al dente. Drain, reserving 1/4 cup (60 ml) of the cooking liquid. Add the cooked pasta to the kale mixture, stirring well to combine. Stir in the reserved cooking liquid.
Divide the pasta and kale between 4 serving bowls or plates. Sprinkle with the breadcrumbs or pine nuts and grated Parmesan cheese and serve right away.
***
Parmesan Garlic Bread
adapted from Real Food
by Nigel Slater
6 tablespoons unsalted butter, at room temperature
1 cup (30 g) coarsely chopped flat-leaf parsley
1/2 cup (50 g) freshly grated Parmesan cheese
3 garlic cloves, minced
salt and freshly ground black pepper
1 ciabatta loaf or baguette
Preheat the oven to 425° (220°C). In a small bowl, using a spoon, mash the butter until creamy. Mix in the parsley, Parmesan cheese and garlic and season well with salt and pepper.
Slice the ciabatta or baguette in half horizontally and spread the butter on both halves. Put the halves back together and wrap the bread loosely in aluminum foil.
Bake in the middle of the oven for 5 minutes. Open the foil and bake for about 5 minutes longer, or until the top is golden and crisp. Serve hot.

Email this post

Print this post