Last week, an old friend came to visit from London for a long weekend with his wife and baby daughter. As we were all eating dinner one night, he told us that he'd recently made such a big pot of soup that not only did they eat it for lunch and dinner for four days straight, but when he put it in the refrigerator, the pot was so heavy it cracked the shelf. We all laughed about it, even my friend, but the next day I asked him why he didn't freeze some of the soup instead of eating the same thing for the better part of a week. "I've been really busy lately and it means dinner is one less thing I have to worry about," he said, and I couldn't fault him there. A big pot of soup does make for effortless leftovers — though maybe not such a big pot that it makes four days' worth. Still, you could do worse than to eat this soup for a few days running, seeing as how it's packed full of veggies, beans, some greens and carbs, with a glass of red wine to elevate it into something a little more sophisticated than your usual minestrone. So Adrian, this recipe is for you — the next time you need something to see you through a busy patch, try this soup (though try not to make so much it breaks the fridge shelf again).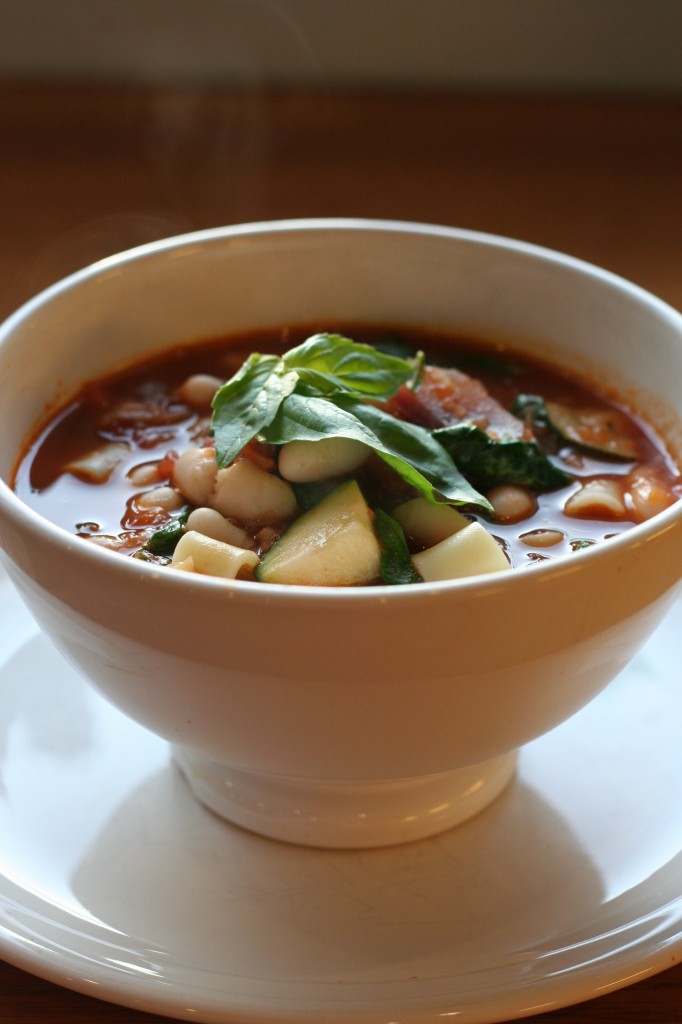 Early Autumn Minestrone
adapted from Jamie's Italy by Jamie Oliver
Serves 4 to 6
To make this suitable for vegetarians, just leave out the bacon and use vegetable stock.
olive oil
4 slices of smoked pancetta or bacon
2 small red onions, finely chopped
2 carrots, chopped
2 sticks of celery, chopped
1/2 head of fennel, chopped
3 cloves garlic, finely chopped
a small bunch of fresh basil, finely sliced (set aside some to garnish at the end)
2 x 14-oz (400‑g) cans of good-quality whole plum tomatoes
a glass of red wine
2 small zucchini, quartered and sliced
7 oz (200 g) chard or spinach, washed and roughly sliced (including stalks)
1 1/4 pints (600 ml) good-quality chicken, ham or vegetable stock
1 x 14-oz (400‑g) can of cannellini or borlotti beans
2 handfuls (2 oz/60 g) elbow macaroni, or other small pasta shape
sea salt and freshly ground black pepper
freshly grated Parmesan cheese, to serve
crusty bread, to serve
Heat a good splash of olive oil in a saucepan and add the chopped pancetta or bacon, onions, carrots, celery, fennel, garlic and basil. Sweat very slowly on a low heat, with the lid just ajar, for around 15 to 20 minutes, until soft but not brown. Add the tomatoes, zucchini and red wine and simmer gently for 15 minutes, breaking up the whole tomatoes with the back of a spoon.
Now add the chard or spinach, stock, beans and pasta. Stir and continue to simmer until the pasta is cooked, about 15 minutes.
If you think the soup is looking too thick, add a little more stock or water to thin it down a bit. Season to taste with salt and pepper. Serve sprinkled with the reserved basil and freshly grated Parmesan cheese and some good crusty bread on the side.
***
Tarte Tatin
adapted from Gourmet, March 2001
Serves 8
You can also make a Tarte Tatin with 4 pears, peeled, cored and halved. The tart can cool in the skillet for up to 30 minutes. It can also stand, uncovered, for up to 5 hours, then be heated over a moderately low heat for 1 to 2 minutes to loosen the caramel. Shake the skillet gently to loosen the tart before inverting. If you need to let the tart stand for any length of time before serving it, leave it in the skillet and don't invert it, otherwise the caramel will make the puff pastry base turn soggy.
1 frozen puff pastry sheet
1/4 cup (60 g) unsalted butter, softened
1/2 cup (100 g) sugar
7 to 9 Gala apples (3 to 4 lb/1.4 to 1.8 kg), peeled, quartered lengthwise and cored (or use any firm dessert apple, such as Golden Delicious)
whipped cream, crème fraîche or vanilla ice cream, to serve
Note: You will need a well-seasoned 10-inch cast-iron skillet or an ovensafe 10-inch skillet
Preheat the oven to 425°F (220°C).
Roll the puff pastry sheet into a 10 1/2‑inch square on a floured work surface with a floured rolling pin. Brush off the excess flour and cut out a 10-inch round with a sharp knife, using a plate as a guide. Transfer the round to a baking sheet and chill.
Spread the butter thickly on the bottom and side of the skillet and sprinkle the sugar evenly over the bottom. Arrange as many apples as will fit vertically on the sugar, packing them tightly in concentric circles. The apples will stick up above the rim of the skillet.
Cook the apples over a moderately high heat, undisturbed, until the juices are deep golden and bubbling, which will take about 18 to 25 minutes. (Don't worry if the juices color unevenly.) It's important not to stir the caramel while it's cooking, otherwise it might crystallize.
Lay the pastry round over the apples and tuck it in around the edges. Put the skillet in the middle of the oven over a piece of foil to catch any drips. Bake for 20 to 30 minutes, until the pastry is browned. Transfer the skillet to a rack and cool for at least 10 minutes. Be careful when handling the skillet from here on out — don't forget that the handle will be very hot!
Just before serving, invert a platter with a lip over the skillet and, using potholders to hold the skillet and plate tightly together, invert the tart onto the platter. Replace any apples that stick to skillet. (Don't worry if there are black spots; they won't affect the flavor of the tart.) Brush any excess caramel from the skillet over the apples. Serve immediately with whipped cream, crème fraîche or vanilla ice cream.

Email this post

Print this post