I hadn't heard of Shelia Lukins or her gourmet food shop, The Silver Palate, until she passed away last month. Then she was all over the news on food blogs, most of which couldn't mention her without also mentioning Chicken Marbella, her most famous recipe. After reading all the rave reviews of it, I was curious to give it a try myself. I made the marinade on Sunday night, with Matt and my father-in-law, who had come over for dinner, looking on. "I don't know about this. Prunes? Olives? Capers? This looks kind of weird to me," I said, doubtfully pouring it over the chicken. But all those reviews were right — it really is a good dish, though granted, you probably need to be a fan of strong, briny flavors to enjoy it.
This is a perfect weeknight meal, since all you have to do is make the marinade the night before (which takes no more than 10 minutes), then pop it in the oven when you get home and boil up some rice to serve it with. It can be served hot or at room temperature, which means it travels well and makes great picnic food. Or you could use small drumsticks and wings to make it into an hors d'oeuvre. All in all, it's a handy recipe to have in your repertoire.
I didn't set out to tamper with such a classic (you can see the unadulterated version of the recipe here), but I wound up adapting this to use boneless, skinless chicken breasts rather than the whole quartered chickens called for in the original. I also misread the recipe when I made this and cooked the chicken right in the casserole dish with the marinade it had been sitting in overnight (rather than transferring the chicken to a different baking pan like the original says to), and it came out perfectly fine. Reading the reviewer comments of this recipe at Epicurious, it sounds like you'll get a nicely caramelized crust if you use chicken pieces with the skin still on, so I'm going to stick closer to the original next time.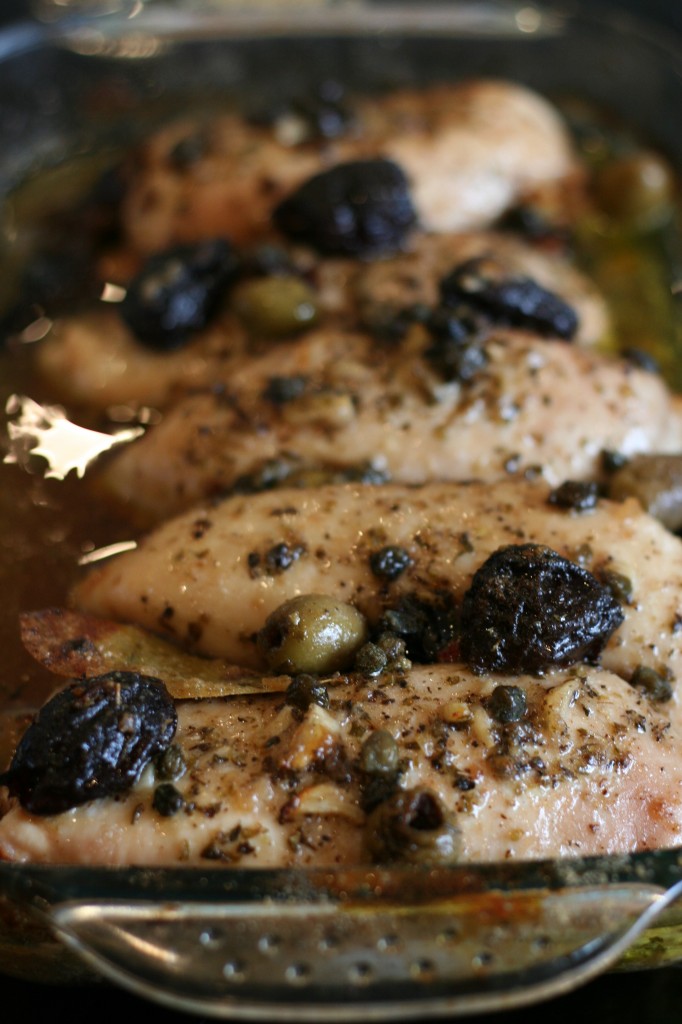 Chicken Marbella
adapted from Silver Palate Cookbook
by Julee Rosso and Shelia Lukins
Serves 6
To serve Chicken Marbella cold, cool to room temperature in the cooking juices before transferring the pieces to a serving platter. If the chicken has been covered and refrigerated, reheat it in the juices, then allow it to come to room temperature before serving. Spoon some of the reserved juice over the chicken.
6 boneless, skinless chicken breasts
1/2 head of garlic, peeled and finely puréed (I mashed the cloves in a mortar and pestle)
2 tablespoons dried oregano
coarse salt and freshly ground black pepper
1/4 cup (60 ml) red wine vinegar
1/4 cup (60 ml) olive oil
1/2 cup (100 g) pitted prunes
1/4 cup (50 g) pitted Spanish green olives
1/4 cup (70 g) capers with a bit of juice
3 bay leaves
1/2 cup (85 g) brown sugar
1/2 cup (120 ml) white wine
2 tablespoons fresh Italian parsley or cilantro, finely chopped
rice, couscous or mashed potatoes, to serve
Whisk the olive oil and vinegar together, then add the prunes, olives, capers and their juice, bay leaves, garlic, oregano and salt and pepper in a large bowl or measuring jug. Arrange the chicken in a single layer in an ovenproof casserole dish and pour the marinade over, stirring to coat. Cover and refrigerate overnight.
Preheat the oven to 350°F (180°C).
Sprinkle the chicken with the brown sugar and pour the white wine around. Bake for 50 minutes to 1 hour, basting frequently with the pan juices.
With a slotted spoon, transfer the chicken, prunes, olives, and capers to a serving platter. Moisten with a few spoonfuls of the pan juices and sprinkle generously with the parsley or cilantro. Pass the remaining pan juices in a gravy boat.

Email this post

Print this post