How can you resist an article with a title like "Gourmet's Guide to Cobblers, Crisps, Crumbles, Bettys, Buckles + Pandowdies", if only to find out what in the world a pandowdy is? (For the record, it's sliced fruit baked with sugar and spices in a deep dish, with a thick top crust.) It's just too bad they didn't include grunts and slumps in the article title to really round things out. The article included a link to a recipe for lemon blueberry buckle, which sounded like something nice to make while there's still some blueberries left. But "nice" doesn't do this recipe justice. And don't let its humble, coffee cake-like appearance fool you either. It wound up being the best thing I baked all summer. It was so good that as soon as I finished my first piece, I went online to see what I could find out about the book the recipe comes from, Rustic Fruit Desserts. Once I had a look at the index on Amazon, I was sold — apple cobbler with cheddar cheese biscuits, cherry almond bars, fig and honey cream galette, pear sauce bundt cake with pear brandy butter … oh my. I might even have bought it just for the brown sugar rum glaze alone. Hurry and make this buckle while you still can with in-season blueberries — then see if you aren't tempted to buy the book too.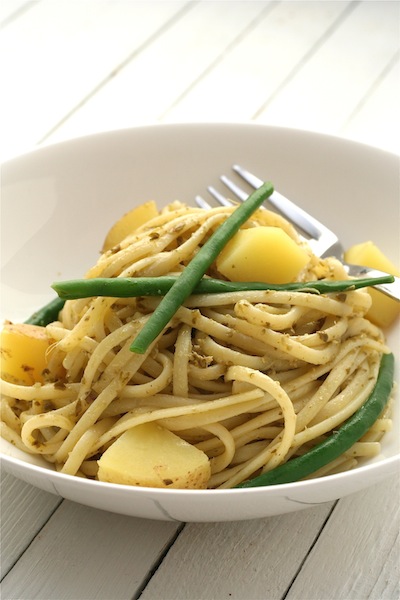 Spaghetti alla Genovese
adapted from Avoca Café Cookbook 2
Serves 4
4 small new potatoes, peeled and cut into thin slices
8 oz (225 g) green beans, ends trimmed
1 lb (450 g) spaghetti (or fettuccine or linguine)
3 or 4 tablespoons pesto (or more, to taste)
salt and freshly ground black pepper
freshly shaved Parmesan, to serve
Blanch the peeled, sliced potatoes in boiling salted water for 5 minutes, or until cooked. Refresh in cold water and set aside.
Cook the trimmed green beans in boiling salted water until tender but still al dente. Drain and set aside.
Cook the pasta in boiling salted water until al dente. Drain, reserving a cupful of the cooking water. Toss the pasta with the potatoes, green beans and pesto. Taste and adjust with more pesto if needed, and thin the sauce with some of the cooking water if you think it needs it. Season to taste with salt and pepper. Serve immediately with thick shavings of Parmesan scattered on top.
***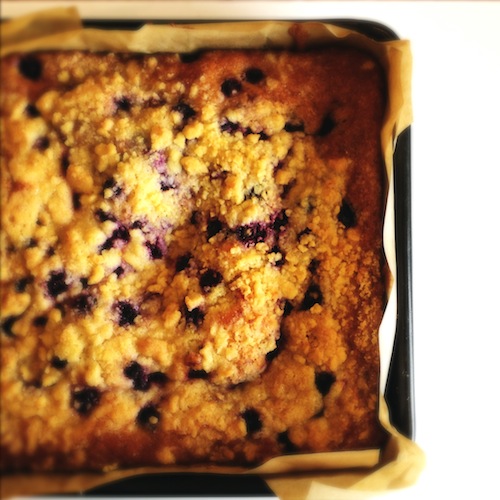 Lemon Blueberry Buckle
from Rustic Fruit Desserts: Crumbles, Buckles, Cobblers, Pandowdies, and More
by Cory Schreiber and Julie Richardson
Serves 6 to 8
Covered in cling film, the buckle will keep at room temperature for 2 to 3 days (though in my house it was all eaten up in less than 24 hours).
for the crumb topping:
1/2 cup (60 g) all-purpose flour
1/3 cup (75 g) granulated sugar
1/8 teaspoon fine sea salt
zest of 1 lemon
1/4 cup (60 g) unsalted butter, at room temperature, cubed
for the cake:
1 1/2 cups (180 g) plus 2 tablespoons all-purpose flour
1 teaspoon baking powder
1/4 teaspoon baking soda
1/2 teaspoon fine sea salt
1/4 teaspoon freshly grated nutmeg (or a pinch of dried nutmeg)
6 tablespoons (90 g) unsalted butter, at room temperature
3/4 cup (150 g) granulated sugar
zest of 1 lemon
2 eggs
1/2 cup (120 ml) buttermilk
2 cups (320 g) blueberries, fresh or frozen
for the lemon syrup:
1/3 cup (75 g) granulated sugar
juice of 2 lemons
Preheat the oven to 350°F (180°C). Butter a 9‑inch-square baking pan.
To make the crumb topping, mix the flour, sugar, salt, and lemon zest together in a bowl, then add the butter and use a fork or your fingers to cut in the butter until the size of peas. Place the topping in the freezer until you mix the cake batter.
To make the cake, whisk the flour, baking powder, baking soda, salt, and nutmeg together in a bowl. Using a handheld mixer with beaters or a stand mixer with the paddle attachment, cream the butter, sugar, and lemon zest together on medium-high speed for 3 to 5 minutes, until light and fluffy. Add the eggs one at a time, scraping down the sides of the bowl after each addition. Sir in the flour mixture in 3 additions alternating with the buttermilk in 2 additions, beginning and ending with the dry ingredients and scraping down the sides of the bowl occasionally. Gently fold in half the blueberries, spread the batter into the prepared pan, and distribute the remaining blueberries over the cake.
Sprinkle the chilled crumb topping over the berries, then bake for 45 to 50 minutes, or until lightly golden and firm on top.
To make the glaze, combine the sugar and lemon juice in a small saucepan and whisk until blended. Cook over a medium-low heat, stirring occasionally, for 8 to 10 minutes, until syrupy. The glaze will bubble while cooking, so you may need to remove it from the heat to check that it's thick enough.
Pour the glaze over the cake as soon as it's removed from the oven. Reheat the syrup briefly if it has become too thick to pour.

Email this post

Print this post