I know I've been watching too much Mad Men when I start craving cigarettes and pull out my Betty Crocker's Cookbook from 1969. I can't figure out how women ate these dishes and still managed to squeeze into their wool pencil skirts. Good girdles? Maybe it was the chain smoking.
Feeling housewifely after an evening marathon of Season 1 (thank you Netflix), I decided dinner needed a pie finale. Though sweet potato pies are more Mississippi than Manhattan, I couldn't resist trying out this southern favorite. This was my first taste of sweet potato pie. I enjoyed it, a very nice alternative to a pumpkin pie. Unfortunately, the day after I made it, the pie fell out of my overstuffed fridge so I lost the leftovers as well as my favorite Le Creuset pie plate. I'm sure Betty Draper would be appalled by balancing dessert on top of a dozen ears of corn wedged between nearly expired yogurt.
Stuffed Green Peppers
adapted from Betty Crocker's Cookbook/40th Anniversary Edition
Serves 6
6 large green bell peppers
1 lb (450 g) ground beef
1/2 small onion, minced
1 clove garlic, minced
1 teaspoon salt
1 1/2 cups cooked rice
1 x 15-oz (425‑g) can tomato sauce
Preheat the oven to 350°F (180°C). Cut a thin slice from the stem end of each pepper. Remove the seeds and membranes; rinse. Cook the peppers in enough boiling salted water to cover for 5 minutes; drain.
Cook the ground beef and onion in a large skillet until the hamburger is light brown; drain. Add the garlic to the pan and cook over a medium-high heat for 1 minute, until fragrant. Stir in the salt, rice and 1 1/3 cups of the tomato sauce; heat through.
Stuff each pepper with the beef/rice mixture, then stand upright in an ungreased 8 x 8 x 2‑inch baking dish Pour the remaining sauce over the peppers. Cover and bake for 45 minutes. Uncover and cook for 15 minutes longer.
***
Salad with Corn, Tomato, and Goat's Cheese with Sherry Vinaigrette
Serves 4
2 tablespoons sherry vinegar
1/2 teaspoon Dijon mustard
1/2 teaspoon kosher salt
1/4 teaspoon freshly ground black pepper
2 tablespoons olive oil
5 oz (140 g) mixed salad greens
2 ears of corn, cooked and kernels removed
2 small or 1 large tomato, diced
2 oz (60 g) goat's cheese
To make the vinaigrette, whisk together the vinegar, mustard, salt, pepper, and olive oil (or shake to combine in a screw-top jar).
For the salad, mix together the greens, corn kernels, and tomato. Drizzle the vinaigrette on top and gently toss. Garnish with the goat's cheese.
***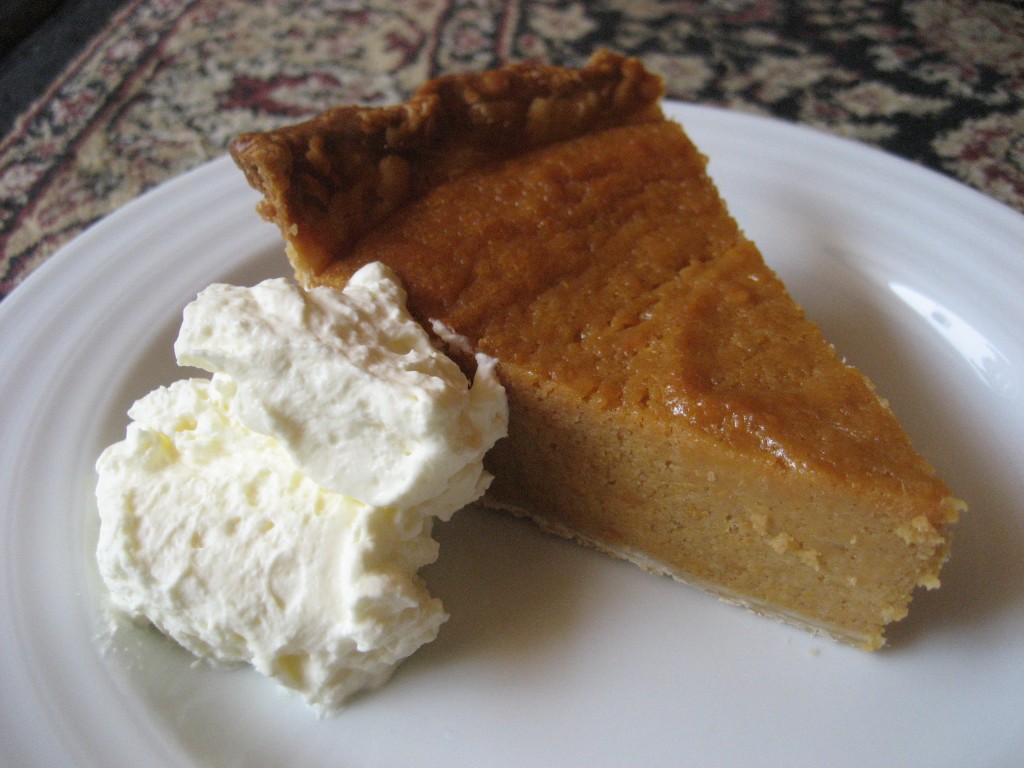 Sweet Potato Pie
adapted from Bon Appétit, September 2002
Serves 8
2 large or 3 small red-skinned sweet potatoes (about 1 1/2 lb/680 g)
1 cup (packed) (170 g) golden brown sugar
1 cup (240 ml) whipping cream
3 large eggs
1 teaspoon vanilla extract
3/4 teaspoon ground cinnamon
1/4 teaspoon ground nutmeg
1/4 teaspoon salt
1 x 9‑inch prepared pie crust (Note: this recipe has a wonderful crust according to the online reviews, but I'm lazy and always use Pillsbury refrigerated pie crusts)
1 large egg white, beaten to blend
freshly whipped cream, to serve
Pierce the potatoes with a fork. Cook in the microwave on high until tender, about 6 minutes per side. Cut open and allow to cool completely. Scrape the potato flesh into a bowl and mash until smooth. Measure enough potato puree to equal 1 1/2 cups.
Preheat the oven to 400°F (200°C) and position the oven rack in the bottom third of the oven. Place the puree in a large bowl. Whisk in the brown sugar, cream, eggs, vanilla, cinnamon, nutmeg, and salt. Brush the pie crust with the beaten egg white. Transfer the filling to the crust.
Bake the pie until the filling is puffed around the edges and set in the center, about 45 minutes. Transfer to a rack and allow to cool. (Can be made 1 day ahead. Cover; refrigerate.) Serve with freshly whipped cream.

Email this post

Print this post