I love the idea of appetizers for dinner. Why waste time with big entrees when a succulent starter will do? My in-laws introduced me to a wonderful Vietnamese restaurant on the south side of Milwaukee called Phan's Garden. After years of ordering and assembling their grilled pork meatball spring rolls, Reuben decided to take a stab at preparing the appetizer at home. Over the years, our recipe has been tweaked and nudged until we now no longer go to Phan's Garden, preferring our home-cooked version of their spring rolls. We occasionally add a stir-fry or salad to the meal, but more often than not, the spring rolls alone make up our meal.
For those that aren't familiar with Pinkberry, check out their website. I ate their yogurt only once, a couple of years ago while on vacation in New York, but still crave it. Luckily, 101 Cookbooks took a stab at creating a recipe to mimic Pinkberry's concoction. I decreased the sugar further in an attempt to make the yogurt more tangy and less sweet, as I remember it. Add-ins are key to this type of yogurt. I love it with strawberry puree (great way to use frozen purees leftover from spring strawberry picking). This week, I stirred in toasted pecans and chocolate chips. Reuben makes a rocky road version with nuts, chocolate chips, and marshmallows. And it's yogurt so you can eat it with a clear conscious.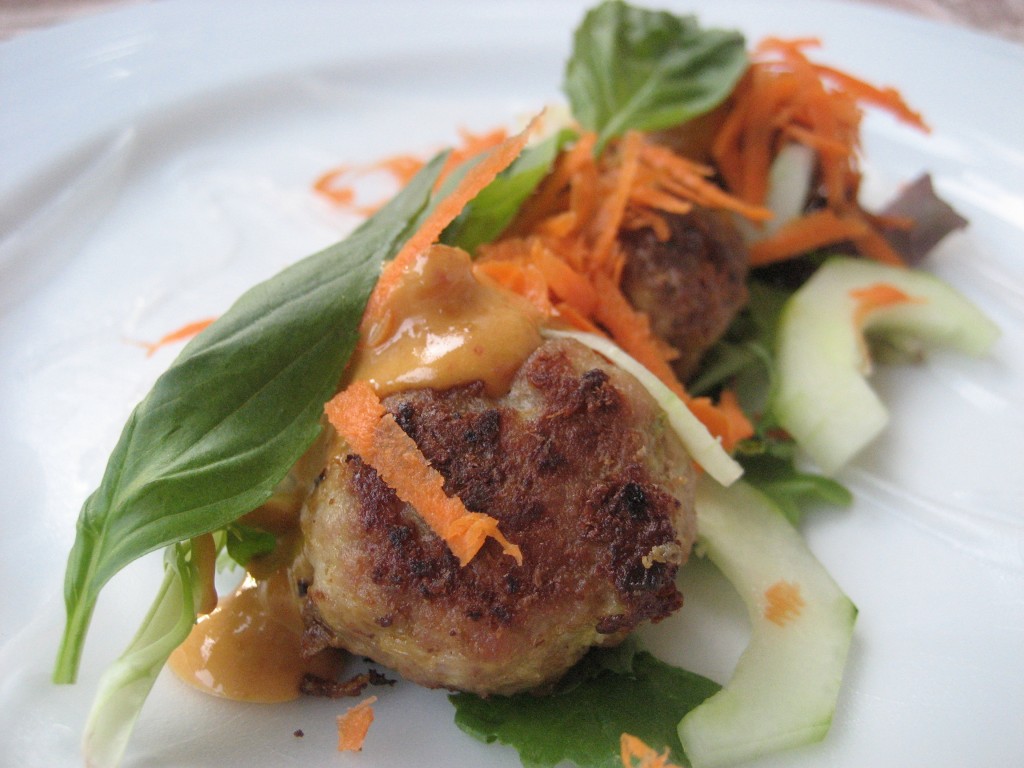 Spring Rolls with Pork Meatballs
Serves 4 to 6
1 1/4 lb (570 g) ground pork
1 egg
2 tablespoons minced garlic
1 tablespoon grated ginger
2 tablespoons thinly sliced green onions
1 teaspoon sugar
1 tablespoon fish sauce
salt and pepper to taste
2 tablespoons vegetable oil
12 rice spring roll skins
handful of torn lettuce leaves or mixed greens
4 oz (110 g) thin rice noodles, cooked according to package directions
2 carrots, grated
1 cucumber, peeled, halved, seeded, and sliced into thin half moons
1 bunch fresh basil and/or cilantro
1 serrano chili, thinly sliced
Combine the pork, egg, garlic, ginger, green onions, sugar, fish sauce and salt and pepper in a large bowl. Form the meat mixture into 1‑inch meatballs. Brown in the oil over a medium heat, turning occasionally, until cooked through, about 15 minutes.
The meatballs and remaining ingredients should be plated and brought to the table so each individual can make their own roll. To assemble rolls, soak a spring roll skin in a shallow dish of hot water (I use a pie plate) for 20 to 30 seconds until softened. Place a spring roll skin on plate and top (to taste) with lettuce, noodles, 2 or 3 meatballs (I split each meatball in half for easier rolling), shredded carrot, cucumber, fresh herbs, and a bit of chili. Do not overstuff or the rice skin will tear. Spicy peanut sauce can be added before rolling up or it can be served on the side for dipping. The roll is made like a burrito: fold the ends of the spring roll in, then roll up the long sides (see the picture below for an example).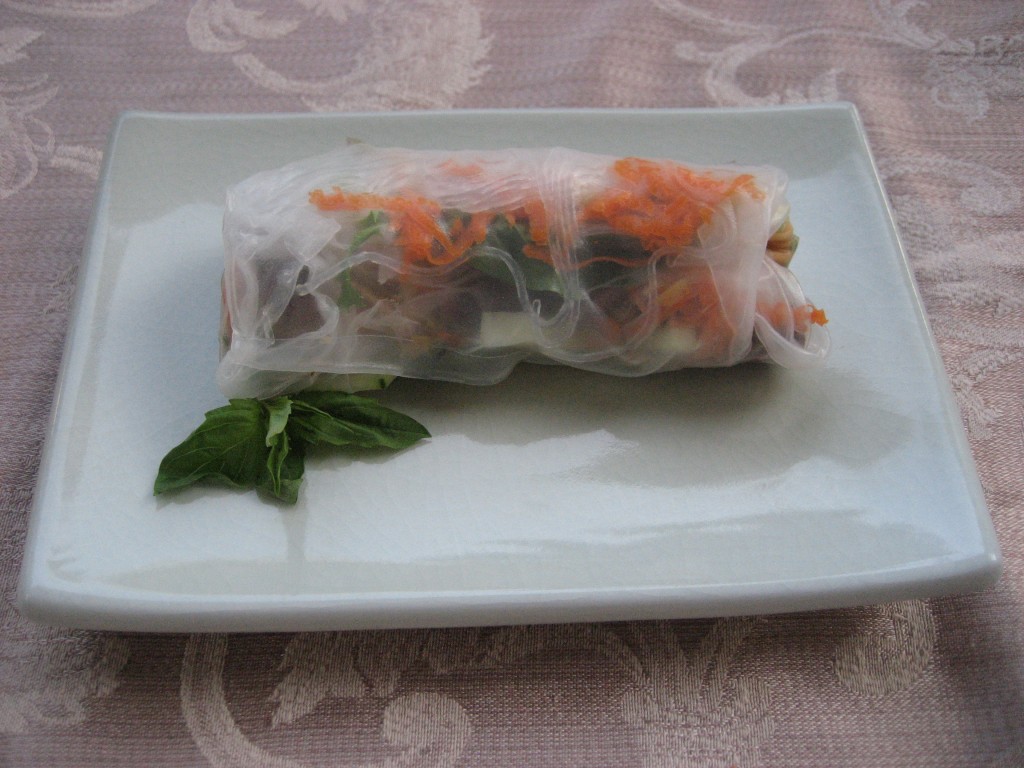 Spicy Peanut Sauce
Makes about 1 cup (240 ml)
1 tablespoon sesame oil
1/2 cup (125 g) unsweetened peanut butter
1 clove garlic, minced
1 teaspoon ginger, grated
1 tablespoon fish sauce
1 tablespoon soy sauce
juice of 1 lime
1 teaspoon sambal
1 teaspoon sugar
2 tablespoons shelled, roasted peanuts (optional)
1/4 cup (60 ml) hot water
Combine all the ingredients except the water in a food processor. Process until smooth; the mixture will be thick. While the processor is running, add the hot water 1 tablespoon at a time until the sauce reaches the consistency of pudding.
***
Pinkberry-style Vanilla Frozen Yogurt
adapted from 101 Cookbooks
Makes about 1 quart
32 oz (960 g) plain whole-milk yogurt or 3 cups (720 g) Greek-style yogurt
3/4 cup (150 g) sugar
1/2 teaspoon vanilla extract
If using whole-milk yogurt, you will need to make strained yogurt by lining a mesh strainer with a few layers of cheesecloth or a thin dish towel. Scrape all the whole-milk yogurt into the cheesecloth. Place a strainer under the bowl to gather the liquid. Gather the ends of the cheesecloth and fold them over the yogurt, then refrigerate for at least 4 hours. After about 4 hours, the yogurt will be thickened and you should have about 3 cups of strained yogurt.
Mix together the strained yogurt (or Greek-style yogurt), sugar, and vanilla. Stir until the sugar is completely dissolved. Refrigerate for 1 hour. Freeze in your ice cream maker according to the manufacturer's instructions. This can be eaten directly from the ice cream maker as a soft-serve style frozen yogurt. To solidify the yogurt further, pour into a bowl, cover, and freeze longer.

Email this post

Print this post