Nigella Lawson's How to Eat: The Pleasures and Principles of Good Food is one of the bibles of modern-day cookbooks. It's also one of the first cookbooks I bought in Ireland, and has taught me how to make things I'd never even heard of before moving abroad, like Yorkshire pudding and trifle. It also spells out the makings of something else that was completely foreign to me: a proper Sunday lunch. Nigella Lawson writes about it for four straight pages in How to Eat, but what sums it up rather romantically is this: "Sunday lunch … is about solidity, the family, the home."
Sunday lunch is an institution in a lot of families, but it took me a long time to come around to its charms, especially since I'm the one doing all the cooking that goes into a big Sunday lunch, not my mother. In my case, I like to have our big meal as a late lunch at the weekends now simply because my kids are in better moods at that time of day, which not only means they're more likely to eat what I put in front of them, but makes for a more pleasant dinner for all of us. Plus now that my daughter needs a packed lunch every day for school, a roast does double duty as Sunday's dinner and Monday's sandwich.
Strictly speaking, this menu isn't a traditional Sunday lunch — there's no roast potatoes, or the vegetables like carrots, parsnips or broccoli that you'd usually expect. But one of the things I love about How to Eat is that it contains lots of ready-to-go menus, not just stand-alone recipes, and this is Nigella's late-summer roast beef menu from the "Weekend Lunch" chapter (though I made the French apple tart instead of the Yorkshire pudding with syrup and cream she calls for, and I also prefer Bon Appétit's one-pot version of the cannellini beans with garlic and sage for being easier and more straightforward than Nigella's recipe). After holding out all month, it's finally time to embrace autumn, and this dinner seemed like a good compromise.
It's National Organic Week in Ireland! Click here for a listing of events throughout the country.
Cold Roast Fillet of Beef
from How to Eat
by Nigella Lawson
Serves 8
fillet of beef — allow about 7 oz (200 g) per person
olive oil
Allow the beef to come to room temperature before you cook it (otherwise the cooking times here won't be correct).
Preheat the oven to 480°F (250°C). If it's possible to switch off the fan in your oven, do so in order to reduce evaporation (75% of lean meat is water, so fan ovens can make even good cuts of meat dry and tough).
Place the fillet in an ovenproof dish or roasting tray. Rub the beef all over with olive oil. (Nigella advises using a rosemary-infused oil for this menu, but plain olive oil works just fine too.)
Cook the beef for 15 minutes at the very high heat, then reduce the oven to 350°F (180°C). Cook the beef for 15 minutes per 18 oz (500 g) for rare; 18 minutes per 18 oz (500 g) for medium; and 25 minutes per 18 oz (500 g) for well done.
After the meat has had its advised cooking time, test it: either press it (if it feels soft it's rare, bouncy it's medium, hard it's well-done) or pierce it with a knife to see. Always let any meat rest out of the oven for at least 10 minutes before carving.
If you're cooking the beef ahead of time, take it out of the fridge 2 hours before you want to eat it. It should be cold, but not chilled. Or you could cook the fillet early enough in the day to simply allow it to cool to room temperature by the time you want to eat.
***
Rosemary and Anchovy Mayonnaise
1 cup (240 ml) mayonnaise
8 anchovy fillets in oil, drained and diced
1 sprig rosemary, finely chopped
1 tablespoon lemon juice
salt and freshly ground black pepper
Combine all the ingredients, mixing well. Chill until ready to serve. Serve alongside the beef. (This is also great to make sandwiches with the beef leftovers.)
***
Cannellini Beans with Garlic and Sage
from Bon Appétit, October 2009
Makes about 6 cups
1 lb (450 g) dried cannellini beans
8 cups (2 liters) room-temperature water
2 tablespoons olive oil
1 large head of garlic, unpeeled, top 1/2 inch cut off to expose cloves
1 large sprig of fresh sage
1/4 teaspoon whole black peppercorns
1 teaspoon coarse kosher salt
extra virgin olive oil (for drizzling)
Place the beans in a large bowl. Cover with cold water (at least 6 cups/1 1/2 liters) and soak overnight.
Drain the beans and place in a heavy, large pot. Add the 8 cups (2 liters) of room-temperature water, olive oil, garlic, sage, and black peppercorns. Bring to a simmer over a medium-high heat. Reduce the heat to medium-low and simmer, uncovered, for 1 1/2 hours, stirring occasionally. Mix in the coarse salt. Continue to simmer until the beans are tender, adding more water if needed to keep beans covered, about 30 minutes longer. Cool the beans in the cooking liquid for 1 hour.
Using a slotted spoon, transfer the beans to a serving bowl, reserving the bean cooking liquid, if desired, but discarding the garlic, sage, and peppercorns. Season the beans to taste with pepper and more coarse salt. Drizzle with extra virgin olive oil and serve.
***
Tomato Salad
from How to Eat
by Nigella Lawson
For this salad, simply slice some tomatoes (the best and ripest you can find) and arrange them on a plate. Sprinkle with salt, pepper and sugar (only if you think they need it, and even so, just a pinch), as well as some finely chopped spring onions or chives, a drop or two of balsamic or red wine vinegar, and a drizzle of extra virgin olive oil.
***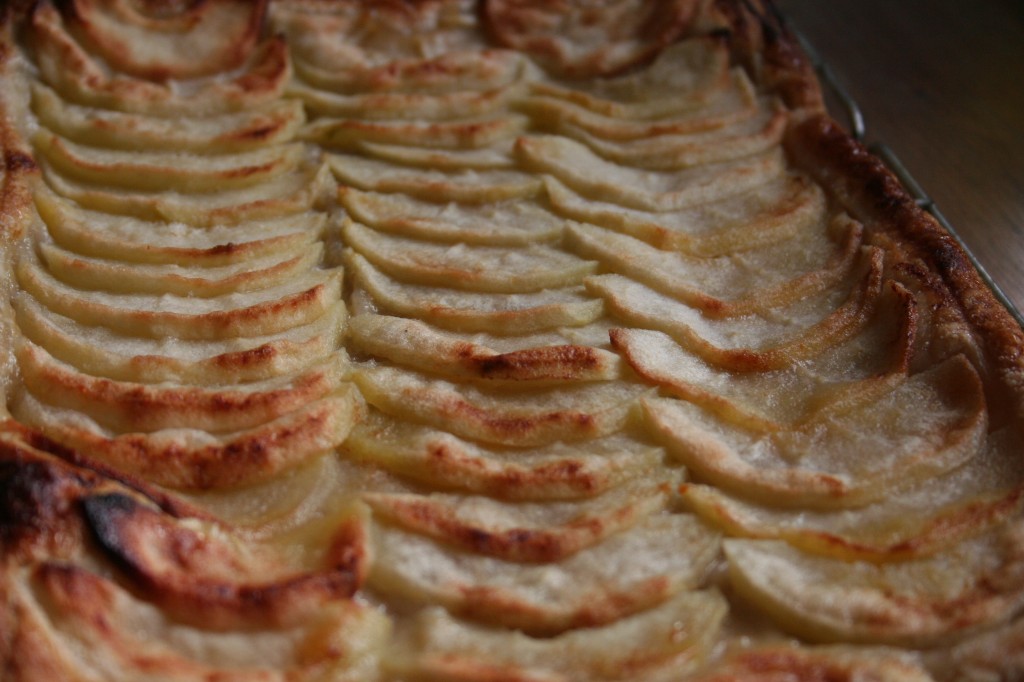 French Apple Tart (or Tarte Fine Aux Pommes, as Nigella Lawson calls it)
adapted from Barefoot Contessa Back to Basics
by Ina Garten and Nigella Express
by Nigella Lawson
Serves 4 to 6
This is mostly Nigella's recipe, but the apricot jam and Calvados brushed on top is Ina's touch from her version. The tart will still be delicious if you don't add the jam mixture though. I pulled this together in 10 minutes, so it would also be a quick weeknight treat.
1 sheet shop-bought ready-rolled puff pastry, defrosted if frozen
2 large Granny Smith apples
2 tablespoons sugar
2 tablespoons (30 g) cold unsalted butter, small diced
1/4 cup (60 ml) apricot jam
2 tablespoons Calvados, rum, or water
Preheat the oven to 400°F (200°C). Line a sheet pan with parchment paper.
Lay the sheet of puff pastry on the lined baking sheet. Using the tip of a sharp knife, mark a 1/2‑inch border all the way around the edge of the rectangle. You need to score the lines on the pastry rather than cut all the way through it. This will allow a frame to rise above the apple filling. Refrigerate the dough while you prepare the apples.
Peel the apples and core them, then cut them in half. Slice the apples into 1/4‑inch-thick slices. Working from the inside edge, place the apple slices, closely overlapping, within the border of the pastry frame. Create neat lines of apple slices until the pastry is covered. Sprinkle with the sugar and dot with the butter.
Bake for 20 to 25 minutes, until the pastry is browned and the edges of the apples start to brown. Rotate the pan once during cooking. If the pastry puffs up in one area, cut a little slit with a knife to let the air out. And don't worry if the apple juices burn in the pan, the tart will be fine. When the tart's done, gently heat the apricot jam together with the Calvados, rum, or water and brush the apples and the pastry completely with the jam mixture. Loosen the tart with a spatula so it doesn't stick to the paper. Allow to cool and serve warm or at room temperature, cut into squares or slices.

Email this post

Print this post