Sometimes it's fun to see what I can pull together for dinner without shopping for any ingredients. I also like having an excuse to use the new Le Creuset brasier my mom bought me as an early Christmas present. I originally thought an arroz con pollo recipe would be fun to try, but there were too many recipes to choose from; Spain, Cuba, Puerto Rico, Mexico and a host of South American countries all have their own versions. If anyone out there has an arroz con pollo recipe that they love, please send it my way. After a long internet search, I found this tasty chicken and rice recipe. It's quick to prepare (just shy of making our 30-minute meal category) and makes a complete dinner when paired with a simple tossed salad.
The raspberry crumb bars were made of necessity. My regular grocery store, Sendik's, unbelievably priced their fresh raspberries at $1 a box. These are the same boxes that usually cost $3.99. I bought the raspberries in good faith, hoping I could use them before they spoiled. The berries were gone within a week thanks to these bars and a couple wonderful breakfasts of oatmeal topped with fresh raspberries and maple syrup.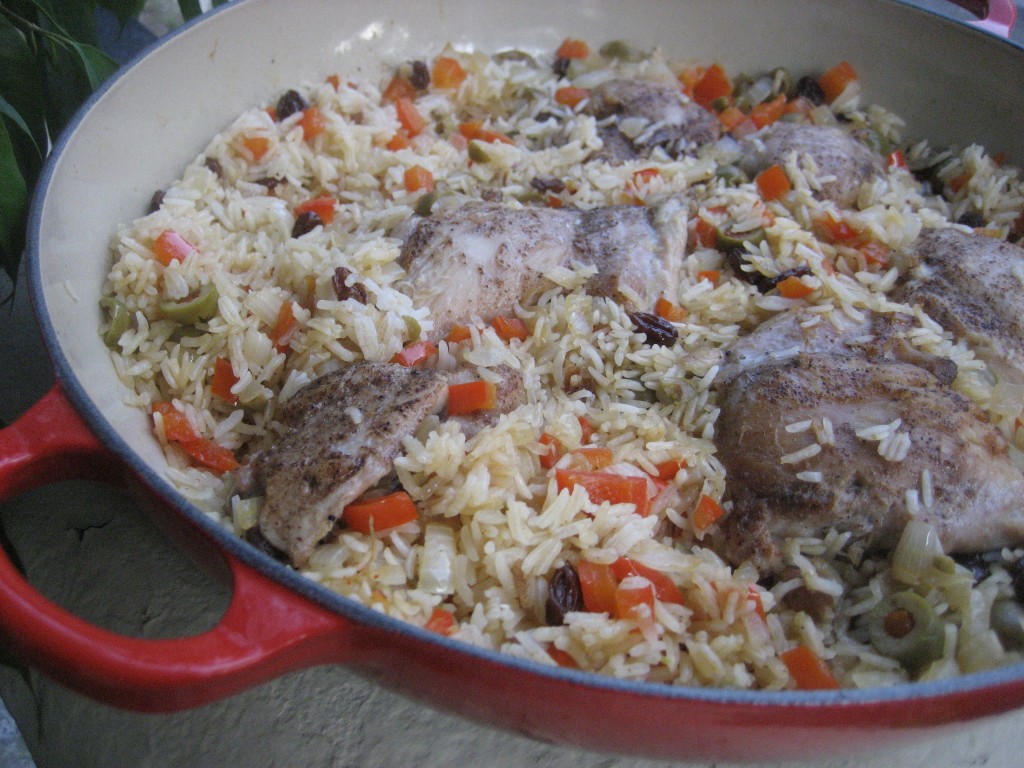 Spicy Chicken and Rice
adapted from Bon Appétit, September 2007
Serves 4
2 tablespoons extra virgin olive oil
4 large boneless, skinless chicken thighs
salt and freshly ground black pepper
about 1/8 teaspoon ground cloves
1 red bell pepper, deseeded and diced
1 onion, chopped
1/4 cup (40 g) raisins
3 oz (about 1/2 cup/90 g) coarsely chopped pitted imported green olives
2 small bay leaves
2 garlic cloves, peeled
1 teaspoon hot chili paste (such as sambal oelek) or 1 small Serrano chili, chopped
1 1/2 cups (250 g to 280 g) jasmine rice or long-grain white rice , rinsed and drained
2 1/2 cups (600 ml) low-salt chicken broth
Heat the oil in a large skillet over a medium-high heat. Sprinkle the chicken generously with salt and pepper, then lightly with the ground cloves. Add the chicken to the skillet and sauté until brown, about 4 minutes per side. Transfer the chicken to a plate.
Pour off all but 4 tablespoons of fat from the skillet. Add the bell pepper, onion, raisins, olives, bay leaves, garlic, and chili paste to the skillet. Sauté until the vegetables begin to soften, about 2 minutes. Add the rice and stir for 1 minute. Press the chicken into the rice. Add 2 1/4 cups (540 ml) of the broth and bring to a boil. Cover, reduce the heat to medium-low, and simmer until the chicken is cooked through and the rice is tender, about 20 minutes (add the remaining broth if the rice is too dry).
***
Don't let the "breakfast" in the title of these bars make you think they are overly healthy. Though less sweet than a normal cookie and loaded with fresh, tangy berries, they fit more in the dessert category than breakfast category, in my opinion.
Raspberry Crumb Breakfast Bars
adapted by Smitten Kitchen from Baked: New Frontiers in Baking
Makes about 24 bars
for the crust and crumb:
1 1/2 cups (180 g) all-purpose flour
1 cup (170 g) firmly packed dark brown sugar
1 1/4 cups (100 g) rolled oats
3/4 teaspoon salt
3/4 teaspoon baking powder
1/2 teaspoon baking soda
1/2 teaspoon cinnamon
3/4 cup (1 1/2 sticks/165 g) unsalted butter, cut into 1‑inch pieces
for the raspberry filling:
1/4 cup (40 g) firmly packed dark brown sugar
1 tablespoon grated lemon zest
1/2 teaspoon cinnamon
2 tablespoons all-purpose flour
1 lb (450 g) raspberries, fresh or frozen
1/4 cup (60 ml) fresh lemon juice
2 tablespoons unsalted butter, melted and cooled
To make the crust and crumb, preheat the oven to 350°F (180°C). Butter the bottom and sides of a 9‑by-13-inch glass or light-colored metal baking pan. Put a long piece of parchment paper in the bottom of the pan, letting the parchment extend up the two short sides of the pan and overhang slightly on both ends. (This will make it easy to remove the bars from the pan after they have baked.) Butter the parchment.
Put the flour, brown sugar, oats, salt, baking powder, baking soda, and cinnamon in a food processor. Pulse in short bursts until combined. Add the butter and pulse until loose crumbs form. Reserve 1 1/2 cups of the mixture and set aside. Pour the rest of the mixture into the prepared pan and use your hands or the back of a large wooden spoon to push the crust into an even layer at the bottom of the pan. The crust should touch the sides of the pan. Bake until golden brown, 12 to 15 minutes. Transfer to a wire rack and let the crust cool. Keep the oven on while you make the raspberry filling.
To make the raspberry filling, in a medium bowl, whisk the sugar, lemon zest, cinnamon and flour together. Add the raspberries, lemon juice and butter and use your hands to toss gently until the raspberries are evenly coated.
To assemble and bake the bars, spread the raspberry filling evenly on top of the cooled crust. Sprinkle the reserved crust mixture evenly on top of the filling. Bake for 35 to 45 minutes, rotating the pan every 15 minutes, until the top is golden brown and the filling starts to bubble around the edges. Transfer to a wire rack to cool completely, then cut into squares and serve. The bars can be stored in the refrigerator in an airtight container for up to 2 days.

Email this post

Print this post