The first cookbook I remember buying was 1,000 Vegetarian Recipes
. I was in college, living in a co-op at the time, and needed something to help me cook a vegetarian dinner once a week for 40 people. I probably thought the book was a bargain — with that many recipes, there would surely be loads of veggie crowd pleasers, right? Well, let's just say it's no longer in my cookbook collection. The New Vegetarian Epicure
was the second cookbook I bought, and has been much better loved. This is the book that taught me how to cook my first proper recipes (quinoa salads and tempeh don't really count) and I still turn to some of them as my go-to recipes, like this one for honey buttermilk cornbread. What's your first favorite cookbook?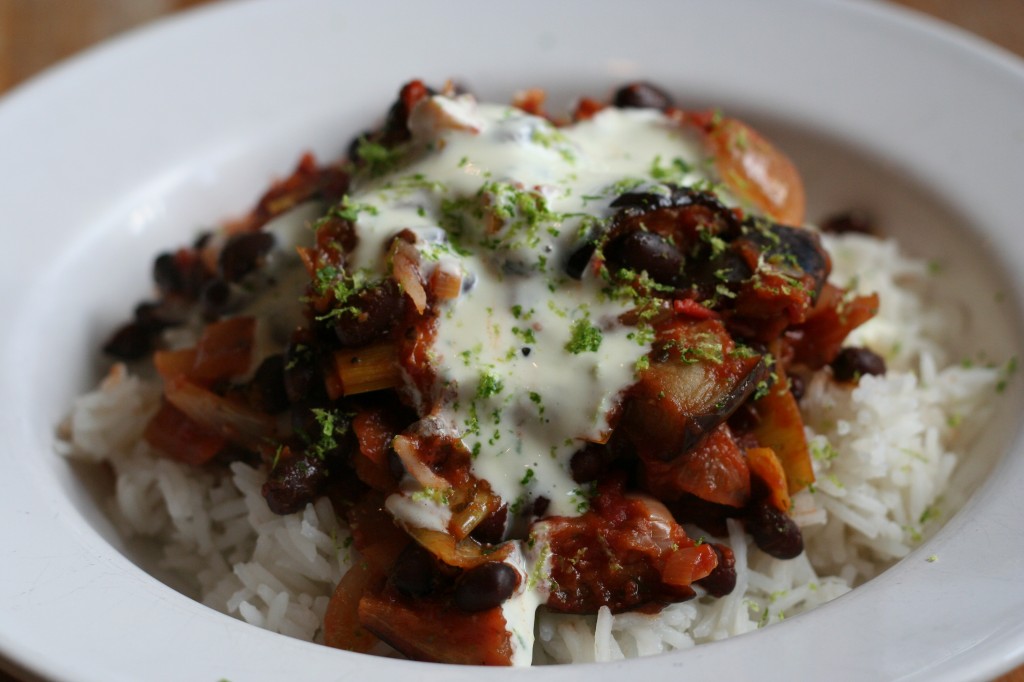 It's National Organic Week in Ireland. Click here for a listing of events throughout the country.
Black Bean, Eggplant and Leek Chili with Lime Sour Cream
adapted from Paradiso Seasons by Denis Cotter
Serves 4
for the chili:
7 oz (200 g) dried black beans (or 1 x 14-oz (400‑g) can of black beans)
olive oil
2 onions, finely chopped
1 large leek, chopped into chunks and washed well
3 cloves garlic, chopped
1 tablespoon ground coriander
1 tablespoon ground cumin
1 teaspoon chili powder
2 x 14-oz (400‑g) cans of chopped tomatoes
1 tablespoon tomato paste
salt and freshly ground black pepper
2 medium eggplants
1 bunch fresh cilantro (optional)
rice, to serve (optional)
for the lime sour cream:
zest and juice of 1 lime
1 cup (240 ml) sour cream or crème fraîche
Preheat the oven to 400°F (200°C).
To make the chili, soak the beans for 2 hours or overnight in cold water, then cook them in plenty of boiling water until tender (about 1 hour). Or you can skip this if you use canned beans.
Heat a little olive oil in a large pan and cook the onions and leeks for about 10 minutes, until soft. Add the garlic and spices and cook for 2 minutes before adding the tomatoes and the tomato paste. Bring the sauce to a boil, then reduce the heat and simmer for 15 minutes. Season to taste and check the spice levels — the sauce needs to be very strongly spiced at this point, as the beans and vegetables will dilute its power.
While the sauce is cooking, chop the eggplant into large chunks, toss them in olive oil and roast them until browned and softened, about 30 minutes. Turn and toss the eggplant twice while they're cooking.
Meanwhile, to make the lime sour cream, simply stir the lime zest and juice into the sour cream or crème fraîche.
Add the roasted eggplant and cooked beans to the sauce and simmer for 10 minutes. Stir in the fresh cilantro (if using) and check the seasoning and spicing again before serving on top of some plain boiled rice and with a dollop of the lime sour cream on top.
***
Honey Buttermilk Cornbread
from The New Vegetarian Epicure
by Anna Thomas
Serves 8
1 cup (120 g) white flour
1 1/2 cups (340 g) cornmeal
1/2 teaspoon baking soda
1 teaspoon baking powder
3/4 teaspoon salt
3 large eggs
1 1/3 cups (320 ml) buttermilk
3 tablespoons honey
2 tablespoons (30 g) butter, melted
Preheat the oven to 350°F (180°C).
Sift together the flour, cornmeal, soda, baking powder and salt. In a separate bowl, whisk together the eggs, buttermilk, honey and melted butter. Combine the wet and dry ingredients, stirring gently just until the lumps are gone (don't overmix). Pour the batter into a buttered 12 x 15-inch baking dish and bake for 30 to 35 minutes, or until a tester inserted in the center of the cornbread comes out clean. Cut into squares and serve hot or warm.

Email this post

Print this post