I've been enjoying every minute of our Indian summer. On Tuesday, we spent the entire afternoon at the beach with some of my daughter's new school friends, the first time we were able to play at the beach like that all summer. It was the kind of day I've been imagining having every summer since my daughter was one year old, but which I've never really been able to have because of the constant wet weather every summer since then — packing a big bag of toys and blankets and a picnic lunch, drinking tea and coffee with the other parents while the kids made a huge sand mountain, complete with a moat and driftwood for a bridge, and my baby playing happily in the sand at my feet. But as wonderful as it's been to have an entire straight week of dry, sunny days (and with more still forecast!), the warmth has gone out of the air, I've started to turn on the heat in the mornings to take the chill off, and I know my summery meals — and the summer itself, such as it was — are finally coming to an end.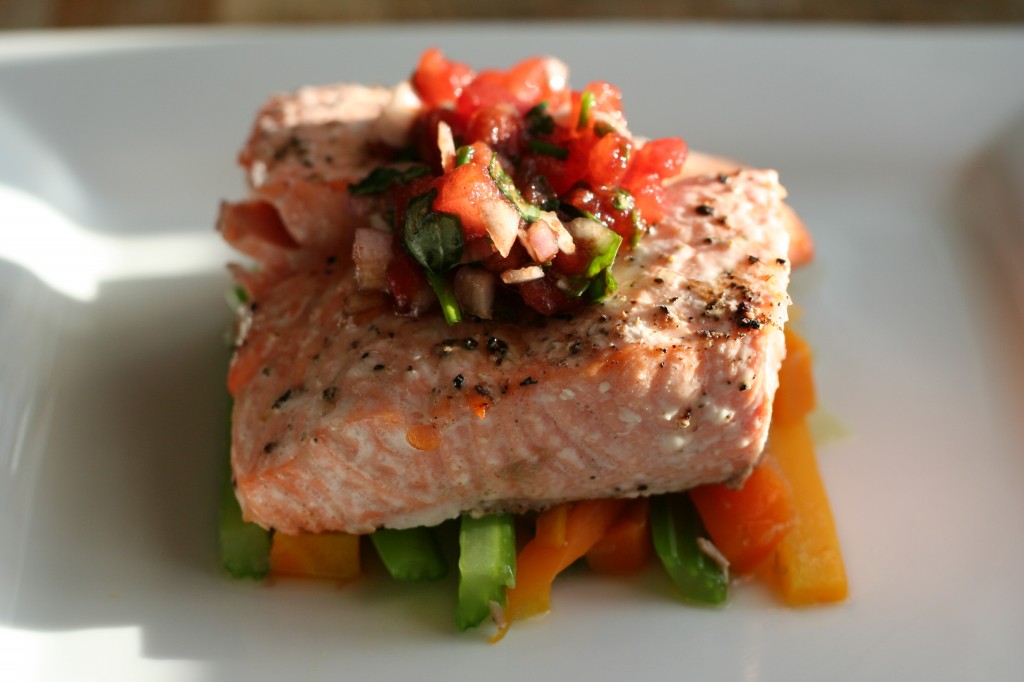 It's National Organic Week in Ireland! Click here for a listing of events throughout the country.
Salmon Provencal
adapted from Simply Recipes and Wolfgang Puck
Serves 4
4 ripe tomatoes, peeled, seeded, and chopped fine
3 shallots, minced
1 tablespoon chopped fresh tarragon
1 tablespoon chopped fresh basil
1 tablespoon chopped fresh chives
2 tablespoons olive oil
1 tablespoon balsamic vinegar or sherry vinegar
zest and juice of 1/2 lemon
salt and freshly ground black pepper
4 x 6‑oz (170‑g) salmon fillets
1 cup (240 ml) vegetable stock
2 carrots, julienned
1 leek, white part only, julienned
2 stalks celery, julienned
Preheat the oven to 400°F (200°C).
In a large bowl, combine the chopped tomatoes, shallots and fresh herbs. In another bowl, whisk together the oil, vinegar and lemon zest and juice (or shake to combine in a screw-top jar). Add to the tomato mixture and toss to coat. Season to taste with salt and pepper.
Arrange the salmon fillets on an oiled baking sheet without crowding. Drizzle with olive oil and season with salt and pepper. Bake until the salmon is barely cooked through and lightly browned on the edges, about 10 to 12 minutes.
Meanwhile, bring the vegetable stock to boil in a large saucepan. Add the julienned carrots, leek and celery and cook for 3 to 5 minutes, until tender but still crisp. Drain and set aside.
To serve, divide the julienned vegetables among 4 plates. Arrange the salmon fillets in the center of the vegetables and top each fillet with a couple tablespoons of the tomato mixture. Serve immediately.
***
Roast Herbed Potatoes with Balsamic Vinegar
adapted from Avoca Café Cookbook
Serves 6
1/4 cup (60 ml) olive oil
2 lb (900 g) new potatoes, halved (skin left on)
sea salt and freshly ground black pepper
1 head garlic, split into cloves but left unpeeled
1 tablespoon finely chopped fresh rosemary
1 tablespoon finely chopped fresh thyme
balsamic vinegar or good-quality red wine vinegar
Preheat the oven to 425°F (220°C).
Pour the olive oil into an ovenproof dish (one big enough to hold all the potatoes without overcrowding them) and put it into the oven to heat the oil. (Just don't leave it in too long, or the oil will start to smoke. Five to 10 minutes is enough.)
Bring a pot of water to boil. Drop in the halved potatoes and parboil for 5 minutes only. Drain.
Remove the dish from the oven. Carefully add the potatoes to the hot oil, turning them to make sure they're all coated in the oil. Season well with sea salt and freshly ground black pepper. Put into the oven to roast for 10 minutes. Add the garlic and half the herbs and continue to roast for a further 10 to 15 minutes, until the potatoes and garlic are tender. Remove from the oven. Allow to cool slightly, then sprinkle with the vinegar and remaining herbs. Check the seasoning and serve.

Email this post

Print this post