I am not a vegetarian. I am not a college student. I am not a hippie. I am not Chinese, Japanese, or Korean. I don't even live in California. Despite this, I am a proud and frequent eater of tofu. If you think you hate tofu, you probably haven't had it prepared correctly. Tofu itself is bland and, how shall we say, texturally challenged. But if prepared well, tofu can be delicious. And, of course, it's good for you. Tofu is low in calories, high in protein, and costs less than ground beef at your local supermarket.
The peanut sauce paired with the tofu in this menu is bold, flavorful, and spicy. Try it. I think you'll like the combination. And if for some reason you can't bring yourself to eat tofu, feel free to substitute chicken, pork, or shrimp in the recipe.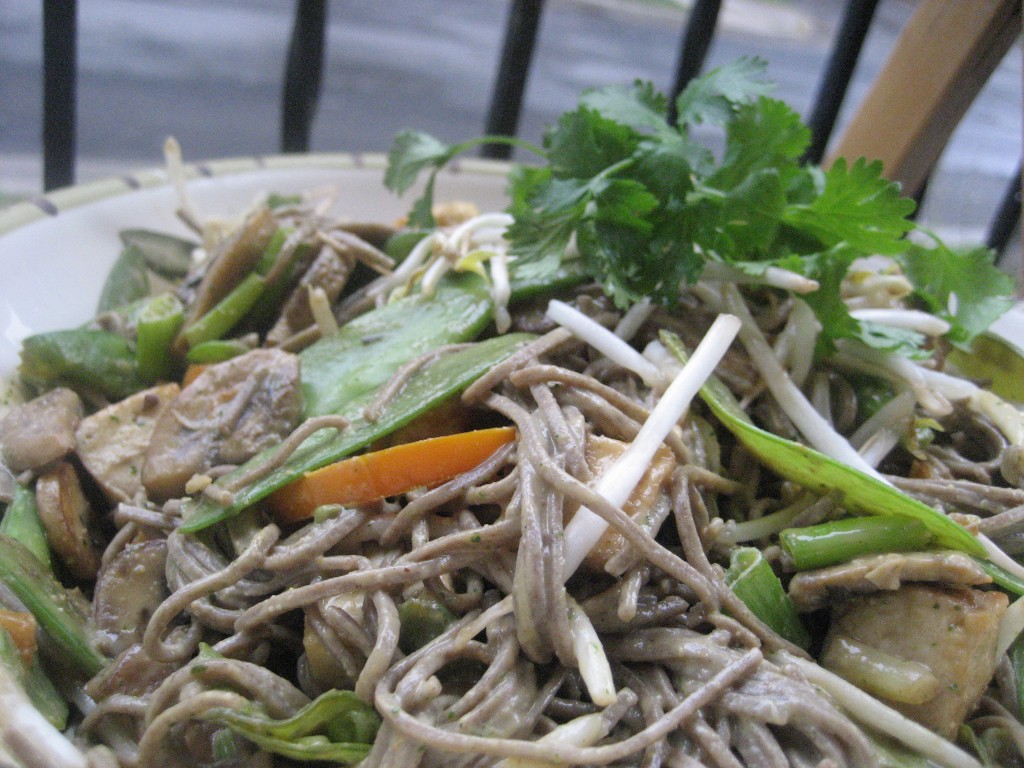 Spicy Peanut Soba with Tofu and Vegetables
Serves 6

1/4 cup (60 ml) soy sauce
1/2 cup (120 ml) peanut butter
1/2 cup (15 g) chopped cilantro, plus extra for garnish
1 clove garlic, minced
1/4 cup (60 ml) hot water
1 tablespoon sambal (or 2 tablespoons chili oil or 1/2 teaspoon cayenne pepper)
2 teaspoons sherry
2 teaspoons sugar
1 package extra-firm tofu, cut into 1‑inch cubes
1 cup (240 ml) peanut or canola oil
1 x 12-oz (300‑g) buckwheat soba noodles
1 red or orange bell pepper, sliced thin
12 oz (340 g) sliced mushrooms
12 oz (340 g) snow pea pods, trimmed
1 bunch green onions, bias cut, white parts separated from green parts
1/2 lb (225 g) fresh bean sprouts
Combine the first 8 ingredients (through sugar) in a blender. Blend until smooth. The sauce should be about the consistency of ketchup.
Cook the soba noodles according to the package directions. Drain and set aside.
Heat the oil in a wok until it's smoking. Add half the tofu to the oil, stirring constantly to prevent sticking. Continue frying for 3 to 4 minutes, until the tofu is golden. Remove the tofu with a slotted spoon and drain on a paper towel-covered paper grocery bag. Repeat with the remaining tofu until it's all cooked and drained.
Remove all but 1 tablespoon of the oil from the wok or large frying pan. On a high heat, stir-fry the bell pepper for 2 minutes. Add the mushrooms and stir-fry for 1 minute. Add the pea pods and white parts of the green onions. Stir-fry for another 2 to 3 minutes, until all the vegetables are tender, but still crisp. Stir in the green onions (green parts) and bean sprouts. Remove the wok from the heat.
Toss the tofu in about 1/2 cup (120 ml) of the peanut sauce. In a large serving bowl, mix the cooked soba noodles, vegetables and half the peanut sauce. Add more sauce as needed to coat all the noodles and vegetables. I usually end up using all but a couple tablespoons of sauce. Garnish with cilantro.
***
Sesame Vinaigrette
Makes about 1/2 cup (120 ml)
1 teaspoon mirin
1 teaspoon soy sauce
2 tablespoons olive oil
1 tablespoon sesame oil
2 tablespoons rice wine vinegar
dash of red pepper flakes
Whisk together all the ingredients until slightly emulsified (or shake to combine in a screw-top jar). Cover and refrigerate if not using immediately.

Email this post

Print this post