On a warm, sunny day, there's no prettier place to be than Ireland. Brilliant yellow fields of rapeseed are at their peak right now, everything seems to be in bloom and the windows in the house are thrown wide open to let in the fresh air. After a long, cold winter, we've had a few straight weeks of sunshine on the east coast in Ireland and I'm craving bright, fresh flavors. It's not quite warm enough yet to be fully fledged salad weather, but this lemony take on spaghetti and meatballs is just right for this time of year, when you want something a little lighter after months of stews, braises and casseroles.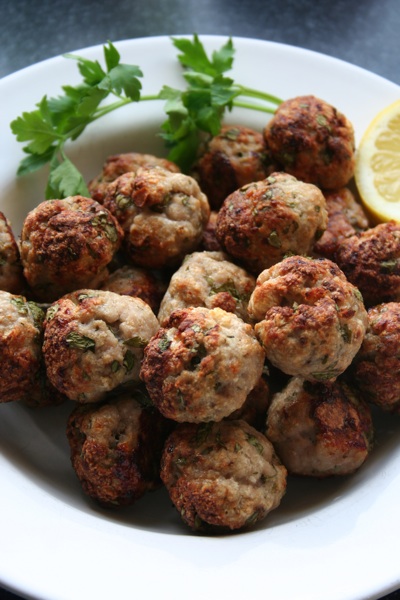 If you like this recipe, you might also like Rigatoni with Pork and Lemon Ragu, Lemon Fusilli, Lemon and Pea Risotto or Gnocchi with Peas, Pancetta and Lemon Ricotta. Or for more meatball recipes, try Polpette di Melanzane (Eggplant "Meatballs"), Turkey Meatballs with Walnuts, Cilantro and Raisins with a Lemon Cumin Yogurt Sauce, Swedish Meatballs, or Spring Rolls with Pork Meatballs and Spicy Peanut Sauce.

Pork and Lemon Meatballs
adapted from The Kitchen Diaries by Nigel Slater (or you can see the original recipe here)
Serves 4 to 6
Nigel Slater calls these "delectable little balls." I just call them addictive.
1 lb 2 oz (500 g) pork mince
3/4 cup (75 g) fresh white breadcrumbs
10 anchovies, finely chopped (optional)
1 egg, beaten
zest and juice of 1 lemon
1/4 cup (25 g) grated Parmesan
a large handful of fresh parsley, finely chopped
salt and freshly ground black pepper
Preheat the oven to 375°F (180°C). Line a baking sheet with foil or parchment paper.
Put the pork, breadcrumbs, chopped anchovies, beaten egg, lemon zest and juice, Parmesan and parsley into a large mixing bowl. Season with a little salt (not too much because the anchovies and Parmesan are already salty) and a generous amount of black pepper. Mix thoroughly. Form the mixture into balls, using about 1 heaped tablespoon of the mixture for each meatball. Place them on the lined baking sheet. Cook in the oven for 20 to 30 minutes, until they're golden brown and cooked through. Serve on top of the lemon and basil linguine.
***
Lemon and Basil Linguine
adapted from The Kitchen Diaries by Nigel Slater
Serves 4
This is a quick, simple recipe that lends itself to any number of adaptations — try adding in some garlic, chilli flakes or anchovies or using parsley instead of basil.
1 lb (450 g) linguine or spaghetti
juice of 2 large lemons
1/2 cup (125 ml) olive oil
1 1/2 cups (150 g) freshly grated Parmesan, plus extra to serve
1 or 2 large handfuls of basil leaves, roughly chopped
salt and freshly ground black pepper
Cook the pasta in a large pot of boiling salted water according to the packet instructions. Meanwhile, whisk together the lemon juice, olive oil and Parmesan in a warm jug (warmed under a running hot tap, then dried) until it's thick and grainy. Add in the basil, season to taste and mix again.
When the pasta has finished cooking, reserve a mugful of the cooking water. Toss the drained, hot pasta in the lemon and Parmesan sauce, adding some of the reserved cooking water if you think the pasta looks too dry. Serve immediately with some extra Parmesan grated over.

Email this post

Print this post