I love Ina Garten's recipes — they always work and are always delicious — but my god, that woman uses a lot of butter and cream. I reduced the amount of cream she calls for, which makes the lemon flavor stronger. Add some finely chopped fresh chili or a pinch of dried chili flakes if you like a bit of zip. It goes without saying that a green salad and some crusty bread are perfect to round this off.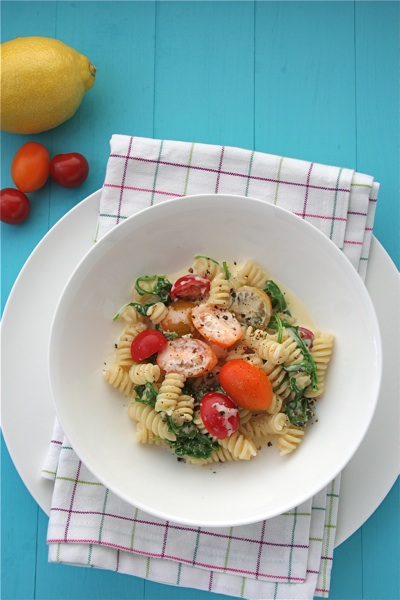 Lemon Fusilli with Arugula
adapted from Barefoot Contessa at Home by Ina Garten
Serves 4 to 5
1 tablespoon good-quality olive oil
2 cloves garlic, minced
1 cup (250 ml) heavy cream
zest and juice of 2 lemons
splash of white wine (optional)
2 teaspoons kosher salt
1 teaspoon freshly ground black pepper
1 bunch broccoli, cut into florets
1 lb (450 g) dried fusilli pasta
1/2 lb (225 g) baby arugula or baby spinach
1/2 cup (25 g) freshly grated Parmesan
1 pint (250 g) grape or cherry tomatoes, halved
Heat the olive oil in a medium saucepan over a medium heat. Add the garlic and cook for 1 minute. Add the cream, lemon zest and juice, splash of wine (optional), and salt and pepper. Bring to a boil, then lower the heat and simmer for 15 to 20 minutes, until it starts to thicken.
Meanwhile, cook the broccoli florets in a pot of boiling salted water for 3 to 5 minutes, until tender but still firm. Drain the broccoli and run under cold water to stop it cooking. Set aside.
Bring a large pot of water to a boil and cook the pasta according to the directions on the package, about 12 minutes, stirring occasionally. Drain the pasta in a colander and place it back into the pot. Immediately add the cream mixture and cook it over a medium-low heat for 3 minutes, until most of the sauce has been absorbed in the pasta. Pour the hot pasta into a large bowl, add the arugula, Parmesan, tomatoes, and cooked broccoli. Toss well, season to taste and serve hot.

Email this post

Print this post