I'm usually not a fan of boneless, skinless chicken breasts. In comparison to chicken thighs, I find chicken breasts too easy to dry out and dull in flavor, reserved only for dishes with lots of other "wow" ingredients. Maybe it's the bacon in this dish or the top-quality chicken that I used, but this one-dish chicken recipe proved me wrong. The sauce is savory and satiny, the meat moist and tender, and it all meshes perfectly on top of basmati rice. My kids both asked for thirds and I hid the leftovers for myself.
I took advantage of my already hot oven and put in a batch of oatmeal freezer cookies before we sat down to eat. Despite the fact that it's May, it's damp and gray here in Wisconsin — but good weather for baking cookies. Freezer cookies are ideal desserts for busy people. You can make the dough days, weeks, even months in advance, then store it in your freezer until you need it. On the day you want to bake the cookies, simply thaw the dough in the fridge, slice, and bake it. Hot cookies fresh from the oven in minutes!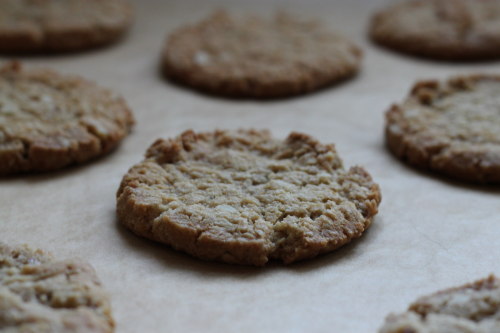 Chicken and Bacon Pot
adapted from Easy Everyday: Simple Recipes for No-fuss Food

Serves 4
High-quality chicken is essential for chicken breast-based recipes like this one. I used chicken shipped to me from Springer Mountain Farms, which prides itself on their 100% natural, vegetarian-fed and humanely raised (certified by the American Humane Association) chicken.
1 tablespoon olive oil
8 oz (225 g) bacon, diced
8 oz (225 g) white, button mushrooms
4 boneless, skinless chicken breast fillets
1 garlic clove, crushed
2 shallots or 1 small onion, diced
1/3 cup (40 g) flour
2 cups (500 ml) chicken broth or stock
2/3 cup (150 ml) white wine
1 bay leaf
a handful of fresh parsley, chopped
sea salt and freshly ground black pepper
basmati rice, to serve
Preheat the oven to 350°F (180°C). Heat the olive oil in a casserole dish, add the bacon and mushrooms, and cook over medium heat until golden. Transfer the bacon and mushrooms to a plate.
Put the chicken breasts in the casserole and quickly brown on both sides. Set the chicken aside with the bacon.
Saute the garlic and shallots (or onion) over a low heat in the same pan for about 5 minutes. Add the flour and mix well. Stirring constantly, cook the flour mixture about 1 minute, until well blended and nutty smelling, being careful not to burn the flour. Remove the pan from the heat, slowly pour in the stock and wine, and stir or whisk until smooth. Return the pan to the heat and bring to a boil, stirring constantly for another 2 to 3 minutes, or until the sauce slightly thickens. Mix in the bacon and mushrooms, then add the chicken, bay leaf, and seasoning. Cover and cook in the oven for 30 minutes. Add the parsley just before serving with rice.
***
Grandma Dot's Oatmeal Freezer Cookies
adapted from cooks.com
Makes about 2 dozen cookies
I freeze this dough in smallish logs, just enough to make about 8 cookies. By freezing smaller portions, the dough thaws more quickly. And because I only bake a few cookies at a time, they are always fresh.
1/2 cup (100 g) shortening
1/2 cup (85 g) brown sugar
1/2 cup (100 g) sugar
1 egg
1 teaspoon vanilla
3/4 cup (90 g) flour
1/2 teaspoon salt
1/2 teaspoon baking soda
1 1/2 cups (120 g) rolled oats
1/4 cup (25 g) finely chopped pecans or walnuts
Preheat the oven to 350°F (180°C). Cream the shortening and sugars. Beat in the egg and vanilla.
In a separate bowl, stir together the flour, salt, baking soda, oats and nuts. Add the flour mixture to the creamed mixture until just blended.
Shape the dough into 2‑inch rolls, like refrigerator cookie dough at the grocery store, on waxed paper. Roll up and twist the ends together. Chill until firm (at least 2 hours) or freeze for later use (place logs in a plastic bag before freezing). When ready to bake the cookies, thaw the dough (only if frozen), then cut into 3/4‑inch slices. Place on an ungreased cookie sheet with at least 1 inch separating the cookies. Bake at 350°F (180°C) for approximately 10 minutes.

Email this post

Print this post