My one and only chef friend, Christian, works at Tre Kronor, which was recently featured on the Food Network's Diners, Drive-ins and Dives. Though the Swedish meatballs highlighted on the show looked good, I think my own version would hold their own against them.
I've been tweaking this meatball recipe since college. The cookbook it came from was originally bought by my study-abroad friend, Annie, as a gift for the host family that she was staying with in Oaxaca, Mexico. Let's just say that her relationship with the family wasn't very positive. Examples? Well, their idea of vegetarian cooking was beans for every meal — breakfast, lunch, and dinner. Her shower was a cement stall adjoining her motel-like bedroom. And worst of all, a very friendly male "cousin" attempted to corner her alone at every opportunity. Instead of dragging the cookbook back home to Madison, she gave it to me. The original recipe has no gravy but I'm a gravy fan, especially with good egg noodles. If you don't feel like making up the gravy or if you can't find good semi-condensed mushroom soup (I use Amy's organic brand), these meatballs are great on their own.
For the corn, simply husk your corn and drop it into a large pot of boiling salted water. If fresh, the corn will need only 2 to 3 minutes to cook. Cook all your corn at once, even if you won't eat it all at one meal. Corn flavor decreases and starch increases as it sits, so it's best to cook it as soon after it's picked as possible. Looking for ideas on what to do with leftover corn? Check out tomorrow's post for a great corn, tomato, and feta salad recipe.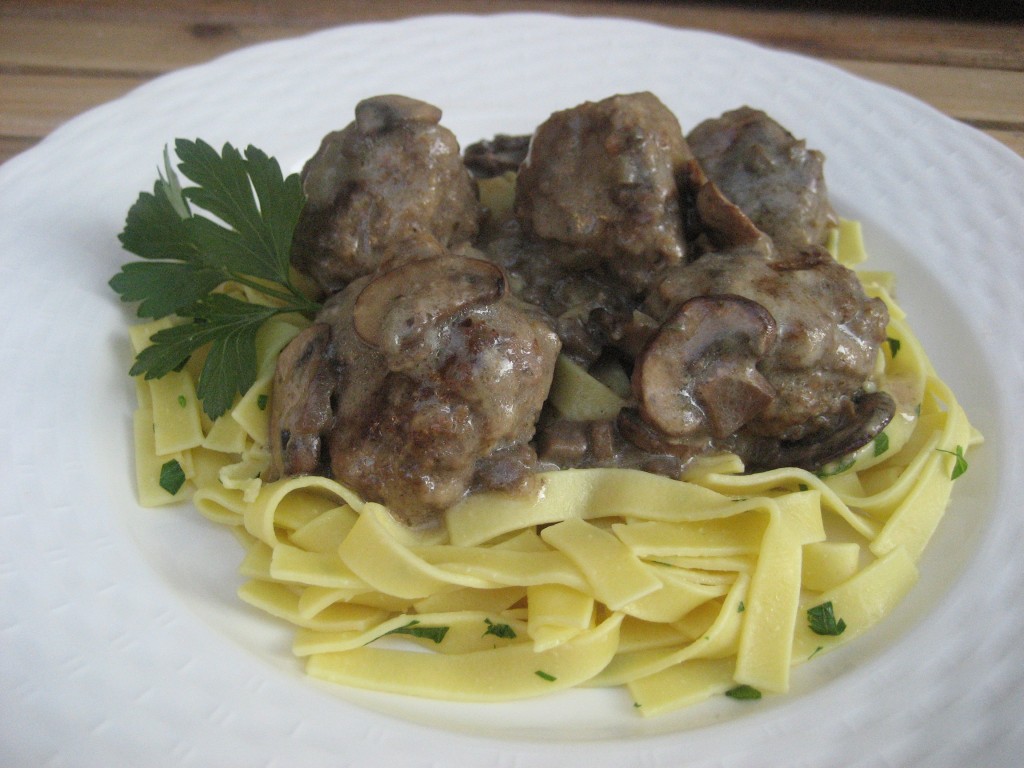 Swedish Meatballs
adapted from From Wisconsin: More Than a Cookbook
by Laurie & Debra Gluesing
Serves 6
5 tablespoons butter, divided
1/2 cup (about 90 g) finely minced onion
1 egg
1/2 cup (120 ml) milk
1/2 cup (about 60 g) bread crumbs
1 teaspoon salt
2 teaspoons sugar
1/2 teaspoon allspice
1/2 teaspoon nutmeg
1 lb (450 g) ground beef
3/4 cup (175 ml) water
8 oz (225 g) crimini or white mushrooms, sliced
1 x 14-oz (400‑g) can of semi-condensed cream of mushroom soup (half a can of Campbell's cream of mushroom soup can be used in lieu of semi-condensed soup but the flavor won't be as good)
1 cup (240 ml) milk
Melt 2 tablespoons of the butter in a large skillet. Add the onion and saute until golden. Remove the onions from the pan.
While the onions cook, beat the egg in a mixing bowl, then stir in the milk and bread crumbs. Set aside for 5 minutes.
Combine the bread crumb mixture with the onion, salt, sugar, allspice and nutmeg. Stir in the beef and blend well. Shape into 1 1/2‑inch balls and brown on all sides in the remaining 2 tablespoons of butter. Pour the water into the skillet and simmer for 15 minutes.
While the meatballs cook, saute the mushrooms in a separate skillet with the remaining tablespoon of butter until tender, about 6 to 7 minutes.
Remove the meatballs from the pan. Whisk the soup and milk into the pan with the meat drippings until well combined and smooth. Heat just to boiling, then reduce the heat and simmer for 5 minutes. Add the cooked mushrooms and meatballs to the gravy. Serve with egg noodles.
***
Parsley Egg Noodles
Serves 6
1 lb (450 g) egg noodles
4 tablespoons butter, melted
1 cup (30 g) fresh parsley, chopped
salt and freshly ground black pepper
Cook the noodles according to package directions. Drain and toss with the butter, parsley, and salt and pepper to taste.

Email this post

Print this post