Between this year's COVID-19, Presidential antics, and a national (long overdue) reckoning with racism, I find myself falling back on the comfort of baking. 2020 feels like a perfect time to bake more cakes and restart the blog. I spent many hours cooking for my family during our shelter-at-home quarantine and suspect that many of you have done the same.
I only make this flag cake once per year although it is one of my favorites. This year I don't really feel like celebrating the state of America so I may rearrange the berries into a less controversial pattern. Suggestions welcome.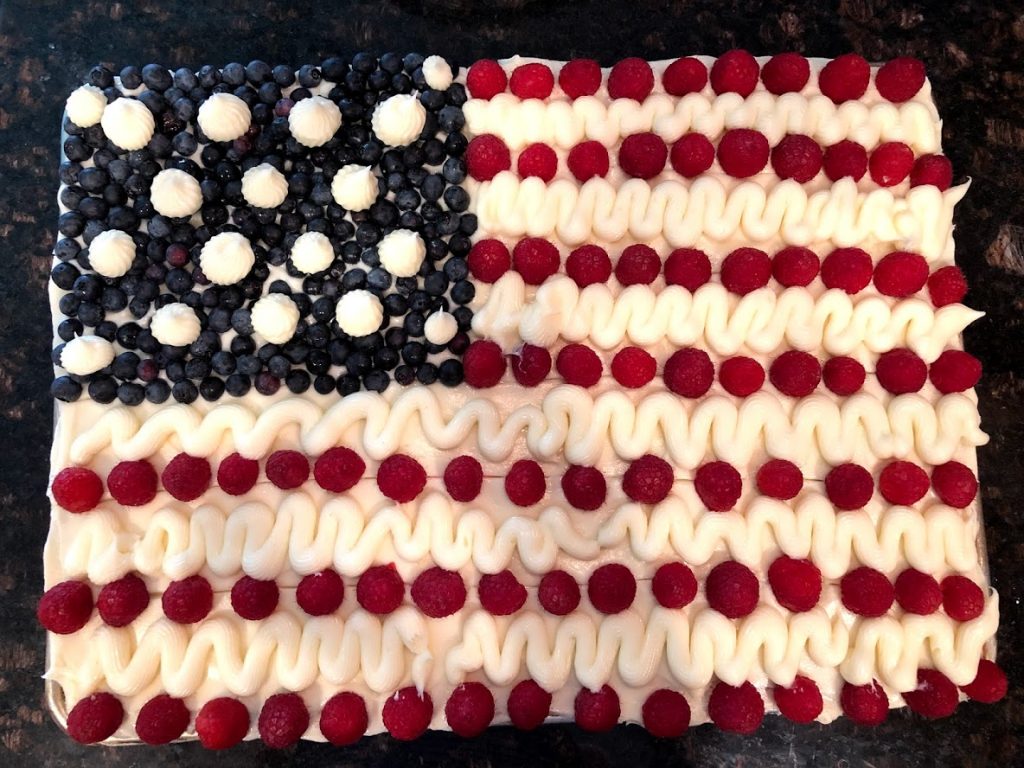 American Flag Cake
adapted from Barefoot Contessa
18 tablespoons (2–1/4 sticks) unsalted butter, at room temperature
3 cups sugar
6 large eggs, room temperature
1 cup sour cream, room temperature
1 1/2 teaspoons vanilla extract
3 cups all-purpose flour
1/3 cup cornstarch
1 teaspoon kosher salt
1 teaspoon baking soda
For the Icing:
3/4 pound (3 sticks) unsalted butter, at room temperature
1 pound cream cheese, at room temperature
4 cups (about 3/4 pound) confectioners' sugar, sifted
1 teaspoon vanilla extract
To Assemble:
1 pint blueberries
2 pints raspberries
Heat the oven to 350 degrees Fahrenheit. Butter and flour an 18 x 12 x 1–1/2‑inch sheet pan (a "half sheet" pan). Alternatively, you can line the pan with parchment paper.
Cream the butter and sugar in the bowl of an electric mixer fitted with the paddle attachment for 3 minutes on medium speed, until light and fluffy. On medium-low speed, add the eggs, 2 at a time, then add the sour cream and vanilla. Scrape down the sides and stir until smooth.
Sift together the flour, cornstarch, salt, and baking soda in a bowl. With the mixer on low, add the flour mixture and mix until just combined. Stir the batter with a rubber spatula and pour into the prepared pan. Smooth the top and bake in the center of the oven for 20 to 30 minutes, until a toothpick comes out clean. Cool to room temperature.
For the icing, combine the butter, cream cheese, and vanilla in the bowl of an electric mixer fitted with the paddle attachment and mix on medium speed until very smooth. Add the confectioners' sugar and mix on low speed. Stir with a rubber spatula to be sure the icing is well mixed.
Spread half of the icing on the cake. Using a toothpick, outline a flag on the cake. Fill in the upper left corner with blueberries. Place 2 rows of raspberries across the top of the cake like the red stripes. Put the remaining icing in a pastry bag fitted with a star tip and pipe two rows of white stripes below the raspberries. Alternately add 2 rows of raspberries and 2 rows of icing until the flag is completed. Pipe stars on top of the blueberries.
Keep refrigerated until ready to serve.

Email this post

Print this post