Last week we celebrated my favorite two food festivities on the same day: Thanksgiving and Hanukkah. This once in a lifetime event (the next occurrence won't happen for about 70,000 years) was a perfect chance to try a bit of Thanksgivukkah fusion cooking. Since I usually make our Thanksgiving dessert, I picked out this pecan pie rugelach recipe weeks ago. These sweet, buttery pastries were well worth the wait. You have a couple days left of Hanukkah to try them for yourself.
Speaking of long waits, after 9 months of anticipation, we are especially thankful this year for the arrival of baby boy Benjamin two weeks ago. I'm looking forward to a leisurely holiday season ahead with my new little one, with not much to do except baking and baby snuggling. What could be better!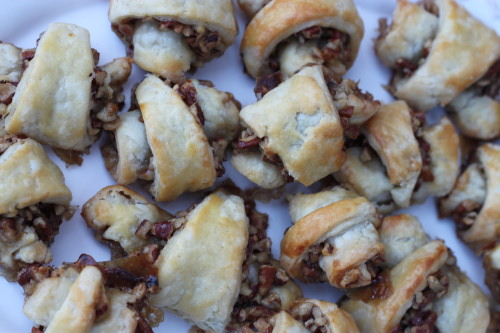 Pecan Pie Rugelach
adapted from BuzzFeed
I love that half of this recipe–the dough–can be made the day before baking. If you can spare a half hour, two days in a row, you can whip up these fabulous pastry-type cookies.
makes 32 cookies
Dough:
1 cup (120 g) all-purpose flour
1/4 teaspoon salt
1/2 cup unsalted butter (110 g), cut into 8 pieces
1/2 cup cream cheese (110 g), cut into 4 pieces
Filling:
1 1/2 cups (225 g) finely chopped pecans (toasted if possible)
1/4 cup unsalted butter (55 g), cut into 4 pieces
1 teaspoon vanilla extract
1/3 cup (80 ml) corn syrup
1/2 cup (85 g) brown sugar
pinch of sea salt
Egg wash:
1 egg
1 tablespoon water
Let butter and cream cheese sit out at room temperature for 15 minutes, so that they are still cool but slightly soft. Combine flour and salt in a medium mixing bowl. Using a hand mixer, mix on a low speed just until combined. Scatter butter and cream cheese pieces over the top of the flour mixture, and beat on medium speed until dough is the texture of cottage cheese, still slightly crumbly. Use your hands to divide the dough into 2 equal pieces, then roll each piece into a ball. Flatten each ball into a disk about 1 inch thick and 4 inches in diameter, then wrap each one separately in plastic wrap, and refrigerate at least 2 hours, up to 1 day.
Place chopped pecans in a small bowl. In a small saucepan over medium heat, brown the butter by adding all 4 pieces at once and constantly stirring with a heatproof spatula until completely melted. Continue to stir or swirl the pan as butter starts to bubble and foam. When the foam subsides slightly and butter turns a light brown color, take it off the heat immediately and add the it to the chopped pecans. Add vanilla extract, corn syrup, and brown sugar, and mix with a rubber spatula just until combined.
Preheat oven to 350°F. Line two cookie sheets with parchment paper. Beat egg yolk with the tablespoon of water and set aside.
When the dough is chilled, unwrap one disk onto a lightly floured surface, and roll with a rolling pin into a 12-inch circle. It is important to have an even, symmetrical circle, so trim any excess. If dough gets too soft during rolling, lay it on one of the lined baking sheets and put it in the freezer for 5 minutes, until slightly chilled. Once the dough is rolled out, sprinkle half of the pecan mixture on top of the dough, all the way to the edges of the circle, making sure the mixture is evenly distributed. With a pizza cutter (or a knife), cut dough into 16 equal slices. Roll each slice from the outside in (starting the wide end and rolling towards the point), placing each roll onto the cookie sheet as you go. Repeat this process with the other disk of dough.
Use a pastry brush to coat the top of each cookie with the egg-water mixture. Bake rugelach for 20 minutes until golden, turning the cookie sheet halfway through baking. Cool completely before serving. Store in a covered (but not airtight) container for up to 3 days.

Email this post

Print this post