My sushi-eating, blue cheese-loving kids have become picky eaters and my son smothers everything in ketchup. Over the summer, my heart sank a little further every night at dinnertime, when no matter what I put in front of the kids, it seemed to always be met with a yuck or eww (though at least I've trained the seven-year-old well enough to say I don't care for this). So after months of despairing about what to feed them, I've decided to make life easier on myself and do what their daycare does — I make the same things every week. I still play around with new recipes on the weekends, but now Fridays are roast chicken, taco night Tuesdays and Mondays are some kind of mince, that fail-safe reliable. So far that's meant Spaghetti Bolognese, meatballs, turkey burgers or shepherd's pie, but things have got a little more interesting with the reissued Marvellous Meals with Mince by Josceline Dimbleby. Originally published in 1982 for the Sainsbury's supermarket chain, where it became a bestseller, the book has been completely rewritten and brought up to date with fresh new photography.
Finger food still seems to be a safe bet, so I made the crispy lamb and mint rolls first — which the kids wolfed down with a simple yoghurt dip and asked for seconds. On my list of recipes still to try are meatloaf with blue cheese, a picnic loaf, fish sausages and potato croquettes stuffed with pork. I may have given in to the picky eaters — for now — but at least Mince Mondays are looking up.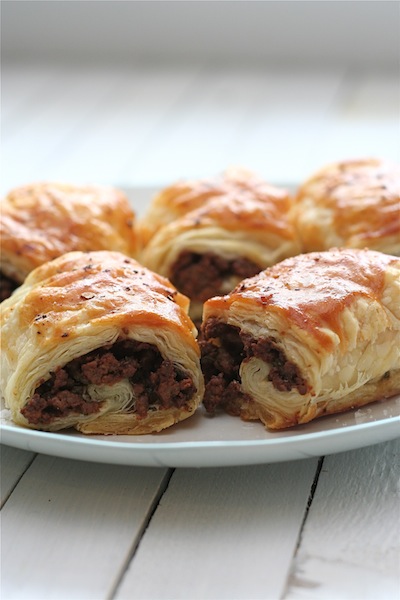 Crispy Lamb and Mint Rolls
adapted from Marvellous Meals with Mince by Josceline Dimbleby
Serves 4 as a light dinner
The original recipe calls for deep-frying the rolls, but I've modified it slightly to bake them in the oven instead as a healthier and easier option.
12 oz (350 g) lean lamb mince
3 large garlic cloves, finely chopped
1 inch (3 cm) piece of fresh root ginger, peeled and finely chopped
2 teaspoons ground cumin
1/4 to 1/2 teaspoon mild chilli powder
salt and freshly ground black pepper
olive oil
a handful of mint or cilantro (a.k.a. coriander) leaves, chopped
2 large eggs, lightly whisked (but only crack one at a time into the bowl for two separate uses)
2 ready-rolled puff pastry sheets
cucumber raita or seasoned Greek yoghurt, for dipping
couscous studded with apricots, preserved lemons, almonds and mint, to serve
In a large bowl, mix together the lamb, garlic, ginger, cumin, chilli powder and salt and pepper. Heat some olive oil in a large frying pan over a high heat. Fry the meat just until it has browned. Transfer the lamb to a bowl with a slotted spoon to leave behind any excess fat and allow to cool slightly, then stir in the chopped mint or cilantro (coriander) and one of the beaten eggs.
Preheat the oven to 400°F (200°C) and line a baking tray with parchment paper.
Lightly dust your work surface with flour and roll out the pastry sheets to stretch them a bit. Brush the edges of the pastry with some of the remaining beaten egg to help it stick together when you roll it up, then spoon half of the meat mixture onto one of the sheets, leaving a small gap clear at the top long edge. Starting with the long edge closest to you, carefully roll up the pastry sheet, pressing down gently as you go to enclose the meat inside it, so that the lamb rolls resemble a Swiss roll. When you've finished, press down firmly to seal the edges together. Cut at 3 inch (7 cm) intervals to make small pastry swirls and place on the lined baking sheet, seam side down. Repeat with the second sheet of pastry and the remaining lamb.
Brush the tops of the rolls with the last of the beaten egg and sprinkle with flaky sea salt and a crack of black pepper. Cook in the oven for 20 to 30 minutes, until the pastry has puffed up and is golden brown. Serve with cucumber raita or seasoned Greek yoghurt for dipping and a mound of couscous on the side.
Disclaimer: I received a review copy of Marvellous Meals with Mince from Quadrille Publishing.


Email this post

Print this post