Cookbook writers and TV chefs are always talking about dishes to serve when unexpected guests pop in or if you're having friends round for a midweek dinner party. Seriously? Who on earth has a dinner party in the middle of the week? And who calls in unannounced and expects to have some little treat fresh out of the oven set down in front of them? I'm a third generation Virgo and consider myself to be fairly well organised, but I would be hard pressed to rustle up much more than some stale crackers unearthed from the back of the pantry if someone dropped by out of the blue.
Until, that is, I discovered this cake. It's my favorite kind of cake recipe — the kind where the butter is melted and then everything gets stirred together in one pot, meaning you don't even have to plan ahead to let the butter soften first. I always have the baking basics on hand (flour, butter, sugar, eggs), and if you just add a jar of raspberry jam and a bar of dark chocolate to that list, then this is truly a store cupboard cake, one you can breezily whip together at a moment's notice if a craving for cake suddenly strikes — or if, like Nigella, you just so happen to be throwing an effortless-looking dinner party on a school night.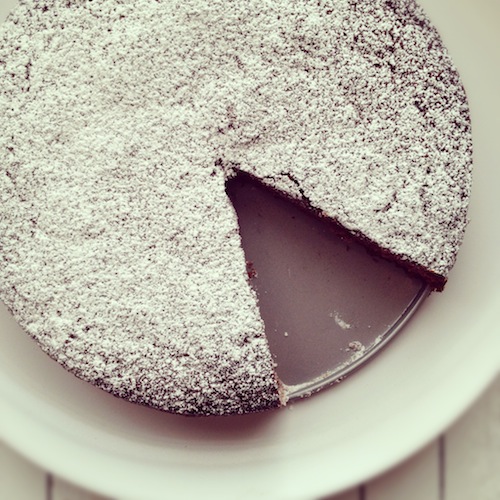 Store Cupboard Chocolate Raspberry Cake
adapted from How to Be a Domestic Goddess by Nigella Lawson
The original recipe is actually called Store Cupboard Chocolate Orange Cake, since it calls for marmalade instead of raspberry jam. I've made it that way too but as much as I love marmalade, I like the raspberry jam version even better.
1/2 cup (125 g) unsalted butter
4 oz (100 g) dark chocolate, broken into pieces
3/4 cup (300 g) good-quality raspberry jam (or apricot jam or marmalade)
3/4 (150 g) sugar
pinch of salt
2 large eggs, beaten
1 1/4 cups (150 g) self-raising flour
confectioners' sugar (icing sugar), to decorate (optional)
Preheat the oven to 350°F (180°C). Butter and flour an 8 inch (20 cm) Springform pan and set aside.
Put the butter in a heavy-bottomed saucepan and set over a low heat to melt. When it's almost melted, stir in the chocolate and allow it to melt a little. Take the pan off the heat and stir until the butter and chocolate are smooth and melted. Add in the jam, sugar, salt and eggs and stir well until everything is combined. Sift in the flour and stir again (taking care not to overmix), then pour the batter into the prepared Springform pan. Bake in the oven for 45 to 50 minutes, until a tester inserted into the centre comes out clean. Set the pan on a wire rack and allow the cake to cool in the pan for at least 10 minutes before you turn it out. Once it's completely cooled, sift over some confectioners' (icing) sugar to decorate.

Email this post

Print this post