There is a show currently running in Ireland called Fresh from the Sea, featuring Ireland's small-scale fishermen and producers with a bit of cooking thrown in at the end. It's a great series, and the cookbook that accompanies it is turning out to be one of my favorites of the year. In the first episode, Clodagh McKenna is outside on a windy pier, her hair blowing in her face, whipping up a homemade mayonnaise by hand. Well, I thought, if she can make mayonnaise in such a setting, and by hand, no less, then anyone can do it.
Still, lovely and all as homemade mayo or aioli is, I'm not about to suggest that anyone make it. I love to cook, but there are limits to what I'll make from scratch. This smoky aioli sounds very fancy, but is just store-bought mayonnaise tarted up a bit with spices, olive oil and lemon juice. If you can't be bothered toasting and grinding the cumin and coriander seeds, just use the ground versions, though when I made these on Saturday, after listening to two whiny kids all day while rushing to meet a work deadline I'd overlooked on Friday, I was in the mood to bash some spices in a mortar and pestle.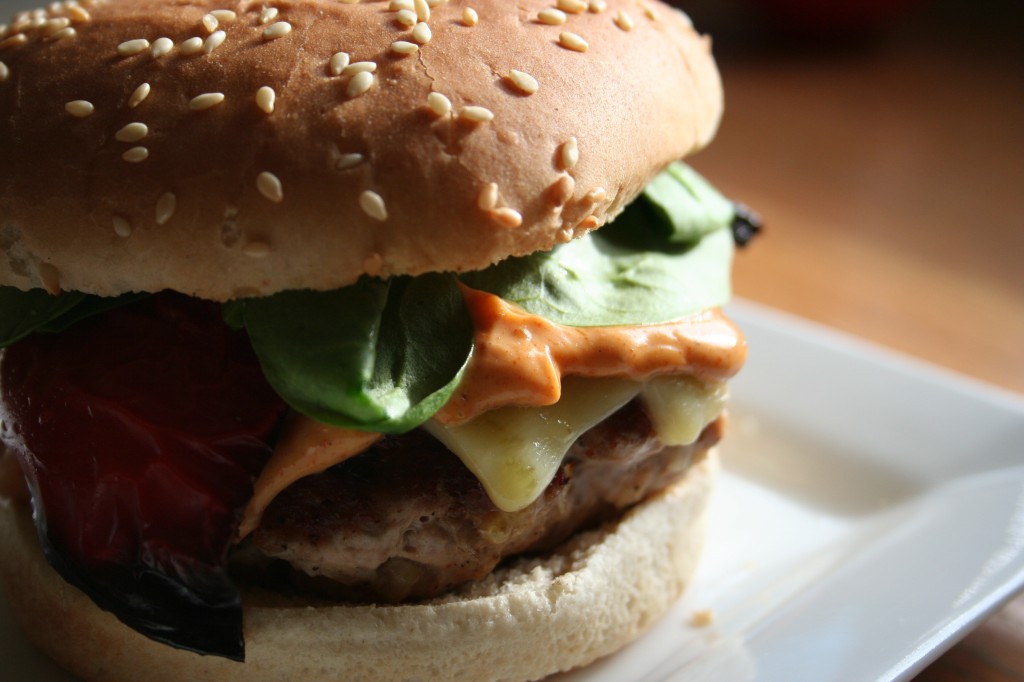 Turkey Burgers with Cheddar and Smoky Aioli
adapted from Bon Appétit, August 2009
Serves 4
The aioli can be made 1 day ahead; just cover and refrigerate. The turkey burgers can also be made 4 hours ahead; cover and chill. If you don't want to fire up the grill for this dinner, you can pan-fry the burgers for 5 minutes on each side and roast the peppers and onions in a hot oven (400°F/200°C) for about 30 minutes.
for the smoky aioli:
1/2 teaspoon cumin seeds (or 1/2 teaspoon ground cumin)
1/2 teaspoon coriander seeds (or 1/2 teaspoon ground coriander)
1/2 cup (100 ml) mayonnaise
2 tablespoons extra-virgin olive oil, plus extra for brushing
2 teaspoons fresh lemon juice
1 1/2 teaspoons smoked paprika
for the turkey burgers:
1 lb (450 g) ground turkey
1/2 cup (25 g) fresh breadcrumbs
2 green onions, minced, white and green part
sea salt and freshly ground black pepper
4 x 1/3‑inch-thick red onion slices
1 large or 2 small red bell peppers, quartered
4 slices white cheddar cheese or Monterey Jack cheese
4 sesame seed hamburger buns, lightly toasted
arugula or baby spinach, to serve
To make theh aioli, toast the cumin seeds and coriander seeds in a small skillet over a medium-high heat until aromatic and slightly darker in color, shaking skillet often, about 1 1/2 minutes. Cool. Finely grind the toasted seeds in spice grinder or in mortar with pestle. Whisk mayonnaise, 2 tablespoons extra-virgin olive oil, fresh lemon juice, smoked paprika, and ground spices in small bowl. Season the aioli to taste with salt and pepper.
To make the burgers, place the turkey in a medium bowl. Add 2 tablespoons of the aioli, the breadcrumbs, green onions and salt and pepper; do not overmix or the burgers will be tough. Using damp hands, divide the turkey mixture into 4 equal portions, then form each into a scant 3/4‑inch thick patty, about 3 1/2 inches in diameter. Using your thumb, make a small indentation in the center of each burger (dimpling a burger like this helps it to cook evenly and retain its juices).
Prepare the barbecue (medium-high heat). Sprinkle the burgers with salt and pepper. Brush the onion slices and bell pepper pieces with oil and sprinkle with salt and pepper. Grill the onions and bell peppers until soft and charred, about 4 minutes per side.
Grill the turkey burgers for 5 minutes. Turn over and grill until almost cooked through, about 4 minutes. Top each burger with 1 cheese slice and grill until the meat is cooked through and the cheese melts, about 1 minute longer. Place 1 turkey burger on each of 4 bun bottoms. Arrange grilled red pepper pieces, then grilled red onion slices over. Top each with dollop of aioli and some arugula or spinach and cover with bun tops.
***
Carrot Salad with Parsley and Mint
adapted from Vegetarian Cooking for Everyone by Deborah Madison
Serves 4 to 6
I modified this to double the amount of parsley and mint called for and to use black pepper instead of white.
1 lb (450 g) carrots
1 tablespoon white wine vinegar or lemon juice
1/4 teaspoon salt
2 tablespoons olive oil
2 tablespoons chopped fresh parsley
1 tablespoon chopped fresh mint
freshly ground black pepper
Peel, then grate the carrots. Mix the vinegar or lemon juice with the salt, then whisk in the olive oil (or shake to combine in a screw-top jar). Toss with the carrots, parsley and mint and season with pepper to taste. Serve right away or cover and chill for 1 hour.
***
Blueberry Crumb Bars
adapted from Smitten Kitchen
Makes approx. 36 small rectangles
These are good at any time of the day. I never feel (too) guilty about eating desserts with fruit in them for breakfast. I used my food processor to make the dough, which made this even easier to pull together.
1 cup (200 g) white sugar
3 cups (425 g) all-purpose flour
1 teaspoon baking powder
1/4 teaspoon salt
zest and juice of 1 lemon
1 cup (225 g) cold butter
1 egg
1/2 cup (100 g) white sugar
4 teaspoons cornstarch
4 cups (600 g) fresh blueberries
Preheat the oven to 375°F (190°C). Grease a 9×13-inch pan.
In a medium bowl, stir together 1 cup sugar, 3 cups flour, and baking powder. Mix in the salt and lemon zest. Use a fork or pastry cutter to blend in the butter and egg. Dough will be crumbly. (Alternatively, briefly whiz the sugar, flour, baking powder, salt and lemon zest in a food processor just to combine. Add the butter and egg and blend until a crumbly dough is formed.) Pat half of the dough into the prepared pan.
In another bowl, stir together the sugar, cornstarch and lemon juice. Gently mix in the blueberries. Sprinkle the blueberry mixture evenly over the crust. Crumble the remaining dough over the berry layer.
Bake for 45 minutes, or until the top is slightly brown. Cool completely before cutting into squares (they will cut even easier if you chill them in the fridge), though cutting just a few crumbly ones still warm from the oven will do no harm to the rest of the pan.

Email this post

Print this post