We're eating citrus in our house like it's going out of style–or at least out of season. Although February food can be rather bleak notwithstanding the plethora of root vegetables you can scrounge up, at least we can still find great oranges and grapefruit. I love the combination of chocolate and orange, especially in cake form. And of course I'm a sucker for a cake that is moist tender and without frosting (see for example maple yogurt pound cake, raspberry buttermilk cake, and lemon yogurt cake). This marble cake, which I usually bake as a loaf, maintains its moistness for days thanks to a post-bake drizzle of orange juice and sugar syrup. Make it now, before April rolls around and oranges become pithy and expensive.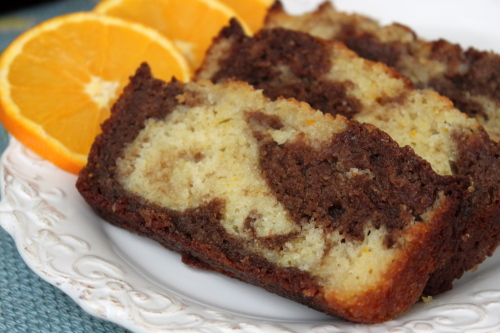 Chocolate Orange Marble Cake
adapted from allrecipes.com
Serves 10
1 cup (225 g) butter, softened
1 1/4 cups (250 g) white sugar
3 eggs
2 teaspoons vanilla extract
1 cup (240 ml) plain or vanilla yogurt
1 3/4 cups (210 g) all-purpose flour
3/4 teaspoon baking soda
3/4 teaspoon baking powder
1/4 teaspoon salt
2 tablespoons grated orange zest
2 ounces (60 g) semisweet or bittersweet chocolate, melted [Note: I use a microwave for melting]
4 tablespoons orange juice
Preheat the oven to 350°F (180°C). Grease and flour a loaf pan or 10 inch tube pan.
In a large bowl, cream the butter with 1 cup (200 g) of the white sugar. Beat in the eggs, then the vanilla and the yogurt.
In another bowl, stir together the flour, baking soda, baking powder, and salt. Beat the flour mixture into the creamed ingredients. Turn 2/3 of the batter into another bowl. Add the orange zest to that bowl and the melted chocolate to the remaining batter. Alternately spoon the orange and chocolate batters into the greased and floured pan. Gently swirl through the two batters with a knife to create a marbled effect.
Bake for 45–50 minutes, until toothpick inserted in the center of the cake comes out clean. While the cake bakes, stir together the remaining 1/4 cup (50 g) sugar and the orange juice, making sure the sugar dissolves completely. As soon as the done cake is removed from the oven, pour the juice/sugar mixture over the still hot cake. Let the cake finish cooling on a rack before serving.

Email this post

Print this post