Finding new ways to use unusual varieties and quantities of produce is one of the best parts of our weekly Community Supported Agriculture (CSA) subscription. This week's challenge: multiple bulbs of kohlrabi and a grocery bag full of fresh dill. The resulting Asian-inspired menu was both tasty and economical.
Vietnamese Fish and Noodles
adapted from Rare Earth Farm, July 2009 newsletter
1/2 lb (225 g) thin noodles
2 tablespoons Nuoc Mam (fish sauce)
1/2 teaspoon turmeric
2 teaspoons ground ginger
2 teaspoons powdered garlic
1/2 teaspoon black pepper
2 tablespoons vegetable oil
1 lb (450 g) fish fillet, cut into medium pieces
1 cup chopped green onions
1 cup chopped dill
1/2 cup chopped basil
4 tablespoons roasted peanuts, chopped
Cook noodles according to the packet directions, then divide into four serving bowls and set aside.
In a bowl, combine the Nuoc Mam, turmeric, ginger, garlic, pepper and 1 tablespoon of the oil. Add the fish and stir until all the pieces are coated. Place in the refrigerator and allow to marinate for 30 minutes.
Heat the remaining oil in a wok or heavy frying pan until it begins to smoke, then stir-fry the fish for 2 minutes. Remove from the heat, then stir in the onions and half of the dill.
Top the noodles in each bowl with the fish. Cover with the remaining dill and basil, then sprinkle with peanuts. Serve with additional Nuoc Cham sauce and serve immediately.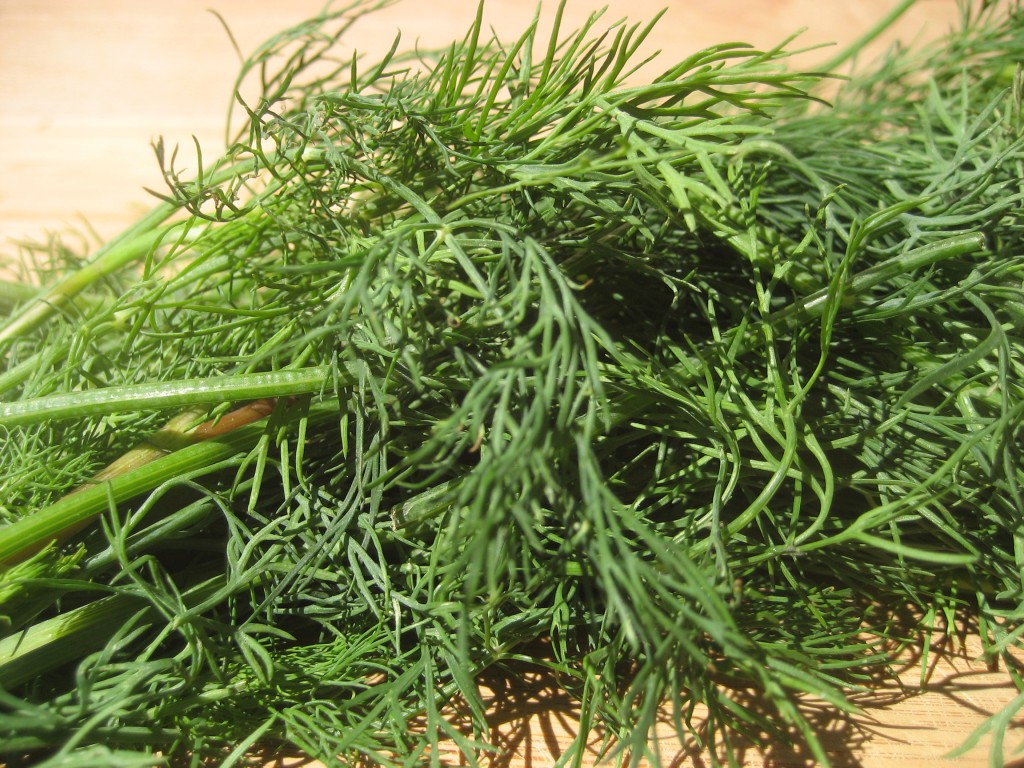 ***
Asian Coleslaw
adapted from Richard Palm, Pastry Chef at the American Club
2 kohlrabi, peeled and shredded
2 carrots, peeled and shredded
3 red radishes, cut into small julienne
1 tablespoon honey
2 tablespoons rice wine vinegar
1/4 teaspoon sea salt
3 tablespoons olive oil
2 tablespoons roasted sesame oil
1/4 teaspoon chili paste
1 tablespoon minced cilantro
Mix the kohlrabi, carrots and radishes together in a medium-sized bowl and set aside. Whisk the honey, vinegar and sea salt together. Add the oils, cilantro and chili paste and mix well. Pour the vinaigrette over the vegetables and either chill or serve right away.
***
Lemon Yogurt Cake
adapted from Barefoot Contessa at Home by Ina Garten
Makes 1 loaf
For a real treat, top this no-fail cake from Ina Garten with fresh blueberries.
1 1/2 cups (200 g) all-purpose flour
2 teaspoons baking powder
1/2 teaspoon kosher salt
1 cup (200 ml) plain whole-milk yogurt
1 1/3 cups (300 g) sugar, divided
3 extra-large eggs
2 teaspoons grated lemon zest (2 lemons)
1/2 teaspoon pure vanilla extract
1/2 cup vegetable oil
1/3 cup (80 ml) freshly squeezed lemon juice
for the glaze:
1 cup (100 g) confectioners' sugar
2 tablespoons freshly squeezed lemon juice
Preheat the oven to 350°F (175°C). Grease an 8.5 x 4.25 x 2.5‑inch loaf pan. Line the bottom with parchment paper. Grease and flour the pan.
Sift together the flour, baking powder and salt into a bowl. In another bowl, whisk together the yogurt, 1 cup (200 g) of the sugar, the eggs, lemon zest and vanilla. Slowly whisk the dry ingredients into the wet ingredients. With a rubber spatula, fold the vegetable oil into the batter, making sure it's all incorporated. Pour the batter into the prepared pan and bake for about 50 minutes, or until a cake tester placed in the center of the loaf comes out clean.
Meanwhile, cook the 1/3 cup (80 ml) lemon juice and remaining 1/3 cup (100 g) sugar in a small pan until the sugar dissolves and the mixture is clear. Set aside.
When the cake is done, allow it to cool in the pan for 10 minutes, then turn out of the tin and carefully place on a baking rack over a sheet pan. While the cake is still warm, pour the lemon-sugar mixture over the cake and allow it to soak in. Cool.
For the glaze, combine the confectioners' sugar and lemon juice and pour over the cake once it has completely cooled.

Email this post

Print this post