Every family has its own set of favorite meals and often its owns way of labeling them. Case in point, when my husband asks for "Thomas Jefferson's chicken" what he really wants is gratin de volaille pavillon, a fancy name for the best chicken and noodles you'll ever eat. We found this dish in college, pulled from The New York Times More 60-Minute Gourmet
, which introduces the recipe by noting that this variation of chicken in cream sauce was "much admired by Thomas Jefferson." Not sure how this culinary tidbit made it to modern times, but it stuck with us.
Though this preparation is not as easy as your average condensed soup-based casserole, the extra effort it requires is soon forgotten as you bite into the delicately sauced poached chicken and tender, buttery, tomato flecked noodles. It's easy to see why it may have been a favorite of one of America's founding fathers.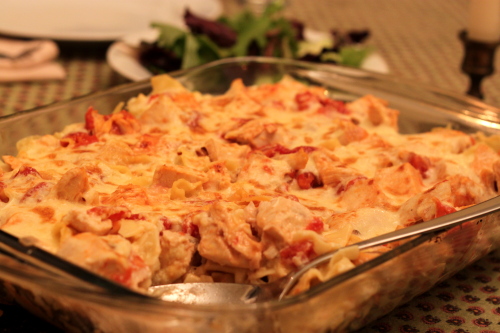 Gratin de Volaille Pavillon (Chicken and Noodles Baked in Cream Sauce)
adapted from The New York Times More 60-Minute Gourmet
by Pierre Franey
Serves 6
2 cooked whole chicken breasts (see recipe for poaching chicken below, highly recommended)
12 oz (340 g) medium width egg noodles
5 tablespoons (75 g) butter, divided
3 tablespoons flour
2 cups (500 ml) chicken broth (use the broth from the poached chicken if possible)
1/2 cup (125 ml) heavy cream
salt and freshly ground black pepper
2 tablespoons shallots, finely chopped
1 ripe tomato, chopped (or 1 cup canned diced tomatoes, drained)
1 egg, lightly beaten
2 tablespoons freshly grated Parmesan cheese
Remove the chicken from the bones. Discard the skin and bones and cut the meat into 1 or 2 inch cubes. There should be about 3 cups.
Cook the noodles according to the package directions. Do not overcook. Drain the noodles. Return them to the pot and add 1 tablespoon of butter. Toss gently.
Meanwhile, melt 2 tablespoons (30 g) of butter in a saucepan and add the flour, stirring with a wire whisk. When blended, add the chicken broth, stirring rapidly. When the sauce is thickened and smooth, simmer for about 5 minutes. Add the cream and let it simmer briefly. Season to taste with salt and pepper. Set aside.
Melt 2 tablespoons (30 g) of butter in another saucepan and add the shallots. Cook briefly, stirring, then add the tomatoes and cook down for about 3 minutes. Add the chicken and salt and pepper to taste. Add 1 cup (250 ml) of the cream sauce and stir gently; set aside.
To the remaining cream sauce, add the egg. Bring to a boil stirring rapidly with a whisk. Do not overcook. Remove from the heat.
Butter a 13 x 9 inch baking pan with the remaining tablespoon (15 g) of butter. Add the noodles, and smooth them over. Spoon the chicken and sauce mixture over the noodles. Cover with the cream and egg sauce, smoothing it over. Sprinkle on the cheese. Place the dish under the broiler and cook until nicely browned and bubbling on top.
Poached Chicken
2 whole, bone-in, skin-on chicken breasts
2 cups (500 ml) water
1 cup (250 ml) dry white wine
1 small white onion, sliced
1 bay leaf
3 sprigs parsley
1 carrot, chopped
1 teaspoon salt
1/8 teaspoon pepper
Combine all the ingredients in a saucepan and bring to a boil. Cover and simmer gently for about 10 minutes. Uncover and set aside. Let the chicken cool in its own broth.

Email this post

Print this post