Nigel Slater once described eating gnocchi as like eating a duvet. Sometimes that's just what you need, whether it's because you want something rib-sticking for a cold winter's night or because you need to indulge in some unabashed, to-hell-with-the-calories comfort eating. With the mood in Ireland being very gloomy lately (you might have heard of the small matter of our €85 billion bailout and this week's painful 2011 budget) and the weather being record-breaking cold, it was one of those times. Feeling low last week after another day of depressing news, I decided there was only one thing for it — baking. I turned to Nigella Lawson for some comfort food consolation, provided like only Nigella can, and settled on this Guinness gingerbread, which was perfect for this time of year. There's nothing like some iconic Irish food — Guinness and the Cashel Blue cheese I used in the gnocchi — to lift a girl's spirits.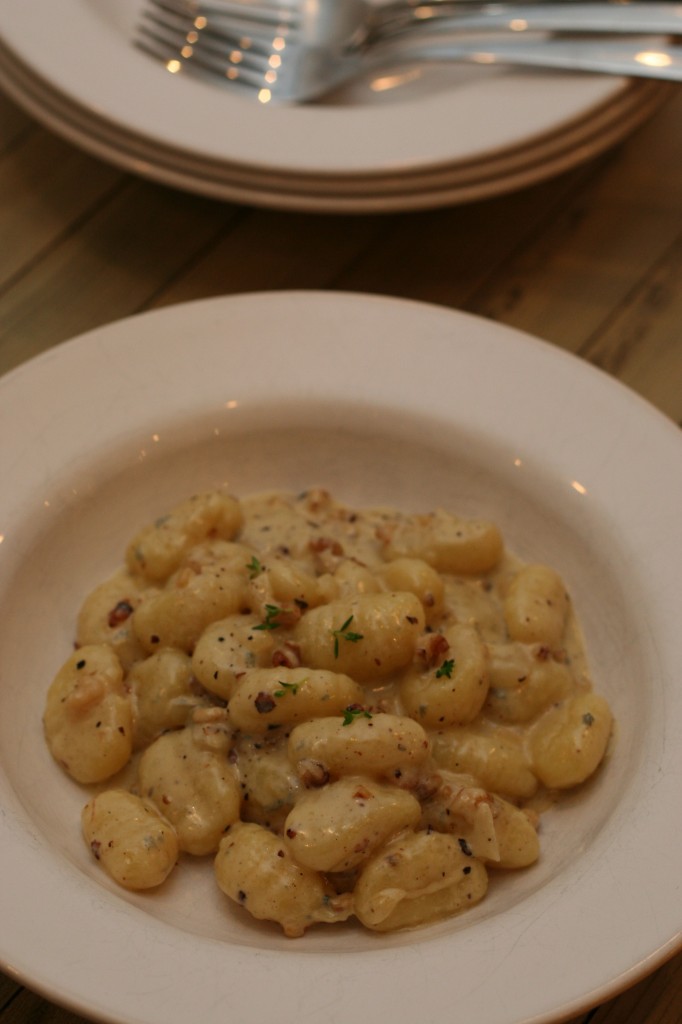 Gnocchi with Blue Cheese and Walnut Sauce
adapted from A Kitchen Year by Paula McIntyre
Serves 4 to 6
Paula McIntyre's original recipe calls for Bellingham Blue cheese, made in my neck of the woods in County Louth. Cashel Blue is an excellent substitute, but any good blue cheese will work here. If you want to give this a veggie boost, you could try adding some spinach, as in Nigel Slater's recipe for baked gnocchi with spinach and Gorgonzola. This could stretch to feed six people if you're serving it with something else, or just four greedy ones in need of some rib-sticking comfort food. It's also decadent enough to serve as a vegetarian option for the holidays.
2 packs (about 2 lb/1 kg) store-bought gnocchi
2 tablespoons (30 g) butter
1 tablespoon olive oil
1 onion, finely chopped
1/4 cup (60 ml) extra dry vermouth or dry white wine
1/2 cup (120 ml) vegetable or chicken stock
1 cup (250 ml) double cream
4 0z (100 g) blue cheese
1 cup (100 g) chopped walnuts
salt and freshly ground black pepper
fresh thyme, to garnish
Get a large pot of water on to boil for the gnocchi.
Meanwhile, to make the sauce, heat the butter and oil in a saucepan and cook the onion on a medium heat until golden, about 10 minutes. Add the vermouth or wine and cook until reduced by half. Add the stock and boil until the liquid has reduced by half again. Add the cream and simmer until the sauce has the consistency of single cream. Crumble in the cheese and remove from the heat.
Heat a dry pan and toast the walnuts and cook for 1 minute, taking care not to let them burn, which can happen quickly. Add the walnuts to the sauce and season to taste.
Cook the gnocchi according to the packet instructions, drain and add to the sauce, stirring to make sure all the gnocchi is coated with the sauce. Garnish with some fresh thyme leaves and serve immediately.
***
Guinness Gingerbread
adapted from Nigella Kitchen by Nigella Lawson
Makes 24 small squares or 16 rectangles
It's worth making this just for the smell of it baking in your oven alone. This was even better the day after I made it and was still holding up well on the third and fourth day too. Golden syrup is easily available in Ireland and the UK, but you can also order it online at Amazon
.
1 1/4 sticks (150 g) butter, plus some for greasing
1 cup (300 g) golden syrup (such as Lyle's)
1 cup (packed) plus 2 tablespoons (200 g) dark brown sugar
1 cup (250 ml) Guinness or other stout
2 teaspoons ground ginger
2 teaspoons ground cinnamon
1/4 teaspoon ground cloves
2 cups (300 g) all-purpose flour
2 teaspoons baking soda
1 1/4 cups (300 ml) sour cream
2 eggs
1 x 9 inch (23 cm) square baking tin or 1 foil tray approximately 13 x 9 x 2 inches (30 x 20 x 5 cm)
Preheat your oven to 325°F (160°C). Line your cake pan with parchment paper or greased foil, or grease your foil tray.
Put the butter, syrup, dark brown sugar, stout, ginger, cinnamon and ground cloves into a pan and melt gently over a low heat. Take off the heat and whisk in the flour and baking soda. You will need to be patient and whisk thoroughly to get rid of any lumps. Whisk the sour cream and eggs together in a measuring jug and then beat into the gingerbread mixture, whisking again to get a smooth batter.
Pour this into your cake/foil pan and bake for about 45 minutes. When it's ready it will be risen in the middle and coming away from the pan at the sides. Let the gingerbread cool before cutting into slices or squares.

Email this post

Print this post