It's no secret that I like to serve appetizers as dinner when I can get away with it. Some starters easily morph into the role of main course, such as spring rolls with pork meatballs and shrimp won tons in soup, while other appetizers aren't really up to the task. I vividly remember the night that I served Reuben seven-layer taco dip and corn chips for dinner. Needless to say, I ended up eating a lot of taco dip by myself that evening.
I'm pretty positive this "pizza" is intended as a first course, but like most parents, I don't do "courses" with the kids and I really wanted to try this recipe. Paired with vine-ripened tomatoes from our backyard, the pizza alone was plenty for the three (and a half) of us. Admittedly, it's probably more of a brunch than dinner, reminiscent of a good bagel but lighter and with better textures, especially with the addition of sliced tomatoes.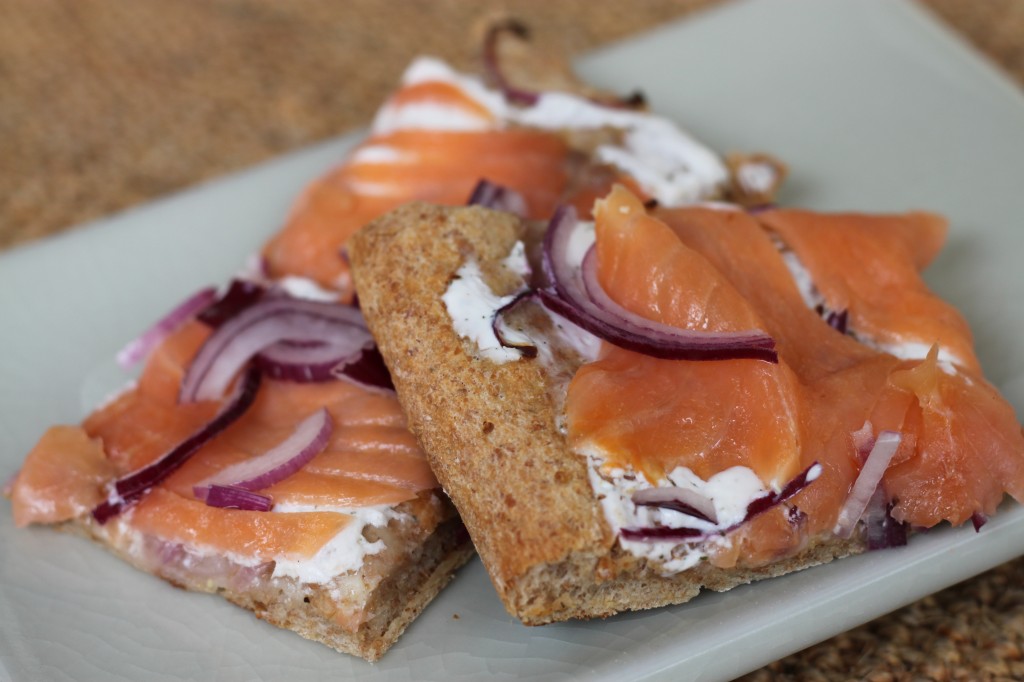 Smoked Salmon Pizza
adapted from Wolfgang Puck
Makes 1 pizza
8 oz (225 g) prepared (unbaked) pizza dough (white or whole wheat)
1 tablespoon olive oil
1/4 large or 1/2 small red onion, sliced thinly
1/2 cup (120 ml) sour cream
1 teaspoon dried dill (or 1 tablespoon chopped fresh dill)
1 tablespoon chopped red onion
1 1/2 teaspoons lemon juice
5 oz (140 g) thinly sliced smoked salmon
1 large or 2 small tomatoes, sliced thinly (optional)
Preheat the oven to 500°F (260°C).
On a lightly floured surface, roll the dough out into a 10-inch round. The thinner the dough, the crispier the crust when baked. Transfer the dough to a baking sheet and brush the dough with olive oil. Scatter the sliced onion over the top of the dough and bake until the crust is golden brown, about 7 to 10 minutes, depending on the thickness of the dough. Let the baked crust cool for 5 minutes.
While the crust bakes, mix together the sour cream, dill, chopped red onion, and lemon juice.
After the crust cools, spread the sour cream mixture over the top of the crust to within an inch of the edge. Arrange the salmon to cover the surface entirely. Use a pizza wheel to slice the pizza into 6 pieces. If using tomato, top each piece of pizza with 1 or two tomato slices. Serve immediately.

Email this post

Print this post