I've probably mentioned that my son loves Asian food before, but I don't think I mentioned how glad I am of this fact. Asian food, whether Japanese soba, Chinese stir-fry or Thai satay, is quick to prepare and relatively light. Sure beats serving mac and cheese and chicken nuggets. I also love salty sweet tastes, which are easy to find in Asian cuisines.
Though won tons aren't exactly quick to throw together, using store-bought won ton skins and broth helps reduce the prep time. This was my first time making won tons; my husband usually takes care of it. I've included more pictures than usual not because they're good pictures (they're actually not good at all), but because I found the picture in the cookbook very helpful. I don't want to break any copyright laws, so you're all stuck with my amateur "how to" pictures. Kelly's birthday wish list: better digital camera with a decent flash.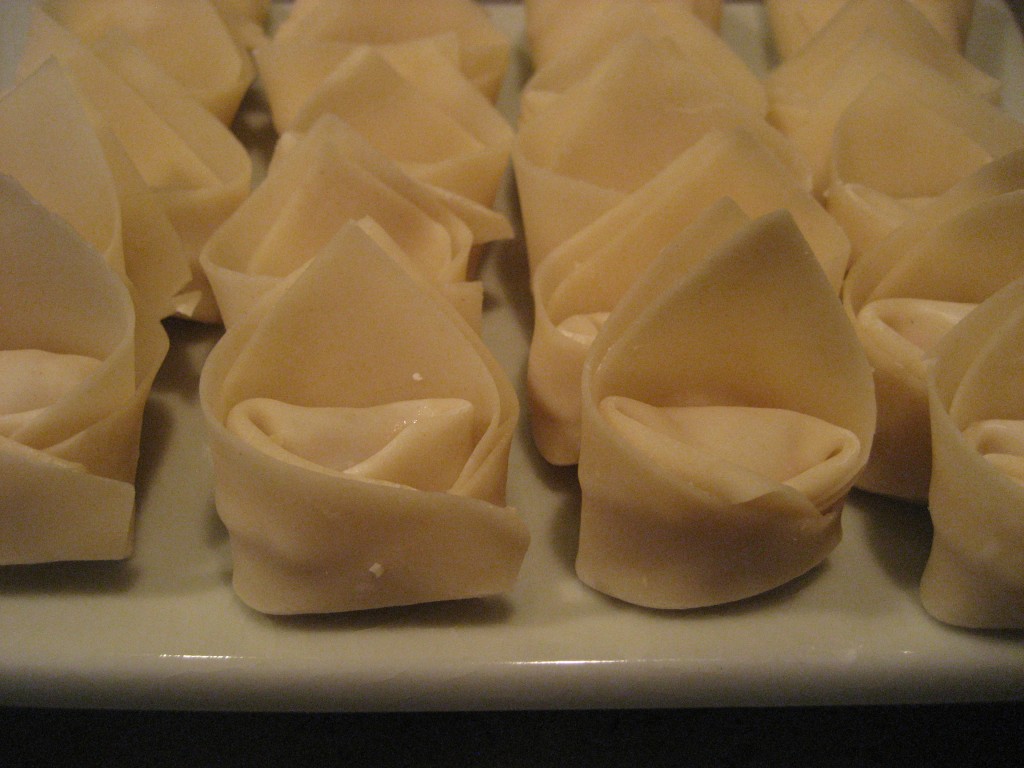 Shrimp Won Tons in Soup
adapted from Chinese Snacks Wei-Chuan Cooking Book
by Huang Su Huei
Serves 3
for the filling:
10 medium raw, shelled shrimp (about 1/3 lb/170 g)
1/2 teaspoon rice wine
1/2 teaspoon salt
1/2 teaspoon cornstarch
1/4 cup minced bamboo shoots
1 teaspoon minced ginger
30 won ton skins
for the soup:
6 cups (1.4 liters) broth
1 teaspoon rice wine
1 1/2 teaspoon salt
1 tablespoon shredded ginger
6 oz (170 g) spinach or other green vegetable
Garnishes: black pepper, sesame oil, soy sauce, chopped green onion, mustard powder or Chinese mustard
Rinse and devein the shrimp. Drain them and cut each into 3 pieces, then mix thoroughly with the remaining filling ingredients.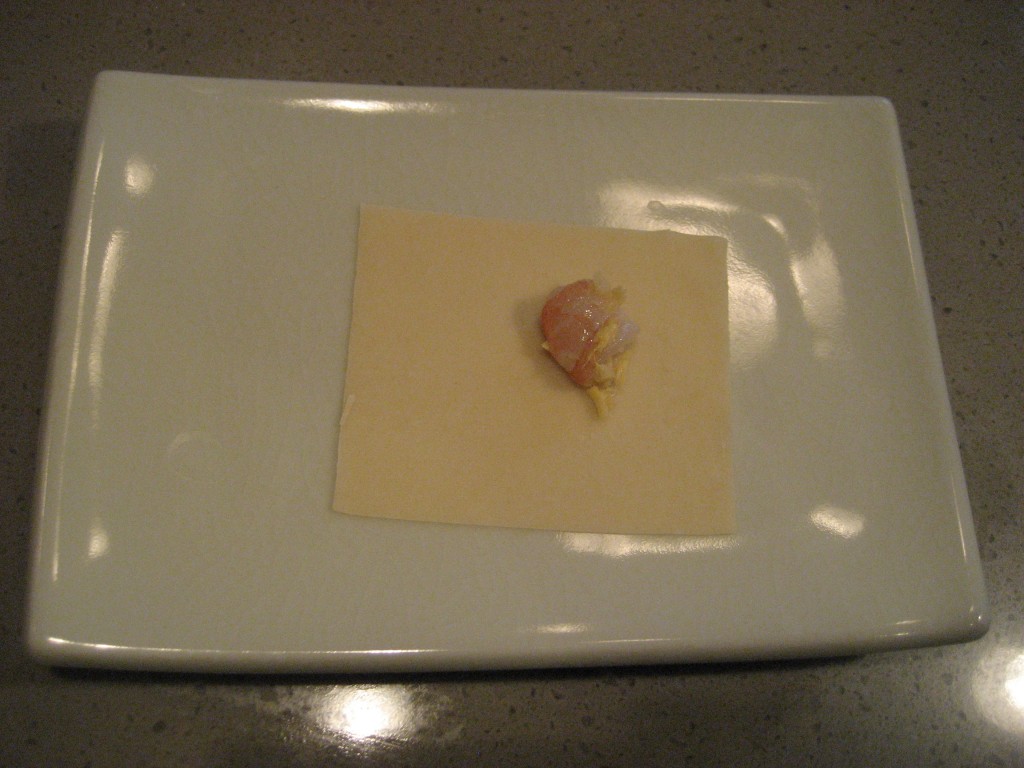 Picture 1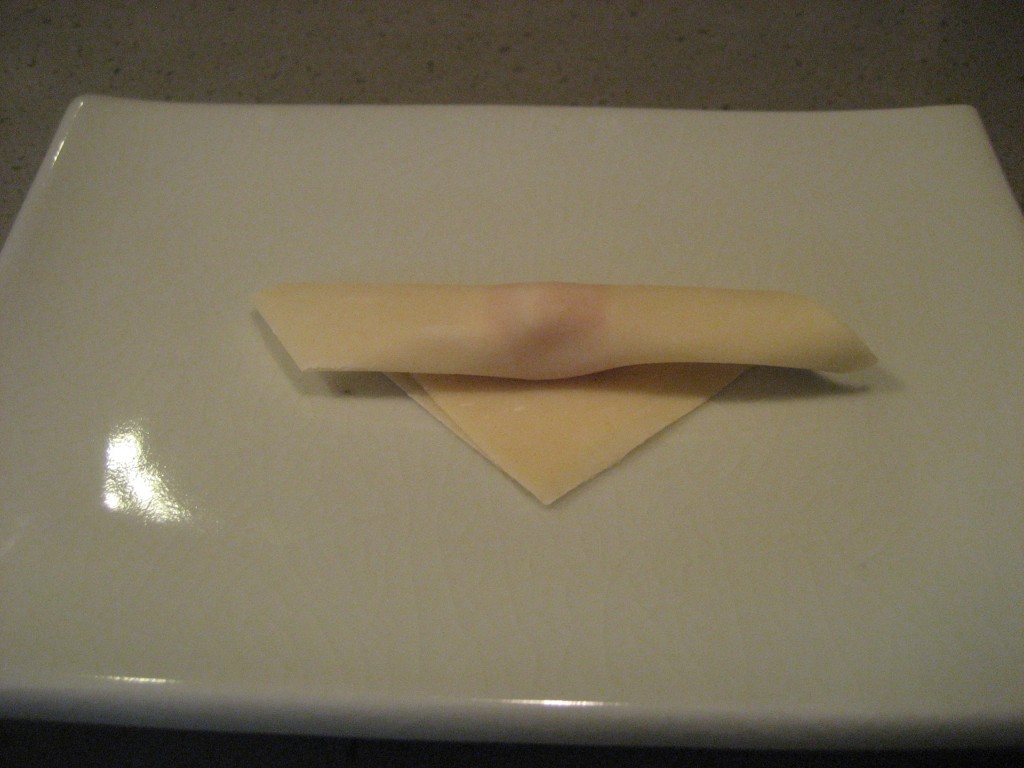 Picture 2
To prepare each won ton, taking one won ton skin, put a teaspoon of filling in the center (picture 1). Fold over in half to form a triangle; make another fold one-quarter from the longest diagonal edge (picture 2).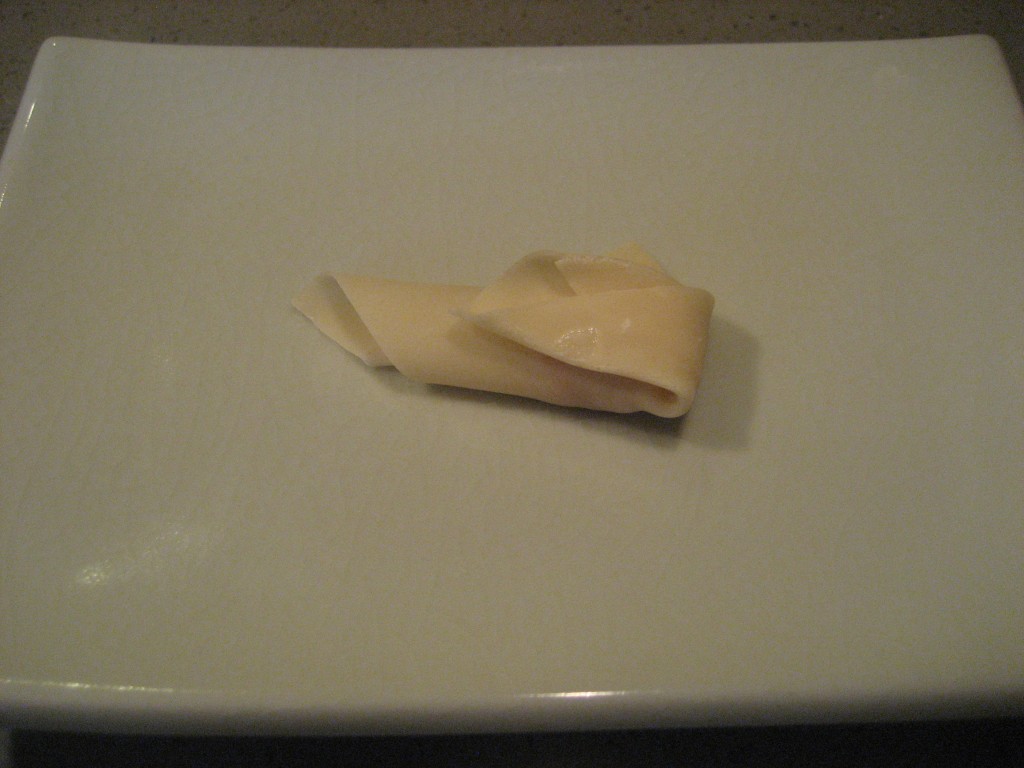 Picture 3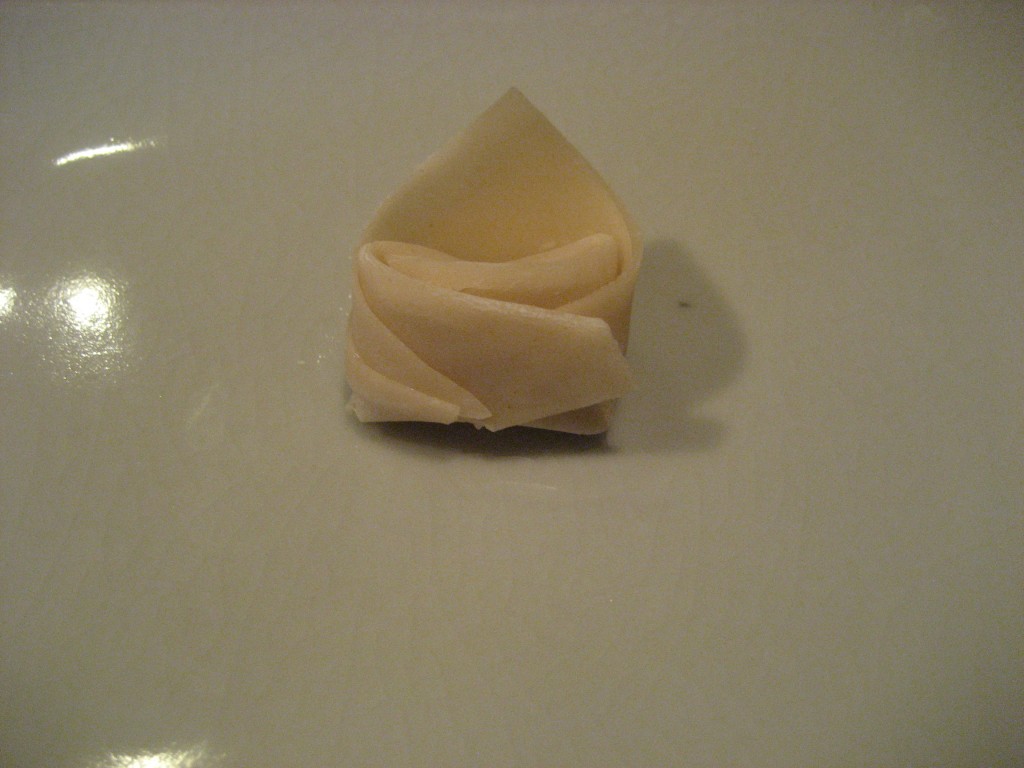 Picture 4
Bring the two outside corners together (the one-quarter fold should be on the inside) and using a drop of water, pinch these 2 edges together to seal (pictures 3 and 4).
Put a large pot of water on to boil (this will be used to cook the won tons). While the water heats, make the soup. Heat the broth, rice wine, salt and ginger in a large saucepan until boiling. Reduce the heat and simmer for 5 to 10 minutes.
Once the won ton water is boiling, add the won tons and spinach, then cover. When the won tons rise to the surface of the water, remove them and the spinach and drain. Portion into serving bowls. and ladle some soup over them. Serve immediately with garnishes: 1/4 teaspoon black pepper, 1/2 teaspoon sesame oil, 1/2 tablespoon soy sauce, 1 tablespoon green onion, and a pinch of mustard powder are recommended for each serving.
***
Roasted Asparagus
Serves 2
1 bunch asparagus spears
good-quality olive oil
salt and freshly ground black pepper
sesame oil (optional)
sesame seeds (optional)
Preheat the oven to 425°F (220°C).
Snap the tough ends off the asparagus spears. Lay the spears in a single layer on a baking sheet. Drizzle with olive oil, salt and pepper. Roast for 5 to 10 minutes, until tender, depending on the size of spear. Drizzle with sesame oil and garnish with sesame seeds if desired.

Email this post

Print this post