I'm a little jealous of all the heat waves in America lately. After the best June in years here in Ireland, July is turning out to be cold and rainy a lot of the time and we're lucky to even hit 70°F. But last month, when we had proper warm weather, I was making salads for dinner almost every night and this is one of my favorites. Served with some crusty bread, it's a perfect main course for a hot (or even not so hot) summer's night.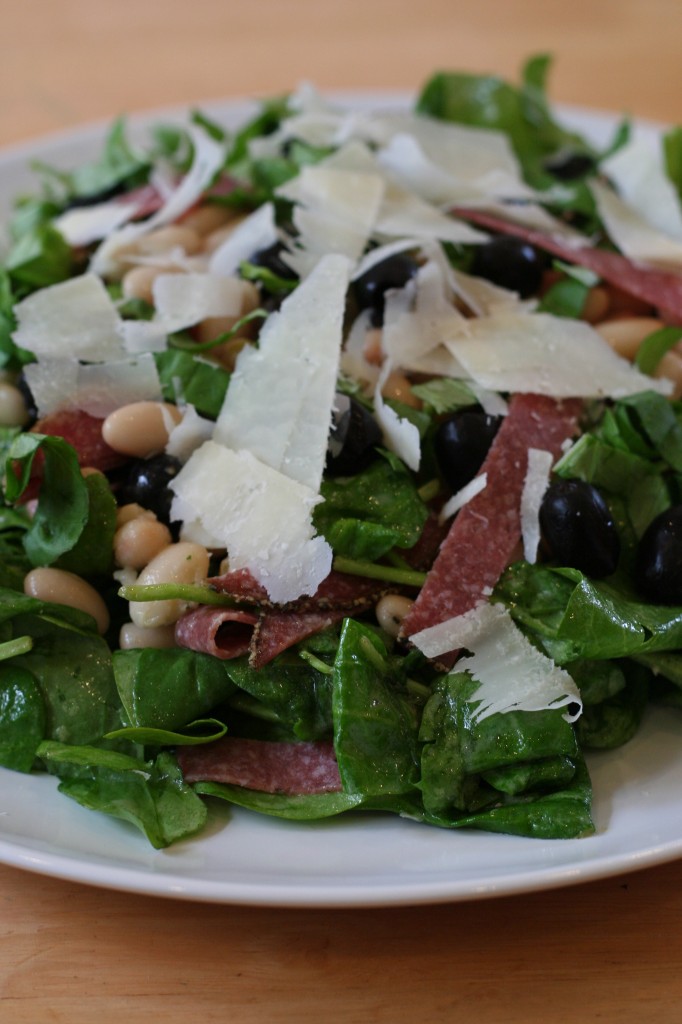 And if you're being good and eating salad for dinner, it's as good of an excuse as any to splurge a little with one of these biscuits. If you can rouse yourself from the heat enough to melt some butter on the stovetop, then all you have to do is press the dough into a baking dish and leave it in the fridge overnight, making this ideal for summertime baking. I made them for the Irish foodies' cookie bake-off* at the start of the month, and while at first I was a little disappointed in them (I'd been expecting more flavor from the coffee and Crunchie bars), they grew on me. They're a grown-up kind of cookie, the kind of thing that's perfect with a cup of coffee after dinner (or anytime).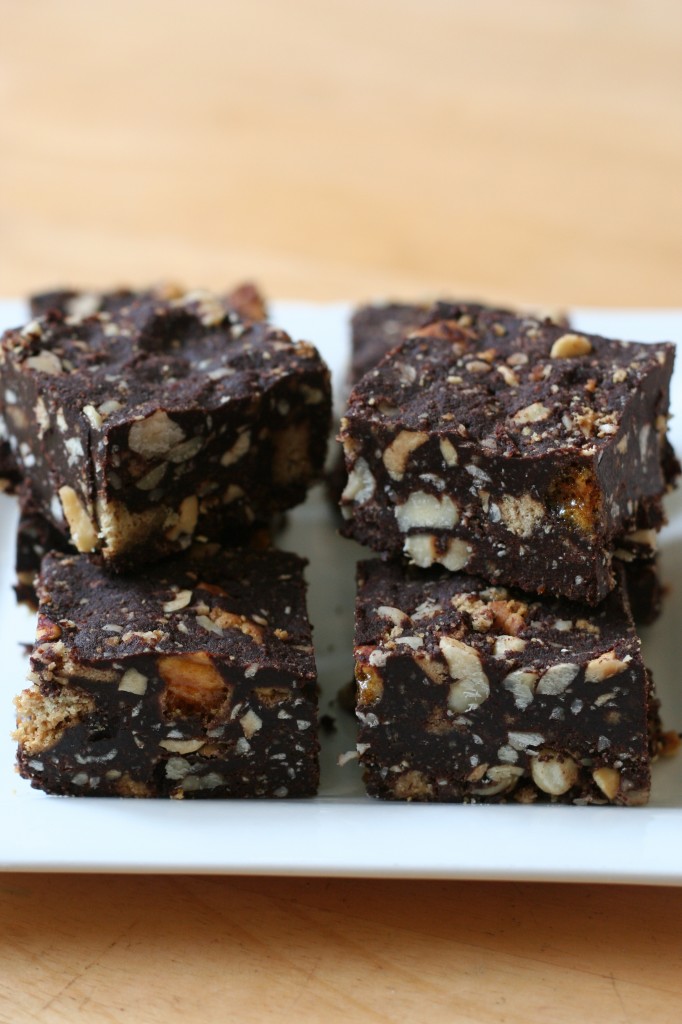 White Bean, Salami and Spinach Salad
adapted from The Kitchen Diaries
by Nigel Slater
Serves 2 as a light main course
for the salad:
7 oz (200 g) baby spinach (or about 4 big handfuls)
1/2 lb (225 g) salami, thinly sliced
a handful of basil leaves, cut into ribbons
2 x 14 oz (400 g) cans of cannellini beans, drained and rinsed
1 cup (100 g) black olives, halved
freshly grated Parmesan shards, to serve
crusty bread, to serve
for the dressing:
5 tablespoons extra virgin olive oil
1 tablespoon red wine vinegar
1 tablespoon Dijon mustard
1 tablespoon fresh thyme leaves, chopped (or 1 teaspoon dried)
salt and freshly ground black pepper
Put the spinach into a large serving dish. Cut the salami into thin strips and add to the spinach along with the basil, beans and olives.
To make the dressing, whisk the olive oil, vinegar, mustard, thyme and salt and pepper together until thick and creamy (or shake to combine in a screw-top jar). Pour the dressing over the salad and toss everything together gently. Grate over some thick shards of Parmesan cheese and serve with plenty of crusty bread.
***
Italian Chocolate Fridge Biscuits
adapted from Avoca Café Cookbook
Makes one 9 x 13 inch tray
3/4 cup (175 g) unsalted butter
1 1/4 cups (150 g) cocoa powder
1 cup (200 g) sugar
3/4 cup (75 g) ground almonds
3/4 cup (75 g) ground hazelnuts
1 tablespoon espresso or strong black coffee
1 egg and 1 egg yolk, beaten together
6 oz (175 g) Petit Beurre, high-quality butter cookies or digestive biscuits, roughly chopped
6 oz (175 g) honeycomb, such as Crunchie bars, roughly chopped
1 1/4 cups (175 g) hazelnuts, roughly chopped
Put the butter, cocoa, sugar, ground almonds and ground hazelnuts in a large pot and heat gently, stirring, until the butter has melted. Beat the coffee, egg and egg yolk into the mixture, then stir in the cookies, honeycomb and chopped hazelnuts. It will be very crumbly and rough looking at this stage.
Lightly oil a shallow 9 x 13 inch baking dish and firmly press the mixture into it (the mixture should be about 3/4 inch thick). Leave it to set in the fridge overnight, then turn out and cut into squares. Store in an airtight container in the fridge for up to 1 week.
*Looking for more cookie inspiration? Check out all these recipes from some other Irish foodies:

Email this post

Print this post