I'll make this short for all of you who, like myself, are trying to fit 25 hours of living into a 24-hour day. First, if you don't have a slow cooker, buy one. Don't be afraid to leave the house with it on and don't attempt to make anything fancy in it. The slow cooker can do a lot, but it doesn't make pretty food. Stephanie O'Dea has a great slow cooker blog and now a companion cookbook, where I found this recipe. It's the "working mom" version of one of my childhood favorites — my German great-grandmother's stroganoff. It would be best served on her homemade spaetzle, but good-quality egg noodles are a fine substitute.
The strawberry bread is perfect for using up the last of the great strawberries of the season. It can be made ahead and lasts for several days, covered, at room temperature. It can also be wrapped tightly in wax paper, then plastic wrap and stored in the freezer for a few months. Like banana bread, this strawberry bread is healthy enough to eat for breakfast but tasty enough to eat as dessert.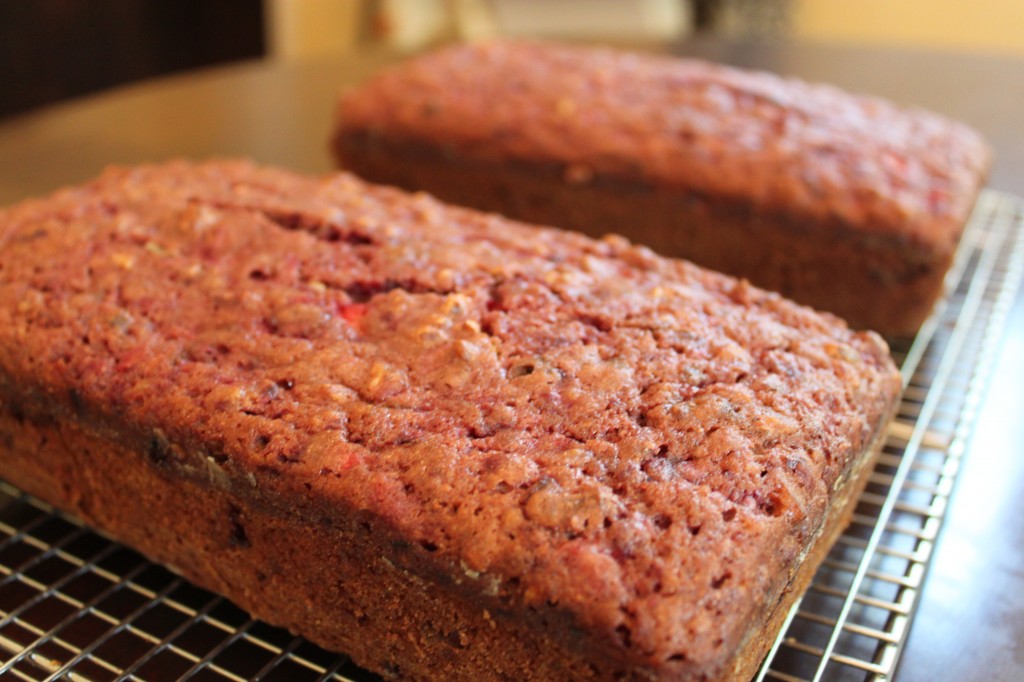 Creamy Slow Cooker Stroganoff
adapted from Make It Fast, Cook It Slow: The Big Book of Everyday Slow Cooking
by Stephanie O'Dea
Serves 6
2 lb (900 g) beef stew meat
2 tablespoons butter
1/4 cup (60 ml) milk
1 tablespoon Worcestershire sauce
1 onion, diced
8 oz (225 g) mushrooms, quartered or sliced
1/4 cup (60 ml) broth
1/2 teaspoon salt
1 teaspoon black pepper
1 teaspoon dried herbes de Provence or thyme
4 oz (110 g) cream cheese, diced
egg noodles, for serving
Put the meat into the slow cooker (frozen is fine). Add the butter, milk, Worcestershire sauce, onion, mushrooms, broth, salt, pepper, and dried herbs. Cook on low for 10 to 12 hours, or until the meat is tender. Stir in the cream cheese and cook for a few more minutes, stirring occasionally, until the cream cheese is fully incorporated into the sauce. Taste and add more salt or pepper, if necessary. Serve over cooked egg noodles.
***
Strawberry Bread
Makes 2 loaves
1 lb (450 g, or about 4 cups) sliced strawberries
1 1/2 cups (300 g) sugar
2 1/8 cups (255 g) all-purpose flour
1 cup (125 g) whole wheat flour
1 teaspoon cinnamon
1 teaspoon baking soda
1 teaspoon salt
3/4 cup (180 ml) canola or vegetable oil
1/2 cup (120 ml) applesauce
4 eggs, beaten lightly
1 teaspoon vanilla
1 1/4 cups (125 g) chopped toasted pecans
Preheat the oven to 350°F (180°C). Grease and flour two 5 x 9 inch loaf pans.
In a small bowl, combine the sugar and strawberries; set aside. In a large bowl, combine the flours, cinnamon, baking soda and salt; set aside.
In a medium bowl, combine the oil, applesauce, eggs, and vanilla. Stir in the strawberry and sugar mixture. Add the wet mixture to the dry ingredients. Stir until just combined, then fold in the pecans.
Pour the batter into the prepared pans and bake for 45 to 50 minutes, until a toothpick comes out clean. Cool the loaves on a wire rack for 10 minutes. Remove the loaves from the pans and continue cooling on rack. Serve at room temperature.

Email this post

Print this post