The food blogging scene in Ireland has been buzzing this past week, ever since Bord Bia (the Irish Food Board) sent out dozens of free pork packs last week ahead of its food blogging event tomorrow. I wanted to do something special with this unexpected gift and was inspired by fellow food blogger Clare Kleinedler's idea to brine it. I also had some gorgeous organic rhubarb from Denis Healy's stand at the Drogheda farmers' market, so I decided to pair the pork with a rhubarb compote. You might think rhubarb and pork sounds like an odd combination, but it's not all that different from the classic combination of pork with applesauce, plus The Flavor Bible
vouches for it. The Flavor Bible also lists rhubarb and fennel and rhubarb and brown sugar as being good matches, so I played on that by serving sauteed fennel bulbs alongside the pork and using brown sugar and fennel seeds in the brine.
As so many of the other Irish food bloggers have already said, the meat was already outstanding to begin with, and brining it meant it was even more moist, tender and flavorful. (The same is true of Kelly's cider-brined pork chops, which are the best pork chops I've ever had.) The herb crust and rhubarb keep the flavors bright and fresh, perfect for springtime. This recipe will make more compote than you'll need for dinner, but we happily spooned the leftovers on top of yogurt and granola the next morning. A big thank you once again to Bord Bia!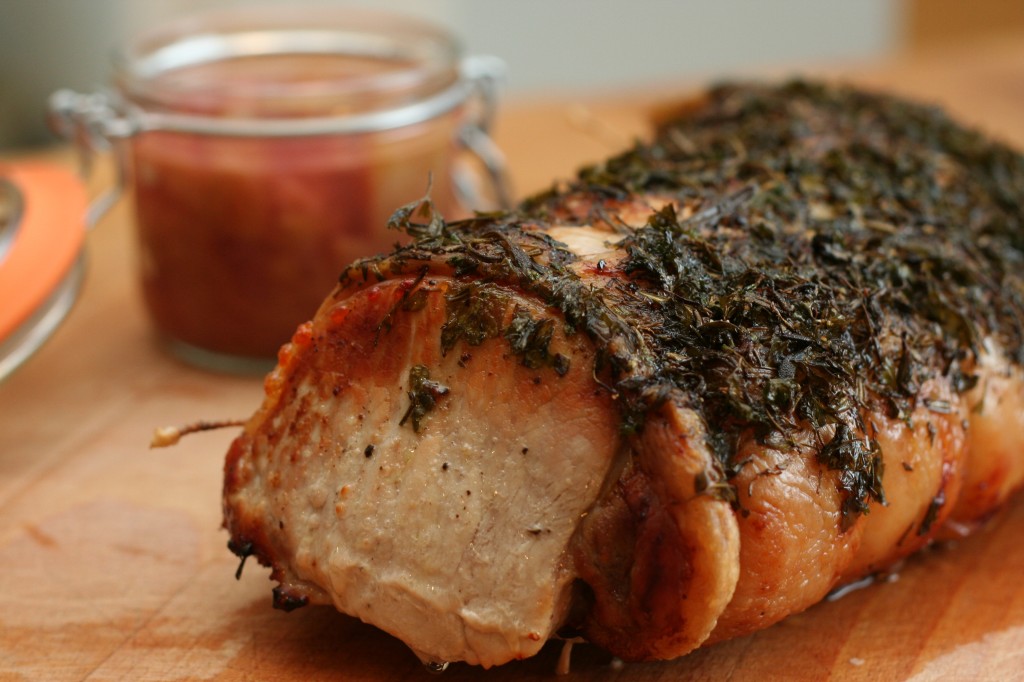 Brined Pork Loin with Rhubarb Compote
pork loin adapted from Bon Appétit, March 2002 and compote from Bon Appétit, April 2005
Serves 8
Make the rhubarb compote while you're making the brine, and all you'll have to do the next day is pop the pork into the oven to roast.
for the brined pork loin:
8 cups (approx. 2 liters) water
1/2 cup coarse salt (I used 60 g Maldon sea salt)
1/2 cup (packed) (85 g) golden brown sugar
1 tablespoon fennel seeds
1 tablespoon whole black peppercorns
3 bay leaves
1 x 4 lb (1.8 kg) center-cut boneless pork loin roast
1 tablespoon olive oil
2 teaspoons chopped fresh parsley
2 teaspoons chopped fresh rosemary
2 teaspoons chopped fresh thyme
for the rhubarb compote:
2 lb (900 g) rhubarb, cut into 1‑inch pieces
1 1/4 cups (250 g) sugar
1/3 cup (80 ml) water
To brine the pork, combine the water, salt, sugar, fennel seeds, peppercorns and bay leaves in a large pot. Bring to a simmer over medium heat, stirring to dissolve the salt and sugar. Remove from the heat and allow to cool to room temperature. Transfer the brine to very large bowl and add the pork, weighting the pork down with a plate to keep it submerged). Cover and refrigerate overnight. Drain the pork and return it to the bowl. Cover with fresh water and weight it down again with a plate. Soak at room temperature 2 hours.
Meanwhile, to make the rhubarb compote, combine the rhubarb, sugar and water in a large saucepan. Bring to the boil, stirring until the sugar dissolves. Reduce the heat to medium-low and simmer for about 15 minutes, until the rhubarb is very soft and beginning to fall apart, stirring occasionally. Transfer compote to a bowl and refrigerate, uncovered, until cold, about 3 hours. (Can be prepared 2 days ahead. Cover and keep chilled.)
Position a rack in the top third of the oven and preheat to 350°F (180°C). Drain the pork and pat it dry with paper towels. Transfer to a rack set in a large roasting pan. Rub the pork all over with olive oil, then sprinkle with the fresh herbs, pressing to adhere. Sprinkle generously with freshly ground black pepper. Roast for about 1 hour 40 minutes, until a meat thermometer inserted into the center of the pork registers 150°F (65.5°C). Transfer the pork to a cutting board and cover loosely with foil. Allow the pork to rest for at least 10 minutes, then cut into 1/4- to 1/2‑inch-thick slices. Serve with the compote.
***
Sauteed Fennel
Serves 4
2 fennel bulbs
2 tablespoons (30 g) butter
1 tablespoon olive oil
salt and freshly ground black pepper
Halve the fennel bulbs lengthways, then slice thinly. Heat the butter and olive oil in a pan over a medium heat. Add the fennel and saute for about 10 minutes, until softened. Season to taste with salt and pepper.

Email this post

Print this post