There are two events that mark the start of summer for me — the first day I see a van on the side of the road selling Wexford strawberries or when I cook something from Nigella Lawson's Forever Summer cookbook.
Once I dust off that cookbook, this linguine is invariably the first thing I make from it, since I've made it so often that the book now falls open naturally to this well-thumbed, cooking-splattered page. As for Eton mess, it was invented at Eton College in England in the 1930s and is now traditionally served there today, on June 4th, but we don't stand on such ceremony in my family — we eat this as soon as Irish strawberries hit the shops and roadside stands, then make it more often than I care to admit all through the summer (certainly more than can be good for us). I'm lucky in that you can buy meringues in practically any grocery store in Ireland, which is what makes it so easy to whip together, but if you want to try making meringues yourself, this is the perfect recipe to have as a back-up plan. Because you crush the meringues anyway, it doesn't matter one bit if they look pretty beforehand. And I'm willing to bet that once you try this, you'll be getting plenty of practice honing your meringue-making skills by making this irresistible summer dessert (far too) often.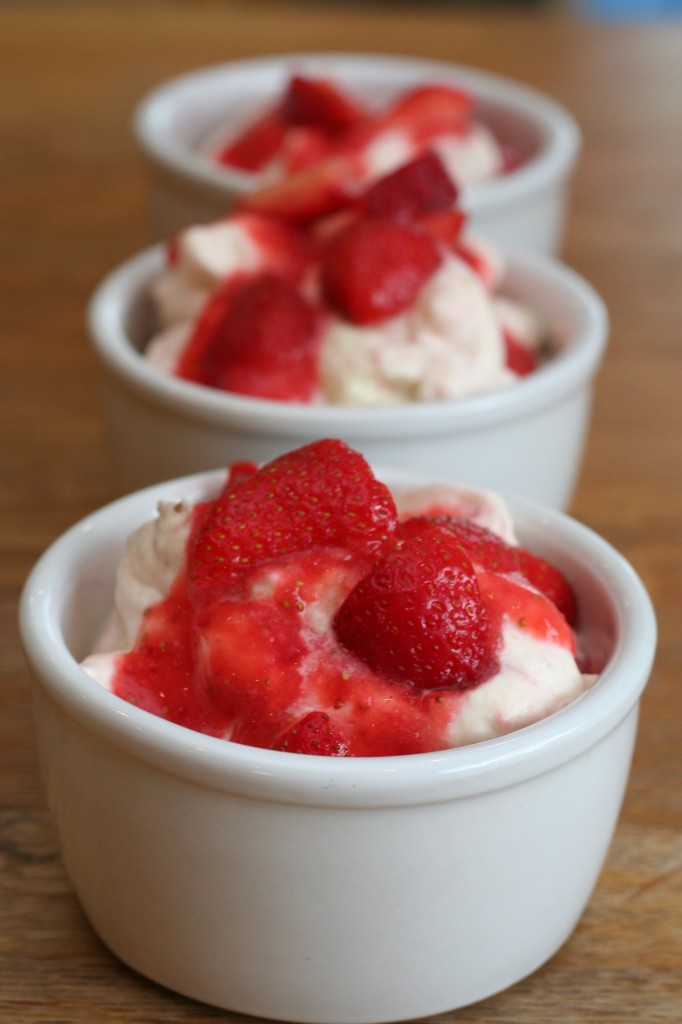 Linguine with Chili, Crab and Watercress
adapted from Forever Summer by Nigella Lawson
Serves 4
By all means use fresh crab if you can, but canned works just fine. The original recipe calls for watercress, but arugula (rocket) or even spinach would work too.
1 lb 2 oz (500 g) linguine or spaghetti
2 cloves garlic, peeled
1 scant tablespoon Maldon sea salt (or 1 teaspoon regular sea salt)
1 large red chili
about 11 oz (310 g) crab meat
1/2 cup (120 ml) extra virgin olive oil
juice and zest of 1 lemon
a handful of fresh parsley, chopped
a handful of watercress, leaves only, roughly torn
Bring a large pot of salted water to boil and cook the pasta according to the packet instructions.
Meanwhile, in a pestle and mortar, mash the peeled garlic cloves with the salt, so that it makes a smooth paste. Add the chopped and seeded chili and crush again until you have a red-tinged mixture.
Put the crab meat in a large bowl, breaking it up gently with a fork. Pour the oil, lemon zest and juice into another bowl or measuring jug and whisk together. Scoop in the garlic and salt paste, then whisk everything together. When the pasta is finished cooking, drain, then add to the crab mixture and pour the dressing over, tossing well to combine. Add in the parsley and watercress, toss again and serve.
***
Eton Mess
Serves 4
For a grown-up boozy twist, marinate the strawberries in a generous splash of orange liqueur (like Cointreau or Grand Marnier) for 30 minutes before stirring them into the whipped cream (you could also try creme de cassis, Framboise, grappa, kirsch, or even a little orange juice and vodka). If you can't find meringues in the store or you want to make your own, try Delia Smith's recipe, who also has a great step-by-step tutorial on how to make them here.
You can make Eton mess with strawberries, bananas or any summer fruit, though strawberries are considered to be traditional.
Pureeing the strawberries makes this dessert more attractive and heightens the strawberry flavor, but you could be lazy and skip this step (I often do) — simply chop all the strawberries and fold them in with the cream and meringues and it will still be delicious.
1 lb (450 g) fresh strawberries, hulled
1 tablespoon confectioners' (icing) sugar
1 tablespoon granulated or caster sugar (optional)
1 1/2 cups (360 ml) cream
4 store-bought meringue nests
Cut the strawberries into halves or quarters, depending on their size (you want them to be bite sized). Place about one-third of the berries and the confectioners' (icing) sugar in a food processor or blender and process until just pureed (or you can mash them with a potato masher or fork). Place the remaining strawberries in a bowl and sprinkle with the granulated or caster sugar only if you think the berries need a little boost to bring out their natural sweetness (or add some liqueur instead; see above). Set aside to macerate while you whip the cream.
Whip the cream just until soft peaks form. Break up the meringues into bite-sized pieces and add them to the whipped cream, along with the chopped strawberries, reserving a few for decoration. Gently fold in all but a few tablespoons of the puree, marbling it throughout the cream mixture. Spoon into individual serving dishes and drizzle with the remaining puree and reserved strawberries. Serve immediately.

Email this post

Print this post