It's often said that there are six degrees of separation in the world, but I always say it's much less than that in Ireland because it's such a small country. Let me give you some examples of what I mean. I'm four degrees removed from Prince Charles (I'm friends with a woman who worked with Seamus Heaney's wife, and Seamus Heaney once sat next to Prince Charles at a dinner — this also makes me three degrees removed from Seamus Heaney). I'm three degrees removed from Bono (I worked on a book written by Adi Roche, who founded the Chernobyl Children's Project International charity, which has Ali Hewson as its patron, who is married to Bono). And after meeting the lovely Sharon Hearne-Smith at the Bord Bia Irish food bloggers event two weeks ago, I'm now only two degrees removed from the Barefoot Contessa herself, since Sharon is a food stylist who works on her TV show. Sure, Prince Charles, Seamus Heaney and Bono all make for a good story, but it was talking to someone who has actually worked with Ina Garten — who has been in her house and had the legend herself make her a whiskey sour! — that made me swoon in fawning admiration (and, truth be told, complete jealousy).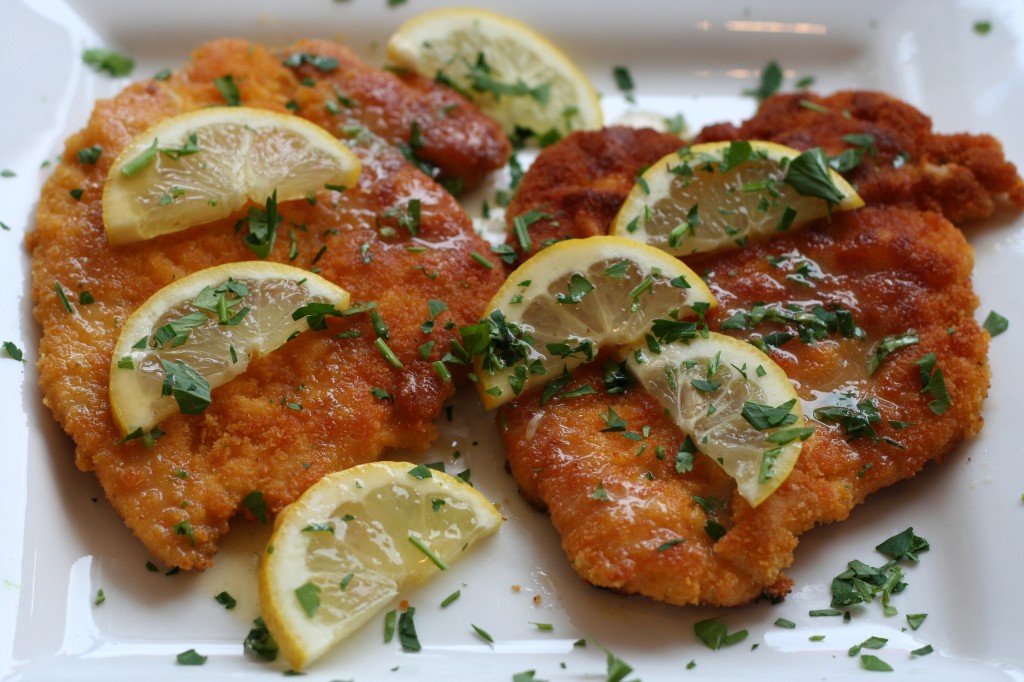 Which is all as good a way as any to segue into this chicken piccata recipe. You probably know by now how much I love Ina Garetn's recipes and how many of them I cook, so it's no small thing to say this one is one of my favorites (plus kids tend to love anything breaded). Another great thing about this recipe is that you can easily turn it into Parmesan chicken by adding 1/2 cup (50 g) grated Parmesan to the breadcrumbs and omitting the lemon sauce. I won't kid you, the method is a little time consuming and messy, what with all the pounding and measuring and bowls to clean afterward, but the results are worth it.
You could serve just about any vegetable with this; I made these green beans dressed with lemon juice, olive oil and sea salt.
Chicken Piccata
adapted from Barefoot Contessa at Home by Ina Garten
Serves 4
As an alternative to flattening the chicken with a meat tenderizer, simply butterfly each breast, cut it in half and proceed with the rest of the recipe as written.
4 boneless, skinless chicken breasts
salt and freshly ground black pepper
1/2 cup (50 g) all-purpose flour
1 or 2 large eggs
1/2 tablespoon water
1 cup (50 g) seasoned dry breadcrumbs (I used Paxo brand here in Ireland)
good-quality olive oil
3 tablespoons (45 g) unsalted butter, at room temperature, divided
juice of 2 lemons (to yield 1/3 cup (80 ml) juice), lemon halves reserved
1/2 cup (120 ml) dry white wine
sliced lemon, to garnish
chopped fresh parsley leaves, to garnish
Preheat the oven to 400°F (200°C). Line a baking tray with parchment paper.
Place each chicken breast between 2 sheets of parchment paper or plastic wrap and pound with a meat tenderizer or rolling pin until it's 1/4 inch thick. Sprinkle both sides with salt and pepper.
Mix the flour, 1/2 teaspoon salt and 1/4 teaspoon of pepper in a shallow plate. In a second plate, beat the egg and 1/2 tablespoon water together. Place the breadcrumbs on a third plate. Dip each chicken breast first in the flour and shake off the excess, then dip in the egg and lastly the breadcrumb mixtures.
Heat 1 tablespoon of olive oil in a large frying pan over a medium to medium-low heat. Add the breaded chicken breasts and cook for 2 to 3 minutes on each side, until browned. Place them on the lined baking tray and allow them to bake in the oven for 5 to 10 minutes while you make the sauce.
To make the sauce once you've cooked all the chicken, wipe out the pan with a dry paper towel. Over a medium heat, melt 1 tablespoon (15 g) of the butter, then add the lemon juice, wine, the reserved lemon halves, 1/2 teaspoon salt, and 1/4 teaspoon pepper. Boil over a high heat for about 2 minutes, until reduced by half. Off the heat, add the remaining 2 tablespoons (30 g) butter and swirl to combine. Discard the lemon halves and serve 1 chicken breast on each plate. Spoon on the sauce and serve with slices of lemon and a sprinkling of fresh parsley to garnish.
***
Buttermilk Mashed Potatoes
from A New Way to Cook
by Sally Schneider
Serves 4
You can make the potatoes up to 3 hours ahead. About 20 minutes before serving, warm them in a double boiler, stirring frequently, until hot.
1 1/4 lb (570 g) floury potatoes, such as Kerr's Pink, Maris Piper or Yukon Gold, peeled and cut into 2‑inch chunks if large
1 1/2 teaspoons kosher salt
3/4 cup (180 ml) buttermilk, warmed (not hot)
1 tablespoon (15 g) unsalted butter
freshly ground black pepper
Place the potatoes and 1 teaspoon of the salt in a medium saucepan, add enough water to cover, and bring to a boil over a high heat. Reduce the heat to moderate and simmer until the potatoes are tender when pierced with a fork, about 45 minutes. Drain, reserving 1/4 cup (60 ml) of the cooking water.
Return the potatoes to the pan and set over a low heat, uncovered, for about 5 minutes, stirring occasionally, to let the potatoes dry out a little (too much moisture will dilute their flavor). For the smoothest potatoes, pass them through a food mill or potato ricer. For a slightly coarser puree, mash them with a potato masher or fork or use a hand mixer. Beat the buttermilk into the potatoes with a wooden spoon until thoroughly incorporated. If you prefer even creamier potatoes, add a little of the reserved cooking liquid. Beat in the butter, the remaining 1/2 teaspoon salt, and plenty of pepper. Serve at once, or keep the potatoes warm, covered, in a double boiler over hot water for up to 1 hour.

Email this post

Print this post