Don't be intimidated by this post's fancy name — I could have just called it chicken in wine and chocolate mousse cake, but where's the fun in that? I had a Francophile friend over for lunch the other day, so decided it was as good a time as any to make the Barefoot Contessa version of coq au vin that I've been wanting to try. And after being very good for all of January and not baking a single thing, I undid all my efforts and made this cake. But oh, such a cake. It's one of my top two favorite cakes (Beatty's chocolate cake is the other). Fudgy, smooth and intense, it was worth every previously forsaken calorie.
This is a great menu for entertaining because you can make both dishes in advance. In fact, the cake gets even better after a day or two. It's also incredibly easy to make — just melt the chocolate and butter together, then stir in all the rest of the ingredients in the same bowl (you can watch Trish Deseine herself making it to see just how easy it is). You often hear that you should use the best-quality ingredients you can find, but it's particularly true for this cake. I used Green & Black's organic chocolate, organic eggs and Lurpak butter from Denmark.
Ina Garten suggests serving the coq au vin with garlic mashed potatoes, but I wanted to make things easier on myself and so just served it with a good store-bought crusty bread instead. I also served a green salad with balsamic vinaigrette and a plate of Brie and Roquefort. There are few better ways to spend an afternoon than with a good friend, good conversation and a table full of good food.
Coq au Vin
adapted from Back to Basics by Ina Garten
If you can't find frozen small whole onions and don't want to bother with peeling small shallots, just use 2 yellow onions instead of the 1 called for at the start of the recipe. And if you don't have a Dutch oven, simmer the coq au vin on the stovetop for 45 minutes to 1 hour instead.
2 tablespoons olive oil
4 oz (110 g) bacon or pancetta, diced
1 x 3 to 4‑lb (1.4 to 1.8 kg) chicken, cut into eighths (or use an equal weight of chicken breasts and thighs)
kosher salt and freshly ground black pepper
1/2 lb (225 g) carrots, cut diagonally in 1‑inch pieces
1 yellow onion, sliced
2 teaspoons salt
1 teaspoon freshly ground black pepper
1 teaspoon chopped garlic
1/4 cup (60 ml) Cognac or good brandy
1/2 bottle (375 ml) good dry red wine such as Burgundy
1 cup (240 ml) good-quality chicken stock
10 fresh thyme sprigs
2 tablespoons unsalted butter, at room temperature, divided
1 1/2 tablespoons all-purpose flour
1/2 lb (225 g) frozen small whole onions (or small peeled shallots*)
1/2 lb (225 g) cremini mushrooms (button mushrooms will also work fine), stems removed and thickly sliced
*Note: To peel shallots easily, drop them into a pot of boiling water for less than 1 minute. Drain, then slip off the skins.
Preheat the oven to 250°F (120°C).
Heat the olive oil in a large Dutch oven. Add the bacon and cook over medium heat for 8 to 10 minutes, until lightly browned. Remove the bacon to a plate with a slotted spoon.
Meanwhile, lay the chicken out on paper towels and pat dry. Liberally sprinkle the chicken on both sides with salt and pepper. When the bacon is removed, brown the chicken pieces in batches in a single layer for about 5 minutes, turning to brown evenly. Remove the chicken to the plate with the bacon and continue to brown until all the chicken is done. Set aside.
Add the carrots, onions, salt and pepper to the pan and cook over medium heat for 10 to 12 minutes, stirring occasionally, until the onions are lightly browned. Add the garlic and cook for 1 more minute. Add the Cognac and put the bacon, chicken, and any juices that collected on the plate into the pot. Add the wine, chicken stock, and thyme and bring to a simmer. Cover the pot with a tight-fitting lid and place in the oven for 30 to 40 minutes, until the chicken is just not pink (or simmer on the stovetop for 45 minutes to 1 hour). Remove from the oven and place on top of the stove.
Mash 1 tablespoon of butter and the flour together and stir it into the stew to thicken it. Add the frozen onions (if using peeled shallots, saute them along with the mushrooms in the next step before adding to the stew). In a medium saute pan, add the remaining 1 tablespoon of butter and cook the mushrooms over a medium-low heat for 5 to 10 minutes, until browned. Add to the stew. Bring the stew to a simmer and cook for another 10 minutes. Season to taste and serve hot.
***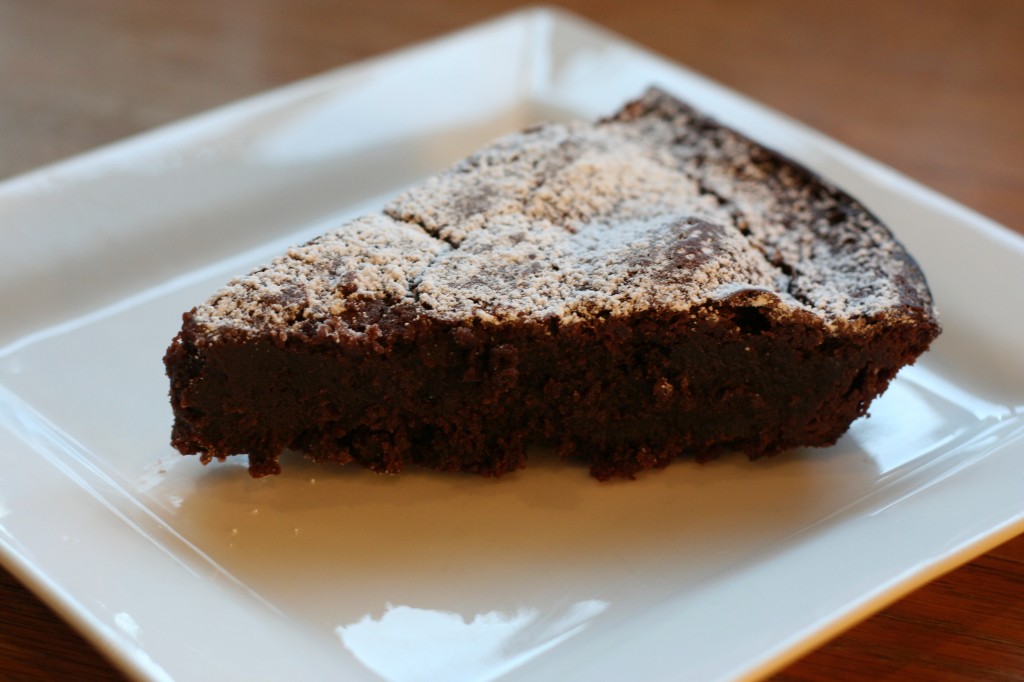 Gâteau au Chocolat Fondant de Nathalie
adapted from Je veux du chocolat! by Trish Deseine (recipe via Orangette and RTÉ)
This cake is even better on the second day, so consider making it the day before serving. Molly Wizenberg at Orangette says this cake is also suitable for freezing, and even improves in texture and flavor after a week or two in the freezer.
7 oz (200 g) best-quality dark chocolate
1 tablespoon double-strength espresso or 1 teaspoon instant espresso powder (optional)
7 oz (200 g) best-quality unsalted butter, cut into 1/2‑inch cubes
1 1/4 cups (250 g) sugar
5 large eggs
1 tablespoon all-purpose flour
confectioners' (icing) sugar, to dust (optional) (or you could use Trish's chocolate glaze, recipe here)
Preheat the oven to 375°F (190°C) and butter and flour an 8‑inch round cake pan or springform tin (which is what I prefer, since you don't have to turn it out).
Finely chop the chocolate and place it, along with the coffee, in a double boiler or in the microwave, stirring regularly (every 30 seconds if using a microwave). Once the chocolate has melted, add the butter, stirring until it too has melted. Add the sugar to the chocolate-butter mixture, mixing well, and set aside to cool for a few moments. Add the eggs one by one, beating well with a wooden spoon after each addition, then add the flour. The batter should be smooth and dark. If you can see fat still floating on the surface or if the mixture looks at all grainy, switch to a whisk and beat lightly until smooth.
Pour the batter into the prepared cake pan and bake for 20 to 25 minutes, until the center of the cake barely trembles when the pan is shaken (the cake should be very moist in the middle) and the top is a bit crackly looking. Let the cake cool completely in the tin before you turn it out, then revert it so that the crackly side is facing upward. Dust with icing sugar or spread with the chocolate glaze and serve at room temperature.

Email this post

Print this post