"I have a great idea, Mom."
"What's that, Sam?"
"I know, let's make chocolate muffins. With whipped cream. And sprinkles."
Some days, folks, that all the encouragement I need to grab the sugar from the cupboard and butter from the fridge. It didn't hurt that our main course required little more than a few minutes of prep and the able assistance of my (er, Reuben's) new slow cooker.
Green Chile Pork Tacos
Serves 6
3 lb (1.4 kg) pork shoulder, cut into 2‑inch cubes
2 tablespoons olive oil
1 large onion, chopped
1 teaspoon ground cumin
1 teaspoon dried oregano
1 cup (240 ml) chicken stock
1 x 4‑oz (110‑g) can diced green chilies
1 x 10-oz (280‑g) can Rotel tomatoes (or other diced tomatoes with green chilies)
3 cloves garlic, minced
1 teaspoon salt
1/2 teaspoon pepper
corn or flour tortillas
toppings: avocado, salsa, cheese, green onion, cilantro, pickled jalapenos, lime wedges
In a large frying pan, brown the pork cubes in the oil until they just begin to brown. Drain the meat and place into a slow cooker. Add the remaining ingredients through salt and pepper and cook on low until the pork is tender, about 8 hours. Gently shred the pork with a fork.
Warm the tortillas and serve the pork, taco-style, with desired toppings.
***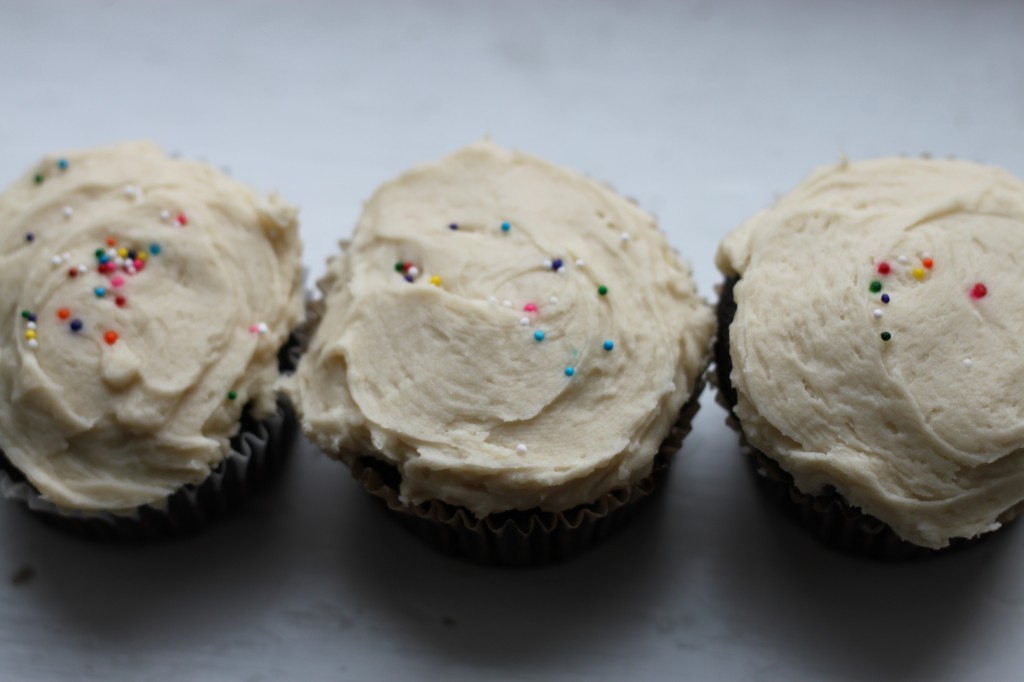 Devil's Food Cupcakes
adapted from Alpineberry
Makes 1 dozen
1 1/2 cups (180 g) all-purpose flour
1 cup (200 g) granulated sugar
1/4 cup (30 g) unsweetened natural cocoa powder (don't use Dutch-processed cocoa)
1 teaspoon baking soda
1/2 teaspoon salt
1 cup (240 ml) water
1/3 cup (80 ml) unflavored oil (canola, grapeseed, etc.)
1 tablespoon white or apple cider vinegar
1 teaspoon vanilla extract
Preheat the oven to 350°F (180°C). Line the wells of a standard muffin pan with paper liners.
Sift the flour, sugar, cocoa, baking soda and salt into a large mixing bowl. In another bowl, mix together the water, oil, vinegar and vanilla. Add the wet to the dry ingredients and mix until just combined and the batter is smooth. Be careful not to overmix.
Divide the cupcake batter evenly among the wells of your muffin pan. Bake for about 20 to 25 minutes, or until the cupcakes feel springy when gently pressed. Cool in the pan for 5 minutes, then gently remove the cupcakes from the pan and allow to cool fully on a wire rack.
Vanilla Buttercream Frosting
adapted from Magnolia Bakery
Makes enough for one 2‑layer 9‑inch cake or 2 dozen cupcakes [Note: I halved recipe for 1 dozen cupcakes]
1 cup (225 g) unsalted butter, softened
6 to 8 cups (720 g to 960 g) confectioners' sugar (a.k.a. icing sugar)
1/2 cup (120 ml) milk
2 teaspoons vanilla extract
Place the butter in a large mixing bowl. Add 4 cups (480 g) of the sugar and then the milk and vanilla. On the medium speed of an electric mixer, beat until smooth and creamy, about 3 to 5 minutes. Gradually add the remaining sugar, 1 cup (120 g) at a time, beating well after each addition (about 2 minutes), until the icing is thick enough to be of good spreading consistency. You may not need to add all of the sugar. If desired, add a few drops of food coloring and mix thoroughly. Use and store the icing at room temperature because icing will set if chilled. Icing can be stored in an airtight container for up to 3 days.

Email this post

Print this post