I'm not sure if it's post-holiday letdown, the lack of sunlight, my crazy caseload at work, or my wakeful seven-month old, but whatever it is, I haven't been too energized lately. After a couple of weeks cooking my favorite tried-and-true comfort foods (lasagna, enchiladas, chicken chili), I decided that a few new recipes might be the thing to pep me up again. And I was right! Tonight's citrus-glazed tilapia tasted fresh and light and came together in about 10 minutes. I also loved the addition of tart cranberries and toasted almonds to the hearty bulgur pilaf. When other fruit is pithy, bland, or jet-lagged from a cross-continent trek to the local grocery store, a handful of dried fruit or a good spritz of orange juice can really get you through the dull winter months. And as for the peach cobbler, it's good any month of the year, any day of the week, and any meal of the day. I can't believe I haven't posted it before now.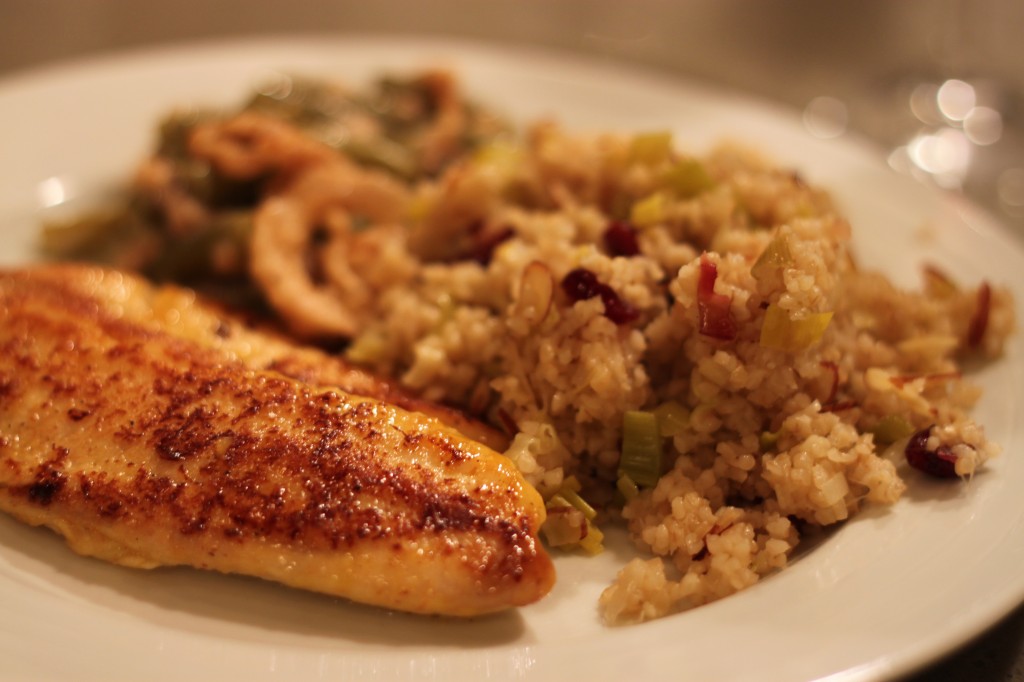 Citrus Tilapia
adapted from Epicurious
Serves 4
4 tablespoons all-purpose flour
salt and freshly ground black pepper
4 tilapia fillets (about 1 lb/450 g)
1 tablespoon olive oil
1 tablespoon butter
1/2 cup (120 ml) freshly squeezed orange juice or high-quality store-bought orange juice
zest and juice of 1 lemon
1/2 teaspoon grated fresh ginger
On a plate, combine the flour and a sprinkle of salt and pepper. Lightly dredge the tilapia in the flour.
In a large skillet over a medium heat, add the oil and butter. When the butter has melted, add the fish and cook for 3 to 4 minutes per side, or until golden and just cooked through. Remove the fish and set aside.
Add the orange juice, 3 tablespoons of the lemon juice, and the ginger to the skillet. Increase the heat and simmer for 1 to 2 minutes, or until thickened, stirring occasionally. Taste and add 1/2 teaspoon lemon zest and more lemon juice if desired. Return the fish to the skillet, coat with sauce, and cook for about 2 minutes, or until heated through.
***
Bulgur with Leeks, Cranberries, and Almonds
adapted from Bon Appétit, December 1995
Serves 6
3 tablespoons butter
1 tablespoon olive oil
1 large or 2 small leeks, chopped (white and pale green parts only)
2 1/2 cups (600 ml) chicken broth
1 1/2 cups (340 g) bulgur
1/2 cup (60 g) dried cranberries
1/2 cup (50 g) sliced almonds, toasted
Melt the butter with the olive oil in a heavy large saucepan over medium-high heat. Add the chopped leeks and saute until very tender, about 12 minutes. Add the chicken broth and bring to the boil. Stir in the bulgur and boil for 5 minutes. Add the dried cranberries. Remove from the heat, cover and let stand for 15 minutes. Fluff with a fork. Mix in the sliced almonds. Season to taste with salt and pepper.
***
Easy Peach Cobbler
adapted from Gourmet, August 2004
Serves 6
20 oz (560 g) frozen peaches
1 tablespoon fresh lemon juice
1 2/3 cups (340 g) sugar, divided
1 stick (110 g) unsalted butter
1 cup (120 g) all-purpose flour
1 tablespoon baking powder
1/4 teaspoon salt
1 cup (240 ml) milk (not skimmed)
whipped cream or vanilla ice cream, to serve
Put the oven rack in the middle position and preheat the oven to 375°F (190°C).
Place the frozen peaches in a saucepan, covered, over a medium heat. Cook until they begin to defrost. Add the lemon juice and 2/3 cup (140 g) sugar. Simmer the peaches for about 10 more minutes, stirring frequently, until cooked through and syrupy but not falling apart.
While the peaches simmer, place the butter in a 13 x 9‑inch baking dish or similar sized casserole dish. Place the dish in the oven to allow the butter to melt.
While the butter melts, whisk together the flour, baking powder, salt, and remaining 1 cup (200 g) of sugar in a large bowl. Whisk in the milk until just combined. Pour the batter over the now melted butter but DO NOT STIR. Spoon the peaches and about 1/2 cup (120 ml) of the peach cooking liquid over the batter but DO NOT STIR. Bake the cobbler until it's bubbly and the top is golden brown, 40 to 45 minutes. Cool the cobbler in its pan on a rack until warm. Serve with whipped cream or vanilla ice cream.

Email this post

Print this post