Last month I mentioned that I grew up in Texas, so it probably won't surprise you that Tex-Mex food is my choice of comfort food. And nothing is more Tex Mex (or more comforting) than a steaming hot plate of cheesy, slightly spicy enchiladas. I've made quite a few different enchiladas recipes over the years, some with chicken, some with cheese, some red, some white, some green, but my most recent batch of sour cream chicken enchiladas may be my best rendition yet. It also happens to be one of the easier versions that I've made.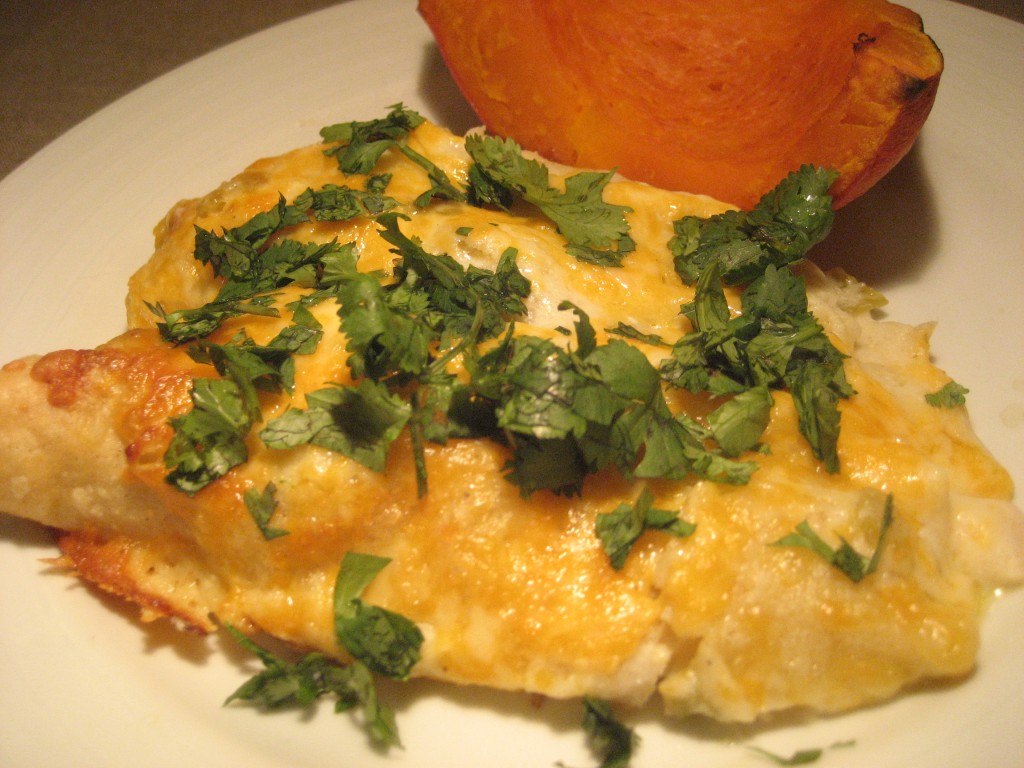 Easy Sour Cream Chicken Enchiladas
adapted from www.foodgeeks.com
Serves 4
3 cups (700 ml) water
4 boneless, skinless chicken breasts
1 teaspoon salt
1 carrot, roughly chopped
1 stalk celery, roughly chopped
1 large onion, diced
1/4 cup (60 ml) vegetable oil
12 corn tortillas
1/4 cup (55 g) butter
1/4 cup (30 g) flour
1 x 4‑oz (110‑g) can diced green chilies
1 cup (225 g) sour cream
1/2 lb (225 g) Monterey jack cheese, shredded
toppings: chopped cilantro, diced avocado, salsa
In a large saucepan, bring the water, chicken, salt, carrot, celery, and half of the onion to a boil. The water should cover the chicken by about a 1/2 inch; add more water if necessary. Reduce the heat and simmer until the chicken is just cooked through. Pour the chicken and vegetables through a strainer, reserving the broth. Set aside 2 cups (480 ml) of the broth, to be used for the sauce. The remaining broth can be frozen for later use. Discard the cooked vegetables. Cool the chicken, then shred it into pieces.
In a small frying pan, heat the vegetable oil. Fry each tortilla in the hot oil, about 30 seconds per side. Let the tortillas drain on a paper towel-covered paper grocery bag.
In a large saucepan (I use the same pan I cooked the chicken in), melt the butter. Whisk in the flour and cook for 1 to 2 minutes, whisking frequently. Do not let the roux brown, but it should bubble. Whisk in the broth and bring to a boil. Lower the heat and stir in the green chilies and sour cream. Cook the sauce until it's smooth and creamy.
Lightly grease a 13 x 9‑inch baking dish. Spread 1 cup (240 ml) of sauce over the pan. Fill each tortilla with a couple tablespoons each of chicken, cheese, and the remaining onion. Roll up each tortilla and place seam side down in the prepared pan. Top with the remaining sauce and cheese and bake at 425°F (220°C) for 20 to 25 minutes, until bubbly. Serve with chopped cilantro, diced avocado, and salsa.
***
Baked Acorn Squash
Serves 2
acorn squash, or other winter squash
olive oil or butter
salt and freshly ground black pepper
Preheat the oven to 425°F (220°C). Cut the squash in half, then scoop out the seeds and membrane. (I like to use a grapefruit spoon for this task.) Place the squash skin side down in a small roasting pan. Drizzle the squash with olive oil or place a pat of butter in the hollow of each, then sprinkle with salt and pepper. Tightly cover the roasting pan with aluminum foil, then roast for 45 to 55 minutes, until the squash is tender. You may want to add 1/4 cup (60 ml) of water to the bottom of the pan to speed the cooking or when the squash is very large.

Email this post

Print this post