Regular readers will already know that I'm a huge fan of Ina Garten, a.k.a. the Barefoot Contessa. In fact, after nearly a decade of hardly ever watching TV and happily making do with only four channels, one of which was the Irish language channel, I got cable last month just so I could watch her show. Her recipes are always outstanding, and she works her brand of magic to take something as classic or simple as, say, potato leek soup and turn it into the best version you've ever had.
Over the Christmas break I saw an episode where she made a chicken hash, and as I was watching it, I couldn't help thinking that adding chorizo to the dish would make it better. I got the idea from a recipe I've made before, Nigella Lawson's chicken and chorizo with cannellini beans, so I already knew it was a combination that works. I also substituted baby potatoes so that you don't have to peel them, and even though I know chicken on the bone has more flavor than boneless, skinless chicken breasts, I adapted that too from her original to shave off a little time and eliminate a couple prep steps to make the recipe that much easier as a weeknight meal. The result was fantastic — the chorizo lent the entire dish a smoky, paprika-infused richness and transformed it from being just another ho-hum chicken dinner into something with a bit more kick.
Dare I say it, but I think I might have done the unthinkable — made a Barefoot Contessa recipe better.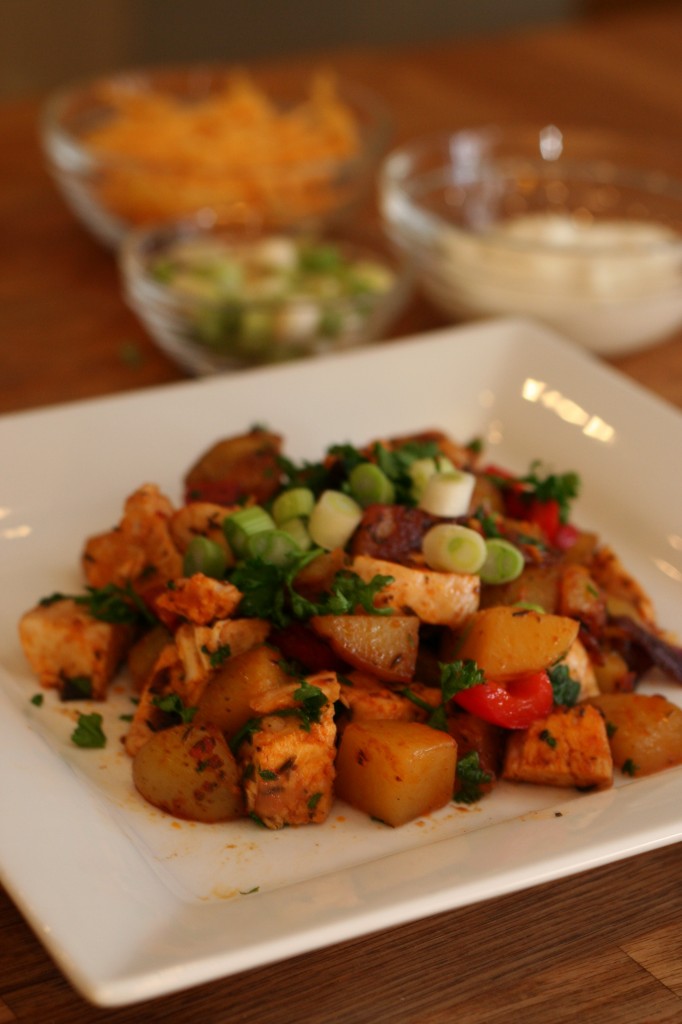 Chicken and Chorizo Hash
adapted from Ina Garten
Serves 6
3 large chicken breasts
olive oil
salt and freshly ground black pepper
1/2 lb (225 g) chorizo sausage, sliced or cubed, depending on size
2 tablespoons (60 g) unsalted butter
2 lb (900 g) baby potatoes, quartered or cut into bite-sized dice, depending on size
2 red onions, chopped
2 red peppers, large diced
3 garlic cloves, minced
2 teaspoons fresh thyme leaves (or 1 teaspoon dried thyme)
1 teaspoon smoked paprika
1 tablespoon tomato paste
6 scallions, white and green parts minced
a large handful of chopped fresh parsley
sour cream and cheddar cheese, for serving
Preheat the oven to 350°F (180°C).
Place the chicken breasts on a baking sheet. With your hands, rub each piece on both sides with olive oil and sprinkle very generously with salt and pepper. Roast the chicken for 35 to 40 minutes, until the skin is lightly browned and the chicken is just cooked through. Set aside until cool enough to handle, then cut the chicken into bite-sized pieces and set aside.
Meanwhile, heat a large saute pan, then add the chorizo. Once the chorizo has started to release its oil and has become a little browned and crispy, remove the pieces from the pan with a slotted spoon and set aside. Add 1 tablespoon of the butter to the same pan, then add the potatoes and onions, 1 teaspoon salt and 1/2 teaspoon pepper and saute over a medium heat for 20 to 30 minutes, until evenly browned and cooked through.
In a separate saute pan, melt the remaining 1 tablespoon of butter. Add the red peppers, garlic, thyme, paprika, tomato paste, 1 teaspoon salt and 1/2 teaspoon pepper and saute over a medium heat for about 5 minutes, until the edges of the peppers are seared.
Add the chicken and the pepper mixture to the potatoes along with the chorizo and heat through, stirring to combine all the ingredients. Add the scallions and parsley, toss together and place on a serving platter. Serve with sour cream and cheddar cheese on top.

Email this post

Print this post