If greens are the outcasts of the vegetable world, then Brussels sprouts must be out-and-out exiles. I think they look like little alien heads, but I love how Kitchen Scraps
portrays them, as Mr. B. Russell Sprout, "who lived in a red-brick townhouse on a cobblestone lane near the bank where he worked. Even the other bankers thought Mr. Sprout was an old fuddy-duddy because he always wore the same limp green tweed suit and bowler hat every day." If they're overcooked, they turn bitter and taste awful, which is why most people don't like them — or just think they don't. If cooked properly, they have a delicate nutty flavor, yet popular culture ranks them right up there with knocking back a spoonful of cod liver oil straight up. If you think you don't like Brussels sprouts, try this recipe. And if you don't believe me, go read some of the reviews of it here and see how many former sprouts haters were converted. I like to make this for a quick weeknight meal as soon as sprouts are in season, but especially around the holidays, on a day when you feel like you need a break from all the excess.
I have to warn you about the rocky road — you'll find it hard to stay away from it. The first time I made it, we ate the whole pan in less than 24 hours by constantly going back for just one more little piece. As I found out the hard way last week, this isn't the best treat to make for a play date. The kids loved it and kept sneaking pieces off the plate, but not being the daintiest eaters, their mouths and hands were quickly covered with chocolate.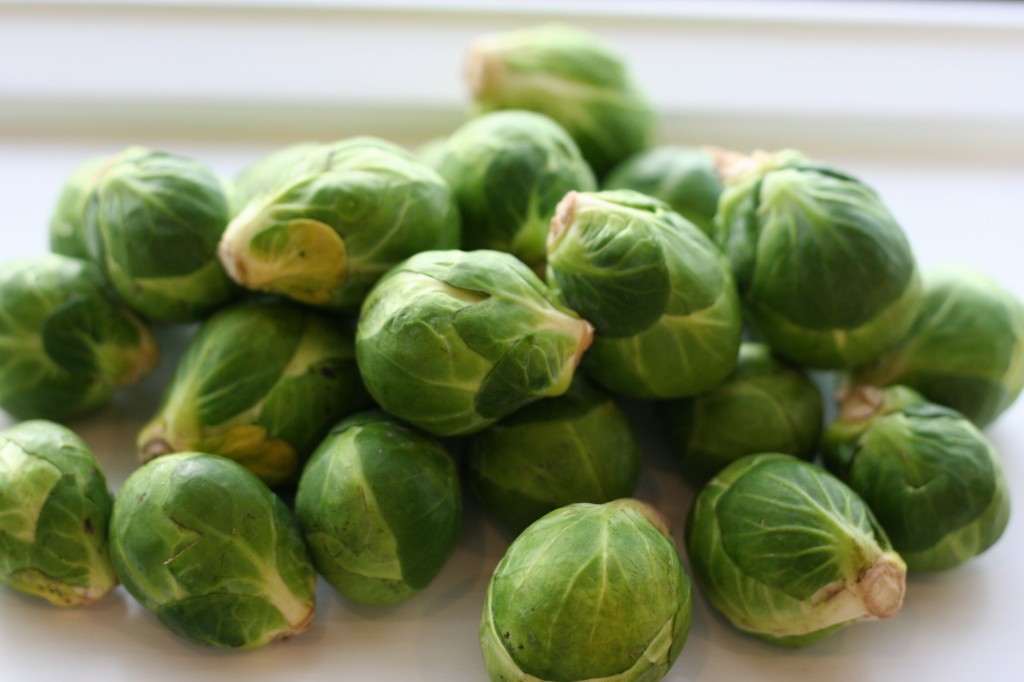 Fettuccine with Brussels Sprouts and Pine Nuts
adapted from Gourmet, November 2007
Serves 4
I've adapted this to add pancetta and a generous splash of cream. After reading the reviews on Epicurious, next time I'll try adding some lemon zest and juice and a bit of white wine as well.
3/4 lb (340 g) Brussels sprouts, trimmed
1/2 lb (225 g) dried egg fettuccine
4 oz (110 g) pancetta or bacon (optional; omit for a vegetarian version)
2 tablespoons unsalted butter
2 tablespoons extra-virgin olive oil
3 tablespoons pine nuts
1/2 teaspoon salt
1/4 teaspoon pepper
1/4 cup (60 ml) heavy cream
plenty of freshly grated Parmesan, to serve
Slice the Brussels sprouts in a food processor fitted with the slicing disk (or else slice them very thinly by hand). Cook the fettuccine in a pasta pot of boiling salted water (3 tablespoons salt for 6 quarts water) until al dente.
Cook the pancetta or bacon until crisp. Drain on paper towels and set aside.
Heat the butter and oil in a large heavy skillet over a medium heat until the foam subsides, then cook the pine nuts, stirring, until golden, 1 to 2 minutes. Add the Brussels sprouts, salt and pepper, then saute over a medium-high heat until tender and lightly browned, about 4 minutes.
Reserve 1/2 cup (120 ml) of the pasta cooking water, then drain the pasta and add to the skillet along with the cream, tossing with enough of the reserved water to moisten. Serve with freshly grated Parmesan cheese.
***
Christmas Rocky Road
adapted from Nigella Christmas
by Nigella Lawson
9 oz (250 g) dark chocolate, chopped
5 oz (150 g) milk chocolate, chopped
6 oz (175 g) butter, softened, plus extra for greasing
4 tablespoons golden syrup or light corn syrup
7 oz (200 g) amaretti biscuits, digestive biscuits or, in the States, Nilla wafers or any plain cookie
5 oz (150 g) shelled Brazil nuts
5 oz (150 g) red glacé cherries
4 oz (110 g) mini marshmallows
1 tablespoon icing sugar
Place the dark and milk chocolate pieces into a heavy-based pan. Add the butter and golden syrup and cook over a low heat to melt and combine.
Place the amaretti biscuits into a freezer bag and bash with a rolling pin to make crumbs of various sizes. (Or pulse in the food processor a few times.) Place the Brazil nuts into another freezer bag and bash in the same way.
Take the pan of melted chocolate mixture off the heat and add the crushed biscuits and nuts. Add the glacé cherries and mini marshmallows. Fold the mixture carefully to coat all of the solid ingredients with the syrupy chocolate mixture.
Pour the mixture into a 10 x 2‑inch greased and lined baking tray and smooth the surface as much as possible (although it will look bumpy). Refrigerate for 2 hours, or until firm enough to cut. Dust with icing sugar. Remove the block of rocky road from the tray and cut into 24 rectangles.

Email this post

Print this post