I'll admit, I'm a bit of a Rick Bayless groupie. I love that he cooks food that tastes like what I ate while I lived in Oaxaca. I love that he lives in the same neighborhood and attended the same yoga studio that I did while I lived in Chicago. I love that he was one of the chefs who put Chicago on the map as a food destination. And I love that his restaurants Topolobampo and Frontera Grill live up to their hype. There are definitely some things about him that I don't love, though. His role as a Burger King spokesperson, for example. Or the fact that most of his recipes take well over an hour to prepare and a double column list of ingredients to purchase. And frankly, his daughter's overacting bothers me so much that I stopped watching his PBS cooking show. But his food always keeps me coming back for more. You may have noticed that Kristin is also a fan. We both pull a lot of recipes from his Mexican Everyday (Recipes Featured on Season 4 of the PBS-TV series "Mexico One Plate at a Time")
cookbook. Tonight's casserole is from his Julia Child Cookbook of the Year award winner, Rick Bayless's Mexican Kitchen. I've made it so often, the book automatically opens to the chipotle and tomato sauce-flecked pages of this recipe.
I always serve this casserole with black beans and plain yogurt to cut the spicy sauce and round out the flavors of the vegetables. Canned black beans are fine in a pinch or, if you have a bit more time, last month's slow cooker version is even better.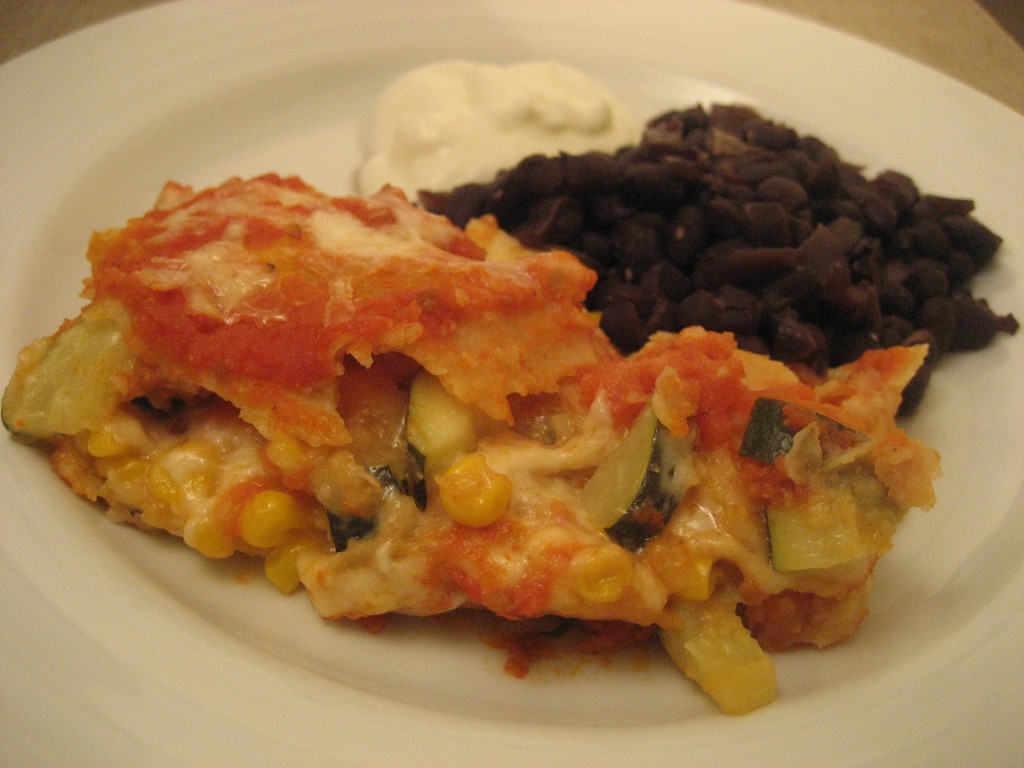 Layered Tortilla-Tomato Casserole with Greens and Melted Cheese
Adapted from Rick Bayless's Mexican Kitchen: Capturing the Vibrant flavors of a World-Class Cuisine
Serves 6 as a main dish
for the sauce:
6 garlic cloves
3 lb (1.4 kg) ripe plum tomatoes (about 15)
2 to 4 chipotle chiles en adobo (depending on your spice preference)
2 tablespoons plus 1/2 cup (120 ml) vegetable oil
salt, about 1 1/2 teaspoons
for the casserole:
10 oz (280 g) spinach
2 small or 1 medium zucchini, cut into 1/4‑inch dice
1 ear of corn, husked, kernels cut from the cob (or 1 cup frozen corn kernels, defrosted)
8 oz (225 g) shredded Monterey Jack or Chihuahua cheese
12 corn tortillas
fresh cilantro, for garnish
For the sauce: Roast the unpeeled garlic on a heavy griddle or cast iron skillet, turning occasionally, until soft, about 10 to 15 minutes. They should blacken in spots. Cool and peel. Roast the tomatoes on a baking sheet under a very hot broiler until blacked on one side, about 6 minutes. Turn the tomatoes over and roast the other side. Cool, then peel. In a food processor or blender, process the tomatoes, chiles, and garlic to a medium-fine puree. You may need to do this in two batches depending on the size of your processor.
Heat 2 tablespoons of oil in a medium to large pot (4 quarts) with tall sides. Once the oil is hot, add the tomato puree and cook for 8 to 10 minutes, stirring frequently as it sears and thickens. Taste and season with salt, usually 1 teaspoon.
For the vegetables: In a vegetable steamer, steam the spinach, covered, until tender, about 3 minutes. Immediately spread onto a baking sheet to cool, then chop roughly. Steam the zucchini until just tender, about 4 minutes, then spread out to cool. Sprinkle the vegetables with 1/4 teaspoon salt.
For the tortillas: Pour the remaining 1/2 cup (120 ml) of the oil into a small skillet and set over a medium heat. Cover a paper grocery bag with a few layers of paper towels. Quick-fry the tortillas one at a time for a few seconds per side in the hot oil to soften them. Drain the tortillas on a single layer on the paper towels, blotting off any excess oil. Cut them in half.
To assemble: Preheat the oven to 350°F (180°C). Lightly grease a large casserole dish or 11 x 7‑inch baking dish. Spread a thin layer of sauce over the bottom, then lay out 6 tortilla halves in a single layer, covering as much of the sauce as possible. Spread on the greens, then 1 cup (240 ml) of sauce, then 1/2 cup of the cheese. Top with another 6 tortilla halves. Spread on the corn and the same amount of sauce and cheese. Top with a third layer of 6 tortilla halves, the zucchini and sauce and cheese. Top with the remaining tortilla halves, sauce and cheese.
Cover lightly with foil and bake for 25 minutes.Uncover and bake for an additional 10 to 15 minutes, until bubbly and golden. Let stand for 5 to 10 minutes before cutting. Sprinkle with cilantro and serve hot.

Email this post

Print this post