Until this summer, I considered sweet and sour pork to be an almost inedible mess of sickly red syrup, mushy pineapple and fatty pork. This Thai version couldn't be farther from my Chinese take-out fears. Like all good stir-fry dishes, it's loaded with crisp vegetables and lean meat, with a light yet savory sauce. Though I was dubious of the cucumber in this dish, it's really tasty and now I sometimes double the amount called for so I don't have to fight Sam for it.
This chocolate chip cookie is the stuff of legends, or should I say urban legends. It's commonly known as "The $250 Cookie Recipe," since that's the amount Neiman Marcus supposedly charged the lady that requested and received the recipe from its store while at lunch. According to Snopes.com, this amusing but false tale has been in circulation for over 50 years. Interestingly, the merchant and food item has evolved over time from a $25 fudge cake recipe "sold" by a train company in the 1940s to Waldorf-Astoria's red velvet cake recipe in the 1960s to Mrs. Fields' cookie recipe in the 1980s. Wherever this recipe came from, it's my favorite chocolate chip cookie and I would gladly pay it (but thank goodness for the internet, so I don't have to!).
Pork with Sweet and Sour Sauce
adapted from The Food of Thailand: A Journey for Food Lovers by Kay Halsey and Lulu Grimes
Serves 4
8 oz (225 g) pineapples slices in light syrup, each slice cut into 4 pieces (reserve the syrup)
1 1/2 tablespoons ketchup
2 tablespoons fish sauce
1 tablespoon sugar
2 tablespoons vegetable oil
12 oz (340 g) pork, sliced (pork tenderloin recommended)
4 garlic cloves, minced
1 carrot, sliced
1 onion, cut into 8 wedges
1/2 red capsicum (pepper) or serrano pepper, minced
1 bell pepper, cut into 1‑inch pieces
1 small cucumber, unpeeled, halved lengthwise and cut into 1/2‑inch-thick slices
1 tomato, cut into 6 wedges, or 12 baby tomatoes
Mix the pineapple syrup with the ketchup, fish sauce and sugar in small bowl until smooth.
Heat the oil in a wok or deep frying pan over a medium heat and fry the pork until nicely browned and cooked. Remove the pork with a slotted spoon and drain on paper towels.
Add the garlic to the wok and fry over medium heat for 1 minute or until lightly browned. Add the carrot, onion, and peppers and stir-fry for 3 to 4 minutes. Stir in the cucumber, tomato, pineapple and pineapple syrup mixture. Stir-fry for another minute. Taste, then adjust the seasoning, if necessary. Return the pork to the pan and gently stir. Spoon onto a serving plate and garnish with cilantro. Serve with brown or white jasmine rice.
***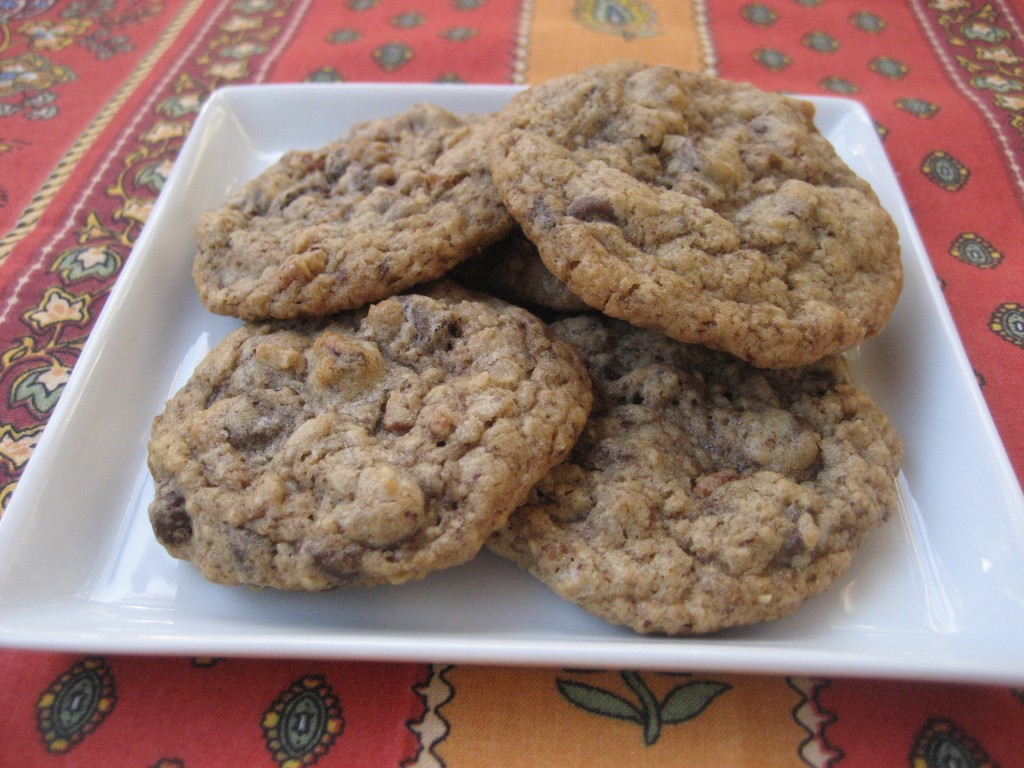 Nieman Marcus Chocolate Chip Cookies
Makes about 4 dozen
1 cup (225 g) butter
1 cup (200 g) granulated sugar
1 cup (170 g) brown sugar
2 eggs
1 teaspoon vanilla
2 cups (240 g) flour
2 1/2 cups (200 g) blended oatmeal (measure oatmeal, then blend in blender to a fine powder)
1/2 teaspoon salt
1 teaspoon baking powder
1 teaspoon baking soda
12 oz (340 g) chocolate chips
4 oz (110 g) Hershey bar, grated (I used a Lindt dark chocolate bar)
1 1/2 cups (150 g) chopped nuts (your choice)
Preheat the oven to 375°F (190°C) degrees. Cream the butter and both sugars. Add the eggs and vanilla to the butter mixture. In a separate bowl, mix together the flour, oatmeal, salt, baking powder, and soda. Add the flour mixture to the sugar/egg mixture. Add the chocolate chips, grated chocolate and nuts. Roll into balls and place 2 inches apart on a cookie sheet. Bake for 10 minutes at 375°F (190°C).

Email this post

Print this post